ASUS Eee Pad Transformer confirmed for April 26th, prices starts from $399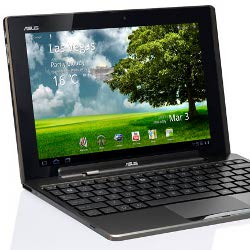 Now, that's what we call good pricing.ASUS is one of the few who have managed to undercut Apple and offer a powerful 10-inch tabletfor less than the price of the iPad 2. Add to thatthe raw power of NVIDIA Tegra 2 powering Android 3.0 Honeycomb andyou have plenty of reasons to get excited about the ASUS Eee PadTransformer. The tablet was confirmed for release on April 26th in North America with a price tag of $399 for the 16GB version and$499 for the 32GB model. In addition, you can purchase a keyboarddock which doubles as charging station and comes equipped with twoUSB 2.0 ports, a 4-in-1 card reader and improved sound all for $150. The dock adds an amazing 8 hours of battery life so you can squeeze up to 16 hours of your tablet counting the slate's own battery capacity.

The Transformer might not have the slimprofile of neither the iPad nor the upcoming Samsung Galaxy Tabs, butit's nevertheless well-designed with a solid metal finish. Finally,it comes with an ISP screen with resolution of 1280 x 800 pixels,matching the resolution of recent Honeycomb tablets. For a limitedtime you can actually win two Transformers by sending a tweetincluding @ASUS and #EeePadTransformer or liking the official ASUSFacebook page. Is that enough to tip the scales in favor of the Transformer for you? Let us know in the comments below.

source: ASUS