AMD expected to unveil first ARM core product: AMD Seattle is now sampling
13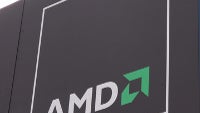 AMD might shake up the chip industry with a big announcement later today at the Open Compute Summit. The chip maker is said to be ready to unveil its first product with an ARM core. The chip - said to be based on the latest ARM A57 core - will allegedly end up being called AMD Seattle, and it's already sampling.
ARM A57 features the ARMv8 64-bit instruction set with all the improvements that come with it like a larger amounts of registers, and increased address space. All of that allows for faster processing of large chunks of data, while retaining the power efficiency ARM is known for. We've already
explained the ins and outs of the new instruction set
when speaking about the Apple A7 in products like the iPhone 5s and iPad Air, so make sure to look back at that article for a refresh.
AMD's product is said to be aimed first and foremost at servers and datacenters, not consumer devices, but it nonetheless marks an important win for ARM. The British chip designer has launched the A57 core in an attempt to get traction in the previously Intel-dominated server space, and this would be a big success for it.
Finally, AMD's Seattle solution is expected to come in either a quad- or octa-core configuration with server features like integrated 10Gb/sec Ethernet connectivity. Stay tuned, AMD is expected to officially unveil this later today.
source:
SemiAccurate