AMD building ARM chips for non-mobile servers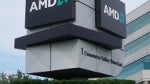 With a code name of "Seattle," Advanced Micro Devices is building its first chips based on the
ARM Holdings designs
that are prevalent in smartphones and tablets. But AMD isn't looking to sling silicon for mobile devices. Instead, these chips are headed for the server market. With AMD's share of x86 chips quickly heading south, the company needed something new to enhance the top line of its balance sheet.
While producing ARM based chips for servers might be new for AMD, it has been done before. Applied Micro Circuits starting shipping samples of its
X-Gene chip
in April. The foundry calls it "a server on a chip". Meanwhile, AMD will start shipping samples of "Seattle" in Q1 of 2014 with commercial shipments rolling out the door the following quarter. It will operate at speeds of 2GHz or faster and come in 8 or 16 core variants.
With the production of its first ARM chips en route, will AMD decide to enter the competitive market to manufacture ARM chips for mobile devices? Considering the competitiveness of that market, led by big names like Qualcomm and Samsung, it might seem a tough business to enter. And with MediaTek enjoying big business in the low end of the market, it seems like AMD might be better off with this niche for now.
source:
WallStreetJournal