The AI-edition LG V30s gets detailed: 256GB storage, 'LG Lens,' price and release
21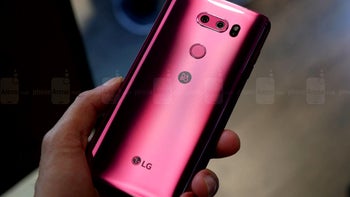 Well, well, well, it seems that Samsung's
Galaxy S9
won't be the only one stealing the show at the MWC expo two weeks from now, as we initially thought. An LG V30s is in store, too, and today Korean media is abuzz with scoops on what upgrades will LG offer to us mere mortal users, to make its 2017 flagship fill the void until the
G7 lands on shelves
.
For starters, the name V30s should tip you that this is an upgraded version of the
V30
that launched on US carriers back in September. What are the enhancements? How about 256 GB storage to begin with? That's right, the V30 has 64 GB, and there is a Plus version that offers 128 GB flash memory, but the V30s is now supposed to ship with the whopping 256GB, or as much as its
exclusive "Signature Edition"
that was launched in Korea in time for the holidays. That one has 6GB RAM, so perhaps the new V30s will also sport as much, although the source remains mum on the matter.
Apart from quantity upgrades, the new V30s will try to pique your interest with quality ones, too, and the newly-minted "LG Lens" feature is front and center of that strategy. It is basically an AI-based camera experience that enhances the already very good dual shooter on the back of the V30 with some machine learning algorithms, because why not. The tipsters say that LG Lens will be similar to what Samsung does with
Bixby Vision
, i.e. serve up contextual information for objects in front of the lens, such as translation, QR code detection, landmark recognition, and real-time directions based on augmented reality, or shopping suggestions.
All this is fine and dandy, and we can't wait for LG to unveil a good upgrade to an already excellent phones, but how much will all that 256GB-laden AI powerhouse cost? Well, the Signature Edition of the V30 with 6GB RAM/256GB storage and ceramic body is about $1840, but the upcoming V30s is a phone for the masses, so LG is said to price it at a million won in Korea, which translates to about $920, likely less in the US, as these things go. Release date is set for March 9, and we will be at LG's presentation at the expo that kicks off Monday, February 26, to relay all the V30s festivities.