A video review of the iPhone 6 leaks just a couple of days before Apple's official event
42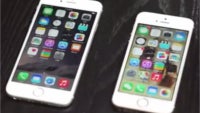 There's only a day left to Apple's
official unveiling
of the
iPhone 6
. Maybe we should say "supposed unveiling", though we've had a
world of iPhone 6 leaks
by now, including
pictures of it
compared to the
iPhone 5s
and even a
video showing its camera app
in action. We suppose it's safe to say that the iPhone 6 is coming and anyone following tech news has a good general idea of how it's going to look. Well, now we can also watch a video review of Cupertino's new handset that somehow saw the light of day before the official announcement. Now, the review is in Mandarin and we can't take much from it, though we get to watch someone flick an iPhone 6 around and compare it to an iPhone 5s for seven minutes, so that's something, right?
We were really looking for clues about the phone being a replica, but it actually looks like the real deal. The reviewer uses the Touch ID sensor to unlock the device numerous times, the animations are smooth and buttery, the camera app works fast, the gallery app shows no hiccups, and everything launches pretty fast – these actions usually don't work as well as the
cheap replicas
that have been on the market for a couple of months now. However, it's a 480p video and we didn't see Siri be activated (which would've been a pretty good sign that the phone is legitimate), not to mention that this could easily be some sort of an earlier prototype. Furthermore – something really seems off about the video – with a shaky cam, people coughing in the background, some weird music playing from time to time – these people are obviously not professionals. So, how did they get their hands on such a secretive handset? Taking the video with a grain of salt, let's proceed.
So, on to the looks – if we assume that this phone is not a replica, and not a prototype, the first thing that may disappoint a lot of people is
the protruding camera
– indeed, it looks like it's here to stay. Secondly, there have been a lot of complaints about how bland the iPhone 6's back appears to be. A lot of people assumed that the final product will have an extra layer of material to cover the back – probably glass – but it seems like it will be the same all-metal back that we've seen since the first iPhone 6
dummy units
. Otherwise, the phone's front is perfectly comparable to other flagships on the market – it does not have extremely thin bezels, but the screen-to-body ratio does not look disappointing in any way. Its profile is nicely thinned out and the reviewer reportedly says that it's lighter than its current-gen counterpart.
The video further compares the iPhone 6 and 5s in functionality – showing how fast they each wake up and unlock. Needless to say, the iPhone 6 is slightly faster. Also, supposedly, the reviewer says that the new handset is generally faster in launching apps, but again – this should hardly come as a surprise.
The two cameras also get a shootout. Again, this is a 480p video, so one could hardly make out picture quality differences. Needless to say, there's a lot more testing to be done in this department.
So, what do you think – are we looking at a genuine iPhone 6 here? Is the protruding camera a deal-breaker?