A variant of the Samsung Galaxy S6 is being tested – possibly the S6 Edge
14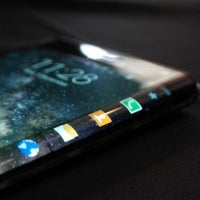 We've been hearing a lot of
rumors
about Samsung planning to release a curved-screen Galaxy S6 model, much like it did with the
Galaxy Note 4
and
Galaxy Note Edge
, some even claiming that the S6 will one-up the Edge and have both ends of its screen rounded-off. Some reports claim that, instead of being a regularly-sold phone, the S6 "variant" will be a
limited edition device
, with only 10 million units planned to ship in 2015. Now, how much is true – we can't say – but it seems that Sammy is definitely brewing something, as the whispers are sounding off from different sources.
Eagle-eyed spotters have noticed that Sammy has imported a mystery device in India for testing (something the company often does, when close to announcing a handset). The information comes from Zauba (India import / export database), which lists a smartphone, codenamed SM-G925F, and described as "Prototype phone, similar to Galaxy Note 4 (for R&D purpose)" to be crossing the borders into the country.
Some speculations say that this may be the rumored curved variant of the Galaxy S6, though, we can't be sure if this is entirely correct.
We already know
that the S6 will bear the number SM-G920, so the variation definitely looks akin to what we have with the Note 4 and Note Edge (SM-N910 vs SM-N915).
The line about the device being similar to the Note 4 is also a peculiar one – it definitely doesn't say "Note Edge", but it suggests at least one of two things – metal frame and / or 5.5"+ display.
Oh, well, whichever it is – we won't know very soon. Latest rumors on the newest Galaxy state that it will be at CES, together with its alternate variant, however, they will only be showcased to "selected partners", and not consumers. Whether there will be any footage from the presentation at all, we do not know, but we'd say that – if
this rumor
is true – chances are slim. We guess we'd have to rely on leaks and rumors a bit longer, if that turns out to be the case.

source:
Zauba
,
SamMobile