A sale on a sale: Verizon Moto X now 1 cent through Moto Maker
11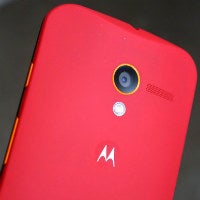 The Moto X has been on sale for a while now. Motorola has been offering a $70 off sale on off-contract models of the device. That sale was supposed to end on Valentine's Day, but it has been extended until this coming Saturday,
February 22nd
. Now, there is a sale on top of the sale for those of you on Verizon who might want an on-contract Moto X.
If you're in that group looking for an on-contract Moto X, you can now get a fully customized version of the device on Verizon for just 1 cent. That means if you want a wooden Moto X, it would only cost you $25.01 to get a teak, ebony, walnut, or bamboo version of the handset. That's a pretty solid deal if you're looking to re-up your contract. This deal is scheduled to end the same day as the $70-off deal, which is this Saturday, February 22nd.
Of course, all of these sales do beg the question of whether Motorola is getting ready to announce a new device or not. Google has said that it would be business as usual for Motorola while the regulatory approvals are in the works for the
Lenovo deal
. Motorola does have an
announcement
planned for MWC next week, but it has said it will just be a business update with no major announcements.