A purported real-life photo of a Samsung Galaxy Note 5 test dummy leaks
14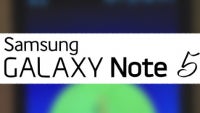 The Samsung Galaxy Note 5 is reportedly getting announced on August 12 so as to steal the spotlights before the early September frenzy on the smartphone scene, and we already know that the device will one-up almost any other smartphone on the market with some pretty exciting hardware specs, like an Exynos 7422 chipset coupled with 4 gigs of RAM and a high-res display.
We've already shown you
CAD drawings for the handset
, reportedly giving a sneak peek at the possible design; there are also
some pretty good renders
that are pretty likely to be very close to the real deal in terms of exterior design and styling, but alas, we've hardly taken a gander at a real-life picture of the upcoming phablet. Until now, that is, as a freshly leaked picture from the Czech Republic claims to showcase a Samsung Galaxy Note 5 testbed captured in the wild.
It's quite certain that this won't be the final design, it's merely a test dummy
What does a testbed mean? Simply put, it's a prototype that houses the same internals and software that will debut in the final product. Although testbeds (also known as mules, especially in the automotive industry) usually come with almost all new features and flaunt the same specs, they do not employ the final design of the product.
That's most certainly one of the reasons why the device pictured below looks like a hideous, edgy box. Provided that it's indeed a Galaxy Note 5 mule, that is.
As a refresher, we expect the Note 5 to be somewhat similar to the Galaxy S6 in terms of design, meaning that there will probably be metal and glass aplenty. Check it our below, alongside with a couple of the better renders we've seen.
Thanks for the tip, Adam Pelej!