A powerful tool: the S Pen gets more features, double the pressure sensitivity, ballpoint pen size
6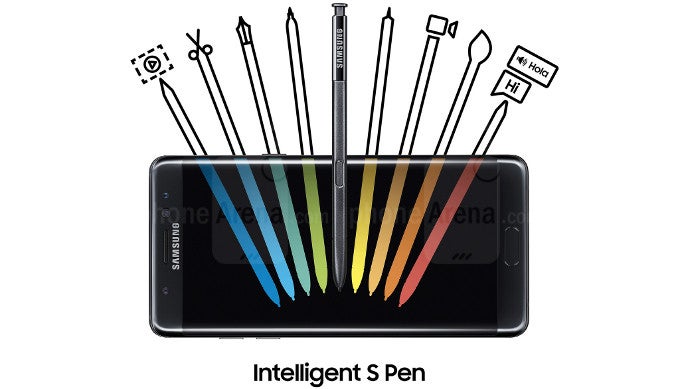 The Samsung Galaxy Note series has always been something more than simply a "large phone" thanks to its dedicated S Pen stylus. Making use of a special Wacom-made digitizer that rests under the phone's screen and a set of apps and software optimizations, the unique tool can be used as a very precise stylus, as a cropping and collage tool, drawing pen, and, of course, for hand-written notes.
On the
Note 4
and
Note Edge
, the S Pen got 2048 pressure levels for extreme sensitivity, on the
Note 5
, it became a metal-clad stylus with an addicting clicking mechanism on its tail, and now, it evolves further.
The
Galaxy Note 7
's S Pen is very similar in looks to the one on the Note 5. It's metal-made, nested in the phone's bottom side, and makes use of a clicker to be pulled out. It still has a small action button on its side, though, it's moved slightly up on the pen — we'll get to see if that's a more comfortable position when we get to the play with the device.
As far as hardware upgrades go, the pen is now water-resistant, keeping in tune with the phablet itself. After all, the Note 7's newly-acquired IP 68 rating wouldn't be all that exciting if the S Pen died from a splash of water. Even more interestingly, the pen can work under water. In contrast, the
Galaxy S7
and
S7 edge
don't accept any type of touch input when submerged.
The pressure sensitivity has been upgraded once again, doubled from 2048 to 4096 levels. While casual scribblers will probably not notice much difference, artists may appreciate the upgrade for finer work. However, both groups should be happy to know that the stylus' tip has become even smaller — down from 1.6 mm to 0.7 mm — to better simulate the feel and precision of a ballpoint pen.
On the software side, we get new features as well. While the Air Command menu looks the same, we now have two new options – Magnify and Translate. The former opens a small window that follows the pen's tip and can zoom in up to 300% to make content more easily visible. The latter will translate words from and to multiple languages as the user hovers above them — it will work on both text and images, too! Typing down screen off Action Memos — something that was introduced with the Note 5 — will now allow your memo to stay on the Always-on display, acting as a constant reminder. To top it off, a new recording mode will allow you to draw a frame on screen and record a 15-second GIF animation of whatever happens within that frame. Quick meme GIF creations, here we come!
The S Pen continues to reign without a rival when it comes to smartphone styli. Despite the fact that Samsung's competition hasn't shown much interest in developing any sort of dedicated stylus (the
Apple Pencil
comes closest, but it's limited to
iPad Pro
tablets only), it's good to see that the company continues making strides to develop it as a useful tool, rather than just a hype gizmo.