A free OnePlus 2 could be yours if you donate one of four Samsung Galaxy handsets
29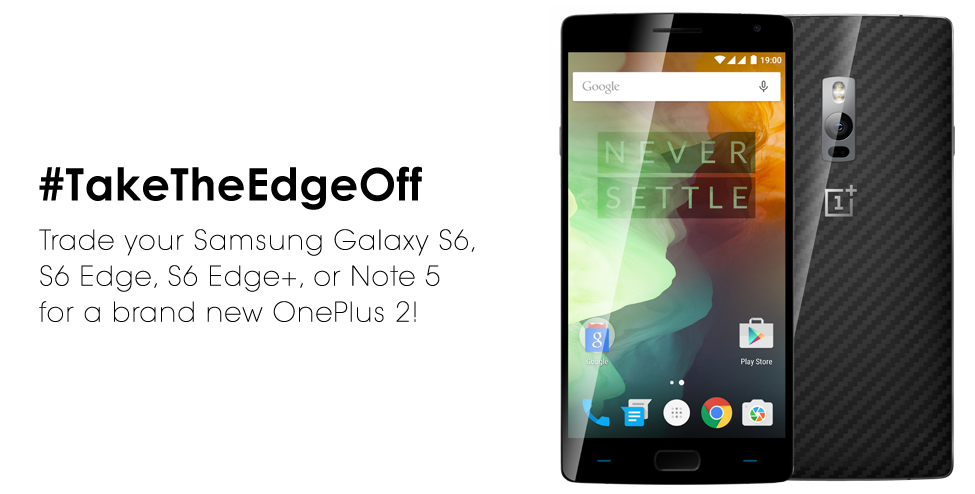 50 random owners of the Samsung Galaxy S6, Samsung Galaxy S6 edge, Samsung Galaxy S6 edge+ and the Samsung Galaxy Note5, can trade in their phone for the new OnePlus 2
Billed as a contest by OnePlus, the company is offering 50 people (selected at random) the opportunity to "donate" a
Samsung Galaxy S6
,
Samsung Galaxy S6 edge
,
Samsung Galaxy S6 edge+
or
Samsung Galaxy Note5
,
and receive back a new
OnePlus 2
handset. The phones received by OnePlus will be given to Hope Phones, an organization that hands out medical technology products to those in need.
OnePlus hasn't had a great track record when it comes to contests. Last year, some participants accused OnePlus of changing the rules in the middle of a contest,
preventing them from receiving a free phone that they should have won.
In all fairness, OnePlus did go back and award free phones to the rightful winners. In another contest, OnePlus wasn't clear with the rules, resulting in some smartphone owners destroying their current handsets
for nothing. And one other contest that
asked ladies only to draw the OnePlus logo anywhere
(including on parts of their bodies), was considered sexist and was pulled.
The new contest also has its share of issues. OnePlus might find it hard to find 50 people willing to swap an expensive model like the Galaxy S6 or the Galaxy Note5, for a OnePlus 2. The four eligible Samsung handsets are valued at nearly twice the price of the OnePlus handset in the marketplace. And limiting the swap to Samsung handsets is certainly limiting the "contest" from a marketing standpoint.
OnePlus has cleverly named this the #Take the Edge Off contest. To enter, click on the sourcelink, fill out the form, and if you have been selected, you will be contacted by a OnePlus representative. You have until October 18th to submit your entry.
"The OnePlus 2 was created by tech lovers, for tech lovers. We keep our devices free from gimmicks and bloatware. We explore what's fresh and exciting, as opposed to recycling the same technology as incredible breakthroughs time and time again. That's why we are giving those who may have settled for The Next Big Thing an interesting opportunity.

We're confident that we've created one of the most fantastic smartphones on the market today. So confident that we're willing to put our money where our mouths are.

Owners of a Samsung flagship phone (Galaxy S6, S6 edge, S6 edge+, or Note 5) can trade theirs in for the newly launched OnePlus 2, and we'll donate your old smartphone to Hope Phones!

Hope Phones is a forward-thinking non-profit organization that brings medical technology to those in need. Your contribution in this swap could help someone in a remote area of the world get fast, efficient, and professional medical care."-OnePlus
source:
#TaketheEdgeOff
,
OnePlus
via
AndroidAuthority