Company you've never heard of reveals that face recognition and AR are coming to the Apple iPhone 8
24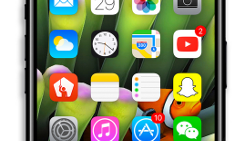 A company that you probably never heard of has inadvertently revealed information pertaining to the 10th anniversary edition of the Apple iPhone. Dubbed the
Apple iPhone 8
, this premium model is widely expected to include features including 3D sensing and AR capabilities. Back in February, KGI securities reliable Apple analyst
Ming-Chi Kuo said that the front camera on the device will be revolutionary
with its ability to provide face recognition and AR capabilities.
Since February, there have been various rumors at one time or another about whether Apple has been able to get the technology to work and whether the phone will be delayed as Apple tries to work out the kinks. We might have seen some of those questions answered late last week when a company called Finisar held its post earnings release conference call. During the call, the company said that it would sell tens of millions of 3D sensors during the October quarter. These sensors are used for both facial recognition and for Augmented Reality. One analyst at Piper Jaffray sees the company selling 60 million sensors to Apple during that three month period.
Another company in the same line of business as Finisar is Lumentum. The latter could end up selling a large quantity of laser devices to Apple for use in the iPhone 8. Both companies usually sell their wares to data centers and telecommunication networks. Selling to Apple could be the start of a whole new revenue source for both firms. In its conference call on Friday, Finisar hinted that it would be selling to new customers as well as handling higher demand from its primary customer, which is possibly Apple.
"We are assuming Apple will purchase 60 million high-powered 3D sensing (devices) in 2017, with average selling prices likely in the $3.50 to $4 range and we believe (Finisar) was awarded 20% to 25% share."-Troy Jensen, Analyst, Piper Jaffray
While this is good news to both Finisar and Lumentum, we are more concerned about what this means to smartphone users. Finisar's comments could indicate that Apple is about to introduce something innovative and ground breaking with the iPhone 8.
source:
IBD
Recommended Stories