5G variant of the Google Pixel 4 XL surfaces with 8GB of RAM
19
The other day there was intense excitement among those who have already decided to purchase the
Google Pixel 4
or
Pixel 4 XL
when a listing on Geekbench revealed that a Pixel 4 model being benchmarked
was equipped with 8GB of RAM
. That is twice-we repeat-twice the memory found on every other Pixel handset that has walked the face of the earth dating back to prehistoric times. Well, 2016 anyway. Subsequent leaks reverted back to the earlier rumors that 6GB of RAM will be found on the new Pixel models. But as it turns out, the Pixel 4 XL might just feature variants with 6GB and 8GB of RAM. But there is much, much more behind this.
UPDATE:
So much for a 5G Pixel this year. It turns out that the Geekbench listing was a fake. That is one of the drawbacks of covering this type of news; benchmark tests can be manipulated. However, there is always next year!
Geekbench lists another benchmark test
(via
GizChina
) for a device titled Pixel 4 XL 5G. Yes, it would appear that there could very well be a version of the new Pixel handsets that support the next generation of wireless connectivity, and this model sports 8GB of memory. It also has the Snapdragon 855 under the hood, although perhaps for this model we might see the overclocked "Plus" version of the chip. The phone scored 761 in the single-core test and 2326 in the multi-core test run on Geekbench 5.
Will Google take the plunge and release a 5G Pixel model this year?

It will be interesting to see whether Google does release a 5G version of the Pixel 4 XL this year. While all four major carriers are offering 5G service in small areas around the country, the first nationwide 5G network isn't expected to be up and running until the middle of next year. In the U.S., 5G phones already available include the
Samsung Galaxy S10 5G
,
Samsung Galaxy Note 10+ 5G
, the LG V50 ThinQ 5G, and the
OnePlus 7 Pro 5G
. But Apple has put off the release of a 5G iPhone until next year.
With 5G, download data speeds will be 10 to 15 times the current 4G rates; movies that take 20 minutes to download will load in seconds. More importantly, 5G will lead the way for a new economic boom as many new services and industries will be created around the faster wireless speeds. This won't happen overnight, and it might take three to five years or more before 5G handsets make up the majority of phones purchased in the states. So in other words, there is time for Google to hold off if it decides not to release a 5G version of the new Pixels this year.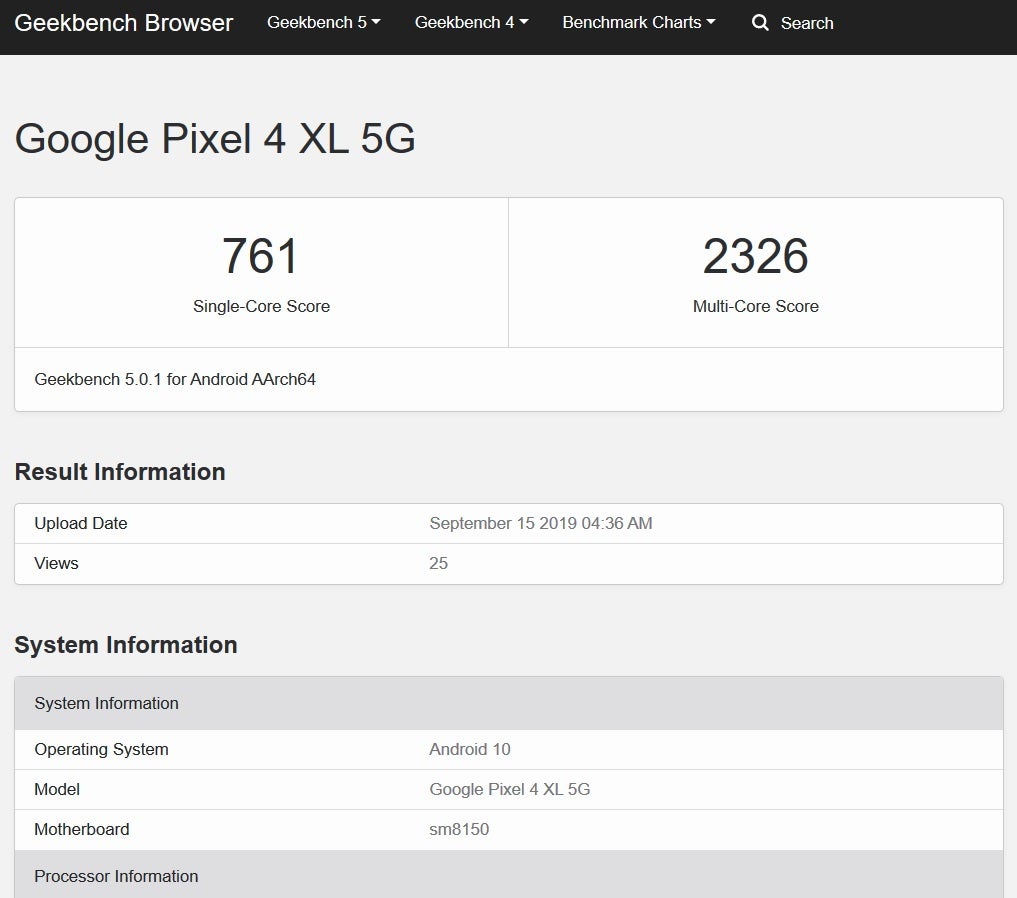 Geekbench test reveals the possible existence of a Pixel 4 XL 5G variant with 8GB of RAM
The regular 4G LTE version of the Pixel 4 series will be interesting thanks to some new features that Google itself has confirmed. Motion Sense employs Google's own Soli radar-based chip to allow hand gestures to skip songs, reject phone calls, turn off the alarm, view notifications and more. This feature won't be available in all regions, but it will be offered in the U.S. And if you're not happy with it, it can be disabled. And while it isn't clear whether there is an in-display fingerprint sensor for the new Pixels, there will be a secure version of Face unlock that will use a 3D mapping system similar to the Face ID system employed by the Apple iPhone. An improvement to the Night Sight feature, which allows users to take viewable pictures under low-light conditions, will help drive an astrophotography setting. This will provide Pixel owners with the technology to snap photos of the stars.
The Pixel 4 and Pixel 4 XL are expected to be unveiled during the next Made by Google event to be held on October 15th. We could see the new handsets launched on October 25th, although a 5G variant could be released at a later date.