9 industry trends that are poised to mark 2015
21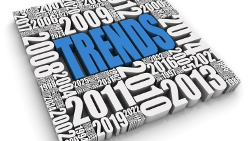 If you ever took an innovation course at school, it's very likely that the diffusion of innovations topic came up sooner rather than later. In case you didn't, or you slept through it, here's the main takeaway: Innovations take a long,
long
time to permeate the market.
Consider the case of the light-emitting diode (LED) that is at the core of modern light bulbs. First invented in 1927, it wasn't until decades later, in 1962, that we had the first production run of the thing. And today? The world has only recently (relatively speaking) started adopting LED bulbs on anything approaching a serious scale, despite their many advantages over incandescent ones. And this is just one example.
With the explosive advent of technology in the past decade, however, new tech is being adopted at increasingly dizzying rates. And while that's definitely true for the mobile industry, most of the time we can still only talk about new fads, as many of them are yet to earn the right of being called a trend. We took a look back at what's being going on in the past dozen of months in the industry, and outlined several of those.