8 gorgeous phones made of metal and premium materials
54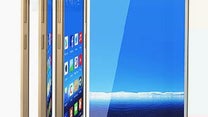 So, what is the ideal material to build a smartphone of? Chances are that you'll get a different answer, depending on who you ask. An engineer would suggest plastic without even thinking twice about it – the properties of the material make it highly suitable for devices transmitting radio waves. A designer, on the other hand – someone who's job is to take into account the way products look and feel – would probably go for something with a little more sparkle. You know, something like metal or glass.
Unfortunately, metal-made smartphones aren't exactly in abundance right now. In fact, there isn't a whole lot of them, and the premium materials we mentioned are usually reserved for top-of-the-line models. Still, we've picked a few that fit the description. Here are some of the best smartphones built of metal and high-grade materials.
Apple iPhone 5s
There's no second opinion about it, folks – the
iPhone 5s
ranks among of the best-looking smartphones one can get. Glass, metal, and stainless steel are fused together to create Apple's iconic handset. And it doesn't only look gorgeous. The iPhone 5s is put together with utmost attention to detail, which is something one can clearly see and feel as soon as they get the hold of Apple's handset.
Gionee Elife S5.5
This handset, made by the not-so-well-known company Gionee, isn't only the thinnest smartphone in the world (for now). It is also one of the most beautiful thanks to the choice of build materials. The front and back sides of the Elife S5.5 are made of glass, while the sides are surrounded by a precision-cut metal frame.
HTC One (M8)
One of HTC's finest smartphones to date, the
HTC One (M8)
stands out with an awe-inspiring, brushed metal construction. It feels solid, it feels sturdy, it feels... like no other phone around. If you like drawing attention, wielding one of these should do the trick.
HTC One mini 2
And here is HTC's petite offering, the
One mini 2
, packing as much of the goodies that the M8 has to offer, but in a smaller, compact package. As it is clear to see, this mini model makes no compromises when it comes to build quality. Its outer shell is made of premium brushed metal, which not only looks great, but also feels awesome to the touch.
Huawei Ascend P7
You probably weren't expecting to see a Huawei handset on the list, were you? In any case, the
Huawei Ascend P7
is an amazingly well-made smartphone, combining the premium feel of glass and steel with a super-sleek construction. In fact, the P7 is only 6.5 millimeters thick, which places it among the thinnest phones on the market.
Lenovo Vibe Z2 Pro
There is a whole bunch factors putting the
Lenovo Vibe Z2 Pro
ahead of many flagship competitors, and design is one of them. The handset's full-metal construction is impressive, to say the least, especially when it is topped with a subtle pattern giving it a unique look. On top of it all, Lenovo has managed to achieve a thickness of only 7.7 millimeters, thus producing an impressively thin and good-looking high-end phone.
Samsung Galaxy Alpha
In case you haven't heard the news, Samsung announced the
Galaxy Alpha
– a phone that aims to stand out primarily with its design. And this goal isn't difficult to achieve when a solid metal frame surrounds the handset and a soft, gentle finish is applied to its back. That's not all, however. Being only 6.7 millimeters thick, the Samsung Galaxy Alpha is the thinnest Galaxy smartphone yet.
Sony Xperia Z2
This selection would be incomplete without the Sony Xperia Z2. It is a beauty of a smartphone, constructed of two sleek glass pieces sandwiched within a frame made of solid metal. As a result, the Sony Xperia Z2 is a pleasure to both hold and admire. Plus, its water-resistant properties are a perk that phones of this caliber have to offer.
Here as some more awesome smartphones: