Slim Jims: meet 10 of the world's thinnest smartphones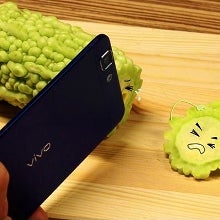 Gather around, low-carb proponents, as we are rounding up the world's thinnest smartphones - the summer maybe almost over, but it's still summer somewhere, and these ones have shed the pounds for beach bodies to marvel at. While
Gionee is hinting at yet another shot at smartphone glory
, after the 5.5" thin
Elife
flagship, we are listing some the world's thinnest smartphones at this very moment, to put things in perspective, and gauge just how thin a sub-6mm phone is.
It all started with the original
Moto RAZR
craze, and the anorexia pandemic spread fast as a bush fire, engulfing the smartphone universe as well. Now, one can argue that too slim of a handset is of a dubious ergonomic, and pick-up-from-the-desk value, but slim handsets can't be denied their gorgeous looks, plus they are usually a tribute to a company's manufacturing prowess.
That's why we are showing you ten of the handsets that belong to the 7mm and below gang, which have been introduced in the last year or so. The
iPhone 6
is also rumored to join this exclusive club, but we'll know for sure when Apple introduces it come September 9th, and update accordingly, while the archrival Samsung already secured a place here with the
Galaxy Alpha
. Are you a fan of thin smartphones, and how thin is too thin for you?