64GB is the new storage standard in 2017 (and Apple is behind the curve again)
99+
This article may contain personal views and opinion from the author.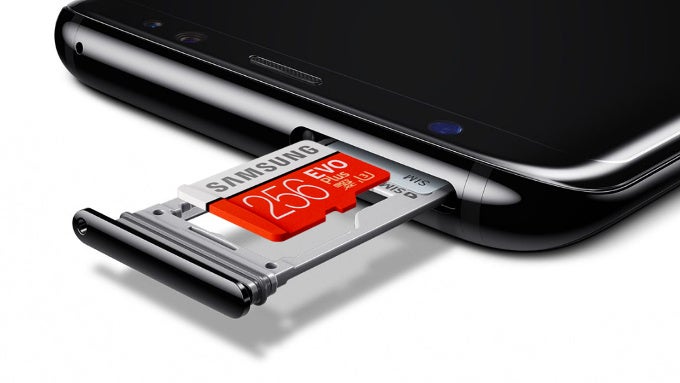 The Galaxy S8 is the latest Android flagship that comes with 64 GB of storage on board
For the vast majority of 2016, Apple offered its flagships with a depressingly tiny storage allowance: just 16 GB of on board storage with no microSD card slot to expand on that.
I have a few friends that bought a 16GB iPhone 6s and a year on, each and every one of them is complaining about the storage situation, while perfectly content with pretty much everything else on the phone. It was a short-sighted move with no worthy explanation from Apple, one that especially hurt as great devices at half the price of the iPhone (cough, OnePlus 3/3T) shipped with four times the storage: 64 gigs. It was something that Apple started fixing in late 2016, and most recently, just a few days ago, Apple finally pulled its last 16 GB iPhone (the SE) and mandated all base iPhone storage options start at 32 GB.
Apple is defending margins by charging a lot for storage, but Android has set a new standard
32 GB is better than 16 gigs of storage, but I can bet that within a year or so of owning a 32 gig phone, a significant number of users will start getting an upsetting 'ran out of storage space' notification.
64 GB: the new storage standard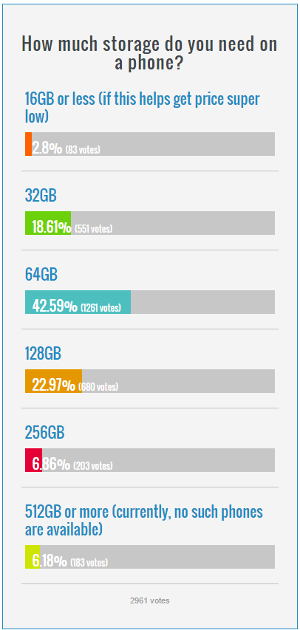 Nearly 3,000 people voted about the storage amount they need on their phone
What happens on the other end of the isle? In 2017, Android phone makers have wasted no time and have now practically established a new storage standard for flagship phones: 64 GB.
64 gigs is a much more reasonable amount. Especially when you don't have the option to buy a microSD card and expand the initial allowance on your phone at a later point.
To put things in perspective, let's just say that 1 minute of 4K video takes up 375MB on average, so 1 hour of 4K video recording will take up more than 22 GB on your phone, and chances are that after one year of using your phone, you will have more than 1 hour of video recorded (not to mention music, photos and what not). You don't have to be an avid video shooter to have 1 hour of video on your phone and even if you upload to YouTube or other cloud services, you'd still want some precious moments always at your disposal and on your device.
That is why I am happy to see first OnePlus, but now also LG with the G6, Samsung with the S8 and S8+, as well as others like Huawei with the Mate 9 and P10, all push the much more sensible and freeing 64 gigs of storage. There are exceptions: the Google Pixel the most notable one, but the vast majority of flagship Android phones now come with 64 gigs.
The number one complaint of my 16GB iPhone 6s-toting friends is storage, storage, and again storage
And Apple is once again behind the curve. Of course, you can always pay $100 more to get a 128 GB iPhone, or even further more for a 256 GB iPhone, but for those who just want a middle-of-the-road, 64 gigs of storage Apple simply does not provide this option.
And if you have doubts about how much storage people actually need, we have some fresh data. Back in November, we asked our users how much storage they
need
(notice we asked 'need', not even 'want') and the overwhelming majority (43%) answered with 64 GB, while the second most popular option (23%) was 128 gigs, and 32 GB was enough for only 19% of users. I leave the conclusion for you to make, but it seems that Apple is behind the curve in the storage game, again.