60 Minutes profiles Jeff Bezos and Amazon: a vision of the future
5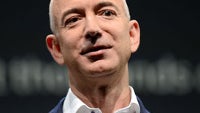 Amazon is one of the most exciting companies in America right now. Despite regularly registering thin quarterly profits, investors love it, its stock continues growing and there's a reason for that. Most recently, the company unveiled a futuristic delivery service called Amazon Prime Air that would use automated drones to deliver packages to your doorstep in merely half an hour. The technology is still a few years away, but the company has given users a taste in teaser videos.
Amazon founder and chief executive is laser-focused on staying competitive in the long run. You will see this not only in the razor thin profit margins of many Amazon services, but also in the way it reshapes the business adding more facets to it and expanding it continually.
CBS' 60 Minutes now gets an inside look in Amazon's delivery facilities, the so called fulfilment centers, some of which are 1.2 million square feet large, the size of 20 football fields. It peeks inside Amazon Web Services (AWS) and the way Amazon is constructing cloud infrastructure for companies like Netflix and Government agencies like the CIA. The whole interview - conducted by Charlie Rose - is a fascinating look inside Amazon, its chief executive and his plans, but one quote sums the company's business model brilliantly:
In the long run if you take care of customers that is taking care of shareholders. We do price elasticity studies and everytime the math tells us to raise prices.
- Why don't you do it?
- Because doing so would erode trust and that erosion of trust would cost us much more in the long term.
An example of such a long shot is the latest Amazon Prime Air drone delivery service that is said to launch in 4 to 5 years, under an optimistic scenario. It should pass FAA regulation approval in 2015.
Amazon is also said to be working on a new Kindle Paperwhite book reader that will come with much sharper display, new typography and other hardware improvements.
All of these however are just parts of a bigger plan for Jeff Bezos, take a look below to learn more about it.