6 totally amazing rugged cases for the Samsung Galaxy S6 edge
8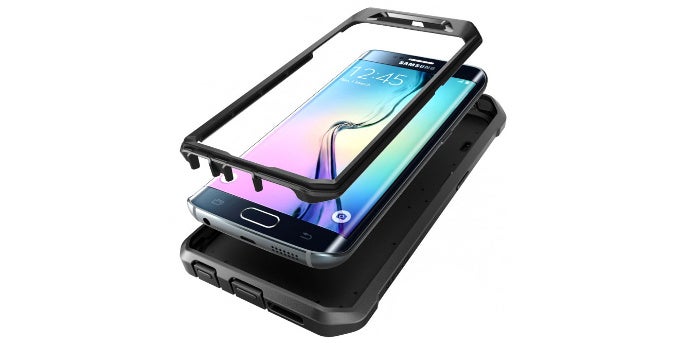 The Samsung Galaxy S6 edge is a pretty serious contender for being the best-looking Samsung device ever. The main highlight of the handset, its curved display, does not bring any noteworthy functionality, but no one can deny that the handset is a beauty that is unlike any other phone on the market. The metal frame and glass rear cover also add to the premium feel of the beautiful Samsung device. Naturally, you'd want to protect your Galaxy S6 edge at all costs. There already are a number of such cases for the handset. and today we will be highlighting the better ones.
Spigen Galaxy S6 Edge Case Rugged Armor
Price: $14.99 | Get it
here
This rugged Spigen solution for the Galaxy S6 edge is made of thermoplastic polyurethane, a 1.2mm lip that aims to shield the display from scratches, as well as built-in buttons that are touted as providing solid feedback. However, this case is only available in black at the moment.
Urban Armor Gear Maverick
Price: $34.95 | Get it
here
This case for the Galaxy S6 edge comes with an armor shell and impact resistant soft core, light composite construction, and does not prevent the camera's flash or the loudspeaker from doing their job in an impeccable way. It meets the MIL-STD 810G 516.6 shock-resistance standard. It's worth saying that unlike other UAG cases, this one does not come with a built-in screen protector. This case is also available in a lighter variation, Ash, which can be found
here
.
Trident Aegis
Price: $34.95 | Get it
here
The Aegis comes with an inner shock-absorbing layer of TPE and a polycarbonate one on top of it, which make sure that nothing will happen to your precious new phone. It's shock-resistant in accordance to the MIL-STD-810F 516.5 standard, as well as vibration-resistant as per the MIL-STD-810F 514.5 standard. It's available in black, blue, pink, and white.
Supcase Unicorn Beetle Pro
Price: $19.99 | Get it
here
This case will certainly do a pretty good job guarding your Galaxy S6 edge from the elements. It comes with an impact-resistant bumper and port covers that make sure no dust enters the handset through its ports. You can also strap your phone on your belt with the Unicorn Beetle Pro.
Pelican ProGear Protector
Price: $29.99 | Get it
here
(USA only!)
If you're strictly looking for cases that meet the various MIL-STD standards, then Pelican's offering for the Galaxy S6 edge need to find its way in your wishlist. Coming with a life-time warranty, the Pelican ProGear Protector case is compliant with the military specifications for shock resistance, which means that if you drop your Galaxy S6 edge on concrete, it will most likely live to tell the tale.
Ballistic Touch Urbanite
Price: $34.99 | Get it
here
The Urbanite case promises to protect your precious Samsung flagship if you drop it from up to 6 feet, while the raised lip and corners of the case will shield the display's frames from being scratched. In the meantime, it's not adding much bulk to the overall footprint of the handset. It comes in black only.