6 modern phones that feature two screens
20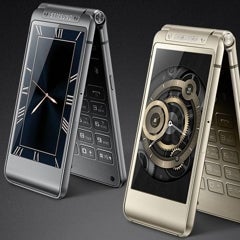 Most handsets today have only one display, and that's understandable: the golden age of flip phones is over, and manufacturers are less inclined to experiment with weird form factors. Even so, there are still various notable phones out there that do feature two screens, and we're now going to present 6 such modern devices. By
modern
we mean that the handsets that you'll see below have been announced or released recently - no earlier than 2014 - and not necessarily that they offer modern features (some of them certainly don't).
Only three of the handsets that we're presenting here are smartphones. The other three are features phones - yes, feature phones are still around, and we assume they won't be going anywhere in the near future, even though global smartphone sales surpassed feature phone sales for the first time in 2013. Without further ado, check out all the dual-screen devices below, in alphabetical order:
Made for users who need a simple and tough phone, the Kyocera DuraXV Plus / DuraXA was released this year as a 3G-less clamshell that offers a 2.4-inch, 240 x 320 pixels internal display, and a 1.08-inch, 90 x 102 pixels "high contrast" black & white external screen. Besides being dust- and water-resistant (IP68-certified), this Kyocera handset is shock and vibration resistant. Other features include a 5 MP camera with LED flash, 256 MB of RAM, and 512 MB of expandable internal memory. The DuraXV Plus model (available at Verizon Wireless for $192 off contract) comes with a Push to Talk button for "instant walkie-talkie style communication."
A couple of months ago, LG surprised the world by announcing the V10, a large smartphone that sports a main 5.7-inch Quad HD screen, plus a secondary 2.1-inch screen with 1040 x 160 pixels. The secondary, smaller screen functions independently from the main one, being able to display notifications, date and time, or quick shortcuts. The LG V10 runs Android Lollipop (upgradeable to Marshmallow), featuring a six-core Snapdragon 808 processor, a dual 5 MP front-facing camera, 16 MP rear camera, 4 GB of RAM, 64 GB of expandable internal memory, and a 3000 mAh battery. Interestingly, the LG V10 is also shock and vibration resistant (though it's not water resistant). The LG V10 can currently be bought in the US from Verizon, AT&T, and T-Mobile for under $600 off contract.
No images
Initially known as the
Galaxy Golden 3
, the Samsung W2016 is the most advanced clamshell ever. Released last month in China, the W2016 sports two 3.9-inch touchscreen displays with 768 x 1280 pixels (internal and external), and runs Android Lollipop. The handset is powered by an octa-core Exynos 7420 processor (the same that's found inside devices like the Galaxy S6 or Galaxy Note 5), further offering 3 GB of RAM, a 16 MP rear camera, 5 MP front-facing camera, and 64 GB of internal memory. The Samsung W2016 will likely not be launched outside of China.
Here we have another Samsung device, the Rugby 4. This one is a clamshell feature phone with modest specs, but with a rugged, water-resistant construction. The Samsung Rugby 4 offers a 1.3-inch external display with 128 x 128 pixels, and a 2.4-inch internal display with 240 x 320 pixels. It's also got Push To Talk capabilities, a 3 MP camera, and microSD card support. The phone is available in the US via AT&T, costing $99.99 on contract, or $269.99 off contract.
Made by watchmaker TAG Heuer (which recently released
its very first smartwatch
), the Meridiist Infinite is a luxury feature phone with 2.4-inch, 240 x 320 pixels main screen, and a secondary display - for notifications - on the top of the device. Thanks to built-in
photovoltaic cells
, the TAG Heuer Meridiist Infinite can transform sunlight (and even artificial light) into electricity, thus being able to keep its battery charged "forever." Although it was announced last year, the Meridiist Infinite has yet to be released. When (and if) it's going to be available, it will likely cost several thousands of dollars, since that's roughly the price of previously released Meridiist handsets.
The YotaPhone 2 is an Android-based handset with a main 5-inch 1080p touchscreen display, and a 4.7-inch, 540 x 960 pixels always-on e-ink screen (also touch sensitive) that sits on the back of the device. The idea behind the e-ink display is that, if you're using it exclusively (without turning the main screen on), you can get up to 3 days of usage time from the phone. While it was launched in several markets (including Russia),
the YotaPhone 2 didn't make it to the US
, despite Yota having serious plans in this regard. Anyway, a
YotaPhone 3
is in the making, and this one might be sold in North America when it launches sometime next year.