North American launch of YotaPhone 2 cancelled
9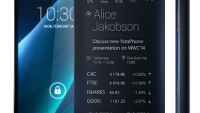 The launch of the dual-screened
YotaPhone 2
in North America has been cancelled. The company said in a letter to those who backed the device on crowd-funding site Indiegogo, that there were delays in receiving the North American variant of the phone from the manufacturer. That is what led Yota Devices to 86 the launch of the handset in the continent.
Last week, the CEO of Yota Devices met with the supplier to see if something could be worked out at the last minute in order to save the launch. But no solution would be able to get the phones into North America without forcing Yota to change its 2016 roadmap. Indiegogo supporters of the device would end up being stuck with a model of the YotaPhone one generation behind international owners.
To make up for the cancelled launch in North America, those living in the region who funded the device can accept delivery of the international version of the YotaPhone 2 (YD201) in Black only. While the phone will work with GSM carriers T-Mobile and AT&T in the U.S., it won't support 4G LTE connectivity. It will work with HSPA+ bands. If you don't want the international version of the phone, you can request a refund. While Yota Devices is working on how it will handle the refund process, the company has said that it will not refund credit cards and wants to send out reimbursements directly to those who funded the YotaPhone 2.
According to Matthew Kelly, who works with Yota, bringing in a new supplier means that the company still has big plans to deliver a YotaPhone in the Americas in 2016. Back in January, there was talk that
the YotaPhone2 would be offered by a U.S. carrier this year
, which is obviously something that will not happen in 2015. The device is equipped with two displays. One is a 5-inch AMOLED screen with a 1080 x 1920 resolution display. The second display on back is a 5-inch e-ink screen with a 540 x 960 resolution. A Snapdragon 800 chipset is under the hood, with a quad-core CPU and the Adreno 330 GPU. 2GB of RAM is inside along with 32GB of non-expandable storage. A 2550 mAh battery keeps both screens lit. An 8MP camera adorns the front of the unit, and a 2MP snapper graces the front of the handset. Android 4.4.3 is pre-installed.
The good news is that, as a result of our growth, we are bringing on a new manufacturing partner who can support the scalability we need in order to quickly bring YotaPhone to various regions around the world, including North America. This includes delivering a new generation YotaPhone with the latest specs and technologies, but also at a lower cost, to allow us to offer better value to our customers in 2016. We hope that you'll stay patient with us long enough so that we can deliver on this."-Matthew Kelly, Yota Devices
source:
Indiegogo