5 things that would have made the Microsoft Lumia 950 and Lumia 950 XL even better phones
57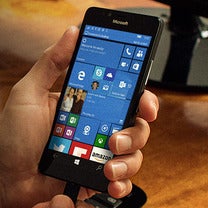 You know what they say – better late than never. The
Lumia 950
and
Lumia 950 XL
are finally official and are the Lumia flagships we've been expecting for so long. And the wait may have been worth it, or at least that's what our readers would say. Seven out of ten participants in
our recent poll
were impressed by Microsoft's newest handsets.
We think we can see why one might be excited about Microsoft's new phones: the Lumia 950 and
Lumia 950 XL
pack fast, liquid-cooled processors, come with great screens and promising cameras, and have the differentiating ability to act as a desktop PC when paired with the Microsoft Display Dock gizmo.
But perfect they're not. Here are several things that would have made the Lumia 950 and Lumia 950 XL even better phones than they are. Do you agree with our picks? Is there something you would add to the list? Let us know in the comments!