5 smartphones that'll give the iPhone 5 some heated competition
99+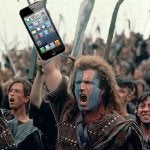 Now that the
iPhone 5 is all-official
, there are many people in the industry who feel a bit
underwhelmed
by the announcement. Sure, it's bigger, faster, and stronger than its predecessor, but as a whole, it might not embody all the necessary characteristics to deem it a cutting-
edge
device in a world where hardware seems to take precedence amongst some people. Whatever the case, it's almost certain that Apple's latest pride and joy will continue the
legacy
of dominating the sales market – mainly because of its notoriety.
However, as we've seen since the beginning of the year, the competition has seemingly caught up, and in some instances, surpassed the iPhone in many categories. Nowadays, there are a handful of smartphones donning 720p displays, packing speedy 4G LTE, and even NFC to make them future proof – all of which, help to make them more feature filled. For the average consumer, the power is in their court because they have many options to side with. Even though the Apple iPhone 5 will undoubtedly be taken into consideration, thanks primarily to its brand recognition, there are still other devices out now (and coming soon) that will undoubtedly give some heated competition.
So beware iPhone 5, here are 5 smartphones that are waiting in the bushes for the opportunity to take away your crown.