Apple announces the iPhone 5
99+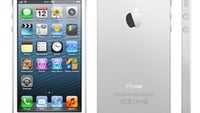 Here it is, folks! The moment we've all been waiting for. At the Apple press conference in San Francisco,
the iPhone 5 was announced officially
by Apple's Phil Schiller. And just as we expected, the smartphone has undergone some major changes, both in terms of appearance and hardware specifications.
To start, the
iPhone 5
may have taken a few design cues from its predecessor and is made entirely of glass and aluminum, yet it now stands taller in order to accommodate its bigger, 4-inch Retina Display with 16:9 aspect ratio. Its screen resolution has been given a boost up to 1136 by 640 pixels for picture-perfect visuals even when held up close. Thanks to in-cell touch technology, the screen is thinner, sharper, and produces less glare under direct sunlight. And if that is not enough, the new display panel delivers 44% better color saturation an supports full sRGB rendering.
At the same time, Apple managed to shave off quite a bit from the waistline of its smartphone, which now boasts a thickness of only 7.6 millimeters, which makes it, without a doubt, the slimmest iPhone yet. What's also quite impressive is that the iPhone 5 weighs 112 grams, which is 20% less than the iPhone 4S. Width-wise, the new iPhone remains no wider than the previous iPhone model.
At last, the iPhone has been blessed with high-speed 4G LTE connectivity and it can reach speeds of up to 100Mbps, at least theoretically. As far as carriers go, the smartphone will be compatible with the AT&T, Verizon, and Sprint LTE networks in the U.S. For folks north of the border, Apple will release the iPhone 5 in partnership with Bell, Rogers, Telus, Fido, Virgin Mobile and Koodo. In addition to LTE, the iPhone 5 handles HSPA+ at up to 21Mbps and DC-HSDPA at 42Mbps.
You can't have a high-end smartphone without equipping it with a high-end processor, right? That is exactly what Apple has done by putting a brand new A6 processor inside the iPhone 5, which has a CPU that is twice as fast as the one inside the A5 chip. The graphics performance has also been doubled when compared to what the A5's GPU is capable of, according to Apple. Real Racing 3 was demonstrated on stage showing off what eye-candy the iPhone 5 can deliver. At the same time, the A6 is physically smaller and more energy efficient than the A5.
Right above the screen on the new iPhone resides an upgraded front-facing camera with BSI sensor, which now can be used for FaceTime conversations in HD. Turn the iPhone 5 around and you'll find an 8-megapixel camera with a 5-element lens and f/2.4 aperture. At a glance, not much has changed in the camera department when compared to the iPhone 4S, but that isn't necessarily a bad thing since we know the predecessor can capture some pretty good-looking photos. What's new from a technical standpoint, however, is that the A6 chip now comes with a better image processor, which reduces the digital noise in photos. Additionally, the camera lens is now protected by a sapphire cover for better durability. On the software side, panorama mode has been added, and composite photos of up to 28 megapixels can be taken with its help. Unsurprisingly, the camera can take 1080p video at 30 frames per second, yet Apple brags that it has improved the video stabilization feature.
The audio system of the iPhone 5 has also been treated to an upgrade. After all, some people still talk on their phones! There are three microphones on the iPhone 5 in order to minimize background noise during calls and to capture clearer audio while shooting video. The speaker itself has a 5-magnet transducer for better performance. There's also what's being referred to as "wideband audio", which is supposed to make voices sound more natural during conversations, although it is a feature that carriers will have to support in order for it to work. At this time, at least 20 carriers will support the standard.
As it was predicted, the new iPhone sports a smaller, redesigned dock connector called Lightning, which is used for charging and connecting the smartphone to a computer. In case that bothers you, however, Apple will offer an adapter that makes the old 30-pin connector compatible with the new configuration. The new connector is reversible, meaning it doesn't matter in which direction it is being plugged. As a side note, Bose, JBL, Bowers & Wilkins, Bang & Olufsen and other companies are preparing audio accessories compatible with the new dock.
There may have been speculation as to how good the battery life of the new iPhone would be, yet Apple promises satisfactory results with the iPhone 5. The smartphone should be well capable of providing 8 hours of talk time or web browsing over 3G or LTE. If only Wi-Fi connectivity is being used, it will be 10 hours until the battery runs out of juice.
The icing on the cake is iOS 6, which the iPhone 5 will ship with. Simply put, you can expect around 200 new features to be available with the iPhone 5, including some major additions like Apple's new 3D maps with turn-by-turn navigation, deep Facebook integration, FaceTime over Cellular, and many more. To no surprise, a fifth row of icons has been added to the interface, and applications such as iWork, Keynote, Pages, Numbers have been updated, so that the software takes full advantage of the additional display real estate. Existing applications, however, will run letterboxed until they are updated.
"So how do I get one?" you ask. Well, one way to buy the iPhone 5 is by pre-ordering it from the online Apple Store on September 14, but in case you have the patience, purchasing it from a brick-and-mortar Apple outlet is also an option. The smartphone will hit the shelves on Friday, September 21, in the US, Canada, UK, Germany, France, Australia, Japan, Hong Kong and Singapore. Pricing is set at $199 on-contract for the 16GB model, 32GB will cost you $100 more, and for $399 you will have a plentiful 64GB of on-board storage. The iPhone 5 will be available in white or black - the white model has a raw aluminum back while the black one sports an anodized coating. Too pricey? Then you might want to consider getting an iPhone 4S, which will be discounted down to $99 on-contract, or the iPhone 4, which will be offered for free with a 2-year service agreement.