5 of the funniest face swap apps for Android and iOS
3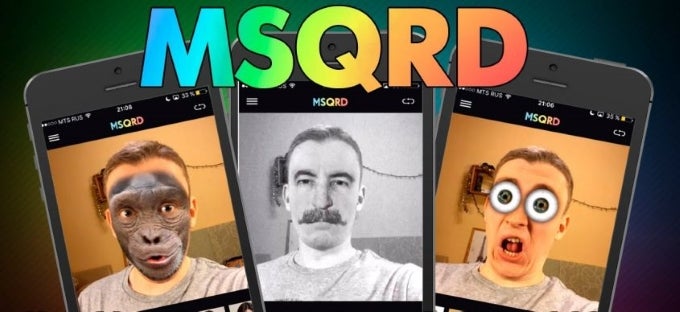 Face-swapping can be some of the most hilarious fun offered by smartphones. The five apps we've rounded up below will let you fire up your phone's front camera, get a mate inside the picture, and swap each other's faces to potentially stomach cramp-inducing laughter. It gets even better (think mildly horrifying) when you get your favorite pet or beloved toddler to participate. Just download an app you like and experiment for some unforgettable visuals.
MSQRD
MSQRD is an extremely popular face swap app that lets you transform the way you look with rather amazing masks and effects! You are able to turn yourself into a panda, a zombie, or just swap faces with friends. When you are done, you can save and share photos and videos, or broadcast yourself live to friends, family and fans on Facebook wearing your favorite masks.
Face Swap Live
With Face Swap Live, you can switch faces with friends or photos in real-time. The app lets you create videos and photos of yourself swapping faces with a celebrity, a friend, or any fun picture you got from the internet or on your phone. Unlike other apps that only use static photos, this app can switch faces live straight from your camera feed. This way, you can see your talking face on Marilyn Monroe's photo, for example, or get freaky and put your moving mouth onto a picture of your pet.
MixBooth
The MixBooth app is a brainchild of the makers of the legendary AgingBooth, FatBooth, BaldBooth, UglyBooth & BoothStache apps. With MixBooth, you can see yourself
inside someone else's skin – such as your friends. The app presents an amazing and funny way to mix your face with those of friends, family, colleagues, and celebrities. The result can be shared via email, MMS, Facebook, and Twitter.
Lip Swap
Lip Swap is an Android Experiment app that lets you switch parts of your face with other parts of your face – because, why not? If you want to be seen talking through your eyes and looking through your mouth, that's the app you want. It can also create funny videos that you can share with friends.
Face Swap!
If you are jealous of your attractive friend or downright repulsed by someone's ugly face, Face Swap! is a great app to try. It automatically and instantly swaps all the faces in your photos, boasting an advanced face detection algorithm to automatically detect faces. It lets you pinch, zoom, scale, and rotate faces, as well as zoom-in for accuracy. With the Facebook integration, you can select your or your friends photos, swap your friends' photos, and share them via other social media.
ALSO READ