5 fancy phone camera autofocus technologies: from lasers to phase detection
11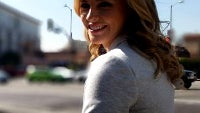 Phase detection auto focus, lasers, infrared, focus pixels - a smorgasbord of smartphone camera focusing technologies has appeared lately, and each one promises to be faster and better than the others.
Samsung kicked it off with the PDAF tech in the
Galaxy S5
, then LG introduced us to the
Laser Auto Focus
, Lenovo planted an infrared focusing system on its upcoming
Vibe Shot
, and Sony is ready to put its own embedded focusing tech to good work.
Which one is fastest and bestest, though? While there is no clear-cut answer here, as those serve different focusing purposes, we thought we'd list the current crop in the slideshow below with a few words about each, in the hope to bring some clarity into the marketing speak of the smartphone makers. Check them out below.