5 cool new Android launchers and interface tools (July #3)
8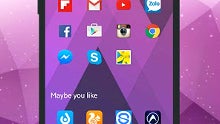 If you put enough time and effort, they say, you can tailor every Android phone to serve your unique interests and interface layout, and third-party launchers like Nova, Apex and the like, have proved it time and again.
Every once in a while, a new launcher appears that promises a paradigm shift in interacting with our mobile devices, utilizing innovative gesture-based or side-sliding launch tech, and some of them are even donning amazing graphics and extra functionality.
We took a glimpse at what's new and cool or updated fine at the Play Store in the interface draping department for the fortnight, and noticed a few launchers and interface tools that you might find useful, or at least funky to try out. Check them out below.
One Launcher is less than 2MB, yet features real-time lockscreen notifications, its own weather, clock and calendar widgets, and a bunch of curated high-res wallpapers. It bets on simplicity and speed, with numerous transition effects that don't lag, even on older Android gear.
Very small, very fast, and with an effective use of features that matter, the new Nice Launcher comes with a few predetermined homescreens, and toggles in the dock.

Lightning is easily the most customizable Android launcher out there, in the sense that Zooper is for widgets, for instance. It's gotten an update recently, and now makes it easier to build your perfect home screen by arranging any app icon or widget any way you like, even rotating, overlapping, or scaling them.
Fly Launcher is tiny, quick and offers plenty of useful options like in-phone search , smart folders and notifications bar, as well as swiping through curated apps and categories.

Microsoft has announced that it is beta testing its new
Arrow Launcher for Android
. It gives you a home page with one row on top for your recently used apps, and three rows for apps that you use the most frequently. The apps displayed on the dock are determined by the user, and normally might include those used very often. A swipe to the right takes you to the Notes & Reminders page where you can type in a list of things to do and check a box once the task is completed. A swipe in the other direction brings you to a list of people from your contacts list that you recently got in touch with via phone, email or text. It also provides you with a list of frequently used contacts, as well. You can also swipe up to see more options including additional dock shortcuts. The app drawer is posted alphabetically, and you can use your finger to slide down a list of letters to reach an app faster.