5 best, free .pdf reader and editor apps for Android, iPhone and iPad, and Windows Phone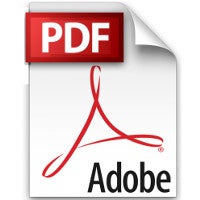 Invented some 22 years ago by Adobe, the Portable Document Format (PDF) is one of the most common types of document files currently in use. Whether it's a smartphone manual, a leaflet from your local coffee shop, or an online issue of your favorite magazine, chances are that the file has a .pdf suffix at the end of its name. For whatever reason, however, the majority of smartphones currently in users' hands can't handle files with a pdf extensions without a proper, third-party app. Fortunately for all, there are plenty of those, and some are pretty good.
So, whether you just want to be able to read PDF files on your Android, iPhone, iPad, or Windows Phone device, or go deeper still and do some edits, a tool exists for the job. We went through a couple dozens of candidates, and shortlisted 10 of them. Some fall within the specialty category, meaning that they concern themselves with PDF files only, while others are entire suites that facilitate other similar file extensions as well.