5 Android camera apps that can shoot raw photos
11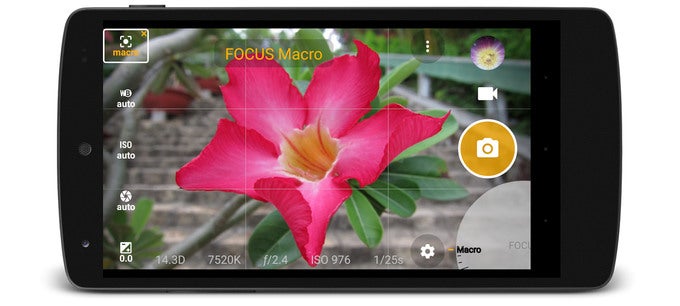 Anyone who knows their way around a camera should be familiar with raw image files. Simply put, they contain pure, uncompressed visual data captured by the camera's sensor. It is this data that a camera's image processor uses to produce the JPEGs we later view and post on the internet. It is this kind of file that a pro photographer would use to make the most of their images.
So if that's the case, why don't we all shoot raw images with our smartphones instead of lossy JPEGs? Because raw files take up a lot of space, because most apps can't interpret the visual data they contain, and because JPEGs do look good enough, among other reasons. But at the same time, recent versions of Android do have the technical capability to store raw images, and there's a growing number of Android phones that have the feature built into their camera apps. Natively, the feature to save photos as DNG files – a popular extension for raw images – came along with Android 5.0 Lollipop and its Camera2 API.
Sadly, not all Android phones running Lollipop and above have camera apps with raw capabilities. That's why we thought we'd find the third-party Android camera apps that do let you shoot raw images. At least on some phones, that is – phones that have the said Camera2 API fully implemented. Let's start with...
Manual Camera
It is not hard to tell what this camera app is all about. As its name implies, Manual Camera aims to provide access to full manual camera controls. On compatible devices, you're allowed to control the focus, white balance, shutter speed, ISO, and exposure compensation settings. While the app can control each of these parameters automatically for you, tapping on one locks its value, allowing you to change it as you see fit. Controls are arranged on the side, where they're easy to access, and an on-screen wheel is what you use to do manual adjustments. Necessities like a self-timer, on-screen grid lines, and flash controls are also present. All in all, the app is a must-try for all photography enthusiasts. Just make sure you run the compatibility check prior to purchasing the app. It will show you which of the app's features, including shooting in RAW, will be supported on your device.
Camera FV-5
Here's another RAW-capable camera app that focuses heavily on manual, DSLR-like controls. Again, you're free to control the focus, white balance, shutter speed, ISO, and exposure compensation. In addition, there are several useful modes at your disposal, including Program and Speed priority – the former lets you shoot at a fixed ISO and the latter takes photos at the fastest shutter speed possible, with the rest of the camera settings adjusted automatically. Plus, you get burst mode, self timer, exposure bracketing, guidelines, and a histogram. To make shooting more convenient, the app lets you change camera settings from your device's volume keys, which is pretty neat.
AZ Camera
At a glance, AZ Camera appears to be very similar to the previous two apps. And it is – with AZ Camera, you have manual control over your camera's settings. What makes the app different is that it comes free of charge. Sure, some features do cost money to be unlocked, but the RAW option is available straight away. Donating money to the developers will give you access to unlimited video recording (also with manual controls), exposure bracketing, live histogram and more.
Download AZ Camera (Free, but Pro features will cost you)
A better camera
First, the good news: A Better Camera has plenty of modes and settings to help you take better photos. And currently, its full version is on sale. As for the not-so-good news, RAW is only supported on a limited number of devices, so do give the above apps a try if RAW support is what you need. RAW photos aside, A Better Camera offers a handful of useful features, including Pre-shot, HDR+, Night Mode, high-res panoramas, object removal, and more.
Mi2raw Camera
And lastly, this is Mi2raw Camera. It does take RAW photos, apparently, but it works on only a handful of smartphones. These include the Xiaomi Mi2, Mi3, the LG G2, and the OnePlus One. If your phone is unsupported, the app won't even start. Don't bother installing it if that's the case.