49.1% of new devices activated during Christmas were made by Apple; Samsung trails at 19.8%
75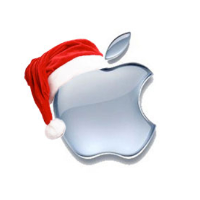 Apple devices were much more likely to be found under the tree this holiday season, than products made by competitors. For the week dated December 19th through December 25th, analytics firm Flurry (owned by Yahoo) found that 49.1% of new devices activated globally during the Christmas week, were made by Apple. That is off 2.2 percentage points from last year's figure.
Samsung was second, accounting for 19.8% of new activations during Christmas week. That was a 2.1 pp increase from 2014's figure, meaning that Samsung essentially picked up the activations lost by Apple this year. Nokia's share dropped from 5.8% to 2%, still good enough for third place. LG was next with a 1.7% slice of the pie, while Xiaomi was fifth with a 1.5% share of the new activations made during Christmas week.
The data shows how phablet demand continues to rise. In 2013, these large-screened phones made up only 4% of new devices activated globally from December 19th though the 25th. Last year, phablets made up 13% of such activations. This year, that figure was 27%. During the same period of time, new small phone activations have dropped from 3% to 2% to this year's 1%. New medium-sized phone activations have dropped from 64% (2013) to 63% (2014) to 54% (2015).
New tablet activations have been falling overall. During the week containing Christmas, small slates' share of new activations dropped from 12% to 11% to 9% in 2013, 2014 and 2015, respectively. Large tablets have had a very similar pattern, falling from 17% to 11% to 9% of new activations over Christmas week in 2013, 2014 and 2015, respectively.
While the
Apple iPhone 6s Plus
and
Apple iPhone 6 Plus
accounted for 12% of iOS activations during Christmas week this year, Android phablets made up 50% of Android activations during the same time period. Lastly, whether it is due to new devices purchased for the holidays or just a desire to add some new games, app installations rose 120% on Christmas day.
Flurry came up with the data by tracking 780,000 apps.
source:
Flurry
via
AppleInsider