4 great, brand new smartphones that come with free accessories
12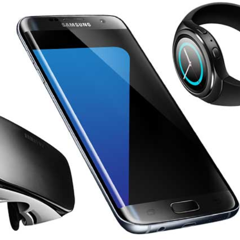 It's 2016, and the smartphone market is more competitive than ever, so it's becoming increasingly hard for customers to decide which handset to buy - that's why some companies are trying to lure users by offering more than just a smartphone for their heard-earned cash. If this is what you're looking for, let us introduce you to four new, arguably great handsets that come with extra accessories for free.
All four smartphones are running Android 6.0 Marshmallow, having been announced in February at MWC 2016. Mind you, at the moment, only two of them are actually available to buy, though the other two will be released pretty soon. Let us know which one you'd want to have, and why - will you?
The first smartphone on our list is also the cheapest. It's the Alcatel Idol 4S, which should hit shelves starting the next few months. Alcatel will sell the Idol 4S in a retail box that's actually a (free!) virtual reality headset - so there's no need for you to buy one if you want to try VR. Similar to Samsung's Gear VR or Google's Cardboard, the Alcatel VR headset needs a smartphone - obviously the Idol 4S - to actually work. VR content will be available to download via Alcatel's own Onetouch VR Store.
As for the Idol 4S itself, this is made out of metal and glass, sports a 5.5-inch Quad HD (1440 x 2560 pixels) display, and is powered by Qualcomm's octa-core Snapdragon 652 processor. The Snapdragon 652 is the reason why the Idol 4S can't really stand next to the other smartphones on our list (as they pack more powerful processors), though Alcatel's device has the advantage of costing less: between $400 and $500. Since Alcatel is officially selling various smartphones in the US, we assume that the 4S will also be available stateside at some point. Until that happens, you can read our
Alcatel Idol 4S hands-on here
.
The LG G5 is officially launching in the US in early April, and you'll find it at all major mobile carriers (Verizon, AT&T, T-Mobile, Sprint), as well as at retailers like Best Buy, Amazon, and B&H.
LG confirmed that G5 buyers will
get an extra battery and a charging cradle for free - though only "for a limited time." We're not surprised by this, as last year's LG G4 also came with similar freebies, plus a microSD card. Thanks to LG G5's metallic modular design, you'll be able to easily remove its battery and replace it with the extra unit.
Powered by Qualcomm's high-end Snapdragon 820 processor, the LG G5 sports a 5.3-inch Quad HD screen, further featuring stuff like a 16 MP dual rear camera, Always On display mode, and 4 GB of RAM. While LG did not reveal the official price of the G5 for the US, we know that, in Canada, the handset will cost 800 CAD, which means about $600 in US dollars. For a closer look at the modular device, check out our
LG G5 hands-on
.
LG G5
Yes, the Galaxy S7 and Galaxy S7 edge both come with freebies - more exactly, until March 18,
Samsung is offering buyers a free Gear VR headset
, plus six games (a total value of $149.99). Interestingly, if you're buying any of the two handsets from Verizon, you can choose to receive a free Gear S2 smartwatch ($300 value) instead of a Gear VR.
The two new water-resistant Samsung smartphones are already available in the US and various parts of the world. The S7 (which sports a 5.1-inch Quad HD screen) can be purchased for as low as $649 unlocked, while the larger, fancier S7 edge (with its 5.5-inch dual-curve Quad HD screen) costs $100 more. Like the LG G5, the S7 and S7 edge are powered by Qualcomm's Snapdragon 820 processor (at least in the US). For an in-depth look at the two smartphones, make sure to check out our
Galaxy S7 review
and
Galaxy S7 edge review
.