Alcatel's new Idol 4 and 4s are hot pieces of art: hands-on
13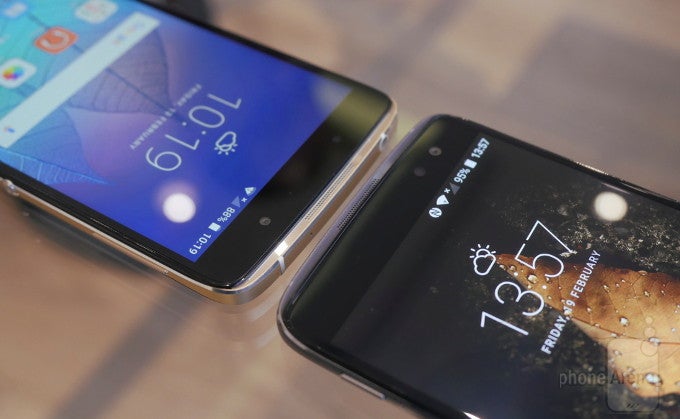 Alcatel is among the biggest handset makers worldwide, but you wouldn't necessarily know this from the news – Alcatel can't seem to penetrate the mainstream media channels strongly enough, possibly because it's been entirely focused on the more affordable end of the market so far.
This may or may not change this year, but Alcatel sure is pushing hard. That much has become clear today, as Alcatel has just announced its new headliners: the Idol 4 and Idol 4s.
Based on specs, the Alcatel Idol 4 and Idol 4s can be classified as mid-range smartphones. They have more or less affordable price tags, and they try to deliver a relatively clean and streamlined take on Android, without gimmicky features and bloatware. They are also among the most beautiful smartphones we have seen in the last couple of years.
'Quality build made of glass and metal' – this description could be used for a surprisingly large number of phones these days. But we typically wouldn't add much to it, simply because it's often hard to tell one phone from the other. Generic shapes devoid of character is what seems to be the norm these days. "There's only so many ways you can make a rectangular smartphone," they tell us. Well, with the Idol 4 and 4s, Alcatel is showing us it doesn't have to be this way. The company's new phones have their own style, their own distinguishing features that make them look unique, all the while staying familiar and universal. What's more, their specific design aesthetics don't stand in the way of comfort – in no way did the new Idols felt unpleasant to hold at any moment, quite the contrary.
The Idol 4 is the mainstream product: an impressively thin, 5.2" 1080p smartphone with the Snapdragon 617 processor. It may not sound like much, but the size is perfect, the screen is pleasant to look at, and the system performance is very good – noticeably better than competing offerings, even some models from big name companies like Samsung or LG. Couple that with the expected pricing of about $280, and the value in this promising handset is immediately apparent.
The Idol 4s is the beefed up version of the 4. The screen is 5.5 inches with 1440p resolution, but the phone is still nice and easy to handle. The Idol 4s should be priced somewhere between $400 and $500, but the price is justified: it'll make use of the most powerful chipset in the 6xx series: the Snapdragon 652, which comes with faster CPU and GPU. It's by no means a slouch.
Like their predecessors, the new Idols are extremely symmetric, and they offer you a fully rotating interface: this means that if you happen to accidentally hold your phone upside-down, you'll still be looking at pretty much the same thing, as if you're holding it correctly. Sound channels routed to the stereo speakers also get swapped depending on the way you're holding the phone, so that you always have a correct audio picture. The Idol 4 and 4s even have another pair of stereo speakers on the back, so if your phone is placed head down on a table, you don't need to worry about missing an event – your phone is smart enough to fire up the sound through the rear-facing speakers. How cool is that?
Alcatel's approach with the Idol 4 and Idol 4s is neither "more is less", nor "less is more". To be more specific, the company is looking to deliver more on the user experience front, and less on the dubious features/apps front. What this means is that it won't try to wow you with obscure gestures and software gimmicks, but instead will try to make using your phone a more pleasurable experience: with nice and fluid performance, coherent interface and meaningful additions and alterations to the Android system. Needless to say, we find the new Idols lovely, and we just can't wait to spend more time with them. We have to close with a drop of bitterness, though, because Alcatel is yet to reveal release date details for these two. But that's OK. True love is worth waiting for.