30 million downloads for the free Android version of the Angry Birds
5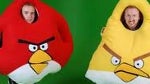 Amazingly, Rovio has announced that there have been 30 million downloads for the ad-supported free Android version of the Angry Birds. What makes this figure so amazing is that in December, that figure was 5 million. At that time, Rovio said that ad revenue was about $1 million per month which means that currently Rovio could be raking in some $6 million monthly or an annual rate of $72 million. That ain't birdseed, folks.
Angry Birds is not a game you play once and then forget about. Stats show that 80% of those Android users who download the game also install the updates which shows that once the Angry Birds gets in your blood stream, it stays there.
The numbers were disclosed by Rovio's Peter Vesterbacka, who is speaking as part of a Google-run Android monetization panel. And if anyone should know how to turn a Google application into money, it's Rovio.
source:
Joystiq
via
AndroidCentral