26% of current U.S. iPhone owners plan on upgrading to the Apple iPhone 8
73
The most anticipated Apple iPhone in years is expected to be unveiled and released as soon as September. The tenth anniversary model, dubbed the
Apple iPhone 8
, will reportedly launch with an edge-to-edge OLED display. That would make it the first iPhone to feature an OLED panel. In addition, if the technology allows for it, the Touch ID fingerprint scanner will be embedded under the screen. The Apple A11 chipset will be driving the device, which
might be equipped with a 3D sensing front-facing sensor
that will allow for face recognition capabilities.
A survey taken by
Branding Brand
, a company that delivers websites and apps for big business, found that 26% of current iPhone owners in the states plan on buying the iPhone 8. 14% will purchase a model from the iPhone 7 series, and 12% plan on picking up an iPhone 6 series handset. 2% said that they plan on switching to an Android powered phone, and 1% expect to buy the
Apple iPhone SE
.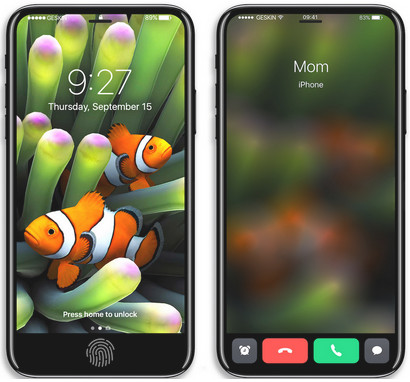 Alleged Apple iPhone 8 render
With some of the
new features of iOS 11 already revealed at WWDC earlier this week
, the same survey revealed that 44% of iPhone users want improvements to the handset's operating system. And a quarter of those responding simply want a new design for Apple's smartphone.
The survey lists five reasons why internet users purchase the iPhone. 65% said that they buy an iPhone to make calls. 60% said that they purchase an iPhone to play music, and because it is cool. The percentage of those purchasing the iPhone because it is cool topped the number who buy this particular smartphone to browse the internet, and to send emails and texts (58%).
So what are the reasons why internet users don't purchase an iPhone? The top reason has to do with the price of the device. 49% beg off buying an iPhone because it is too expensive. 42% said that they won't buy an iPhone because they don't need another device. 40% of those surveyed won't buy an iPhone because they don't need all of its features and capabilities, and they are happy with their current phone. Lastly, 28% won't pick up an iPhone because they don't want to change carriers.
With
a price tag rumored to range as high as $1,000
, the Apple iPhone 8 is not going to be a purchase made off the cuff. And while the device will draw serious buying interest among the Apple faithful, the company's big task will be to get those who normally support another platform, or those who don't play favorites, to desire the 10th anniversary edition of the iPhone.
source:
BrandingBrand
via
eMarketer