iOS 11 is announced with improvements to Siri, Apple Pay, Photos and lots more
35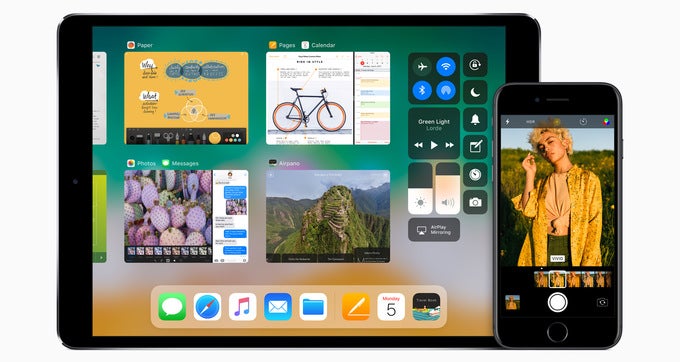 We can't always predict what Apple's next big announcement is going to bring, but this one we saw coming. At WWDC 2017, the company announced iOS 11 – the latest major update to its mobile operating system. The newest iteration adds numerous improvements that iPhone users will be enjoying later this year, and the list of upgrades that iPads are going to get is even more substantial. So let's dive in the paragraphs below where we go into more detail.
New in Messages: money talks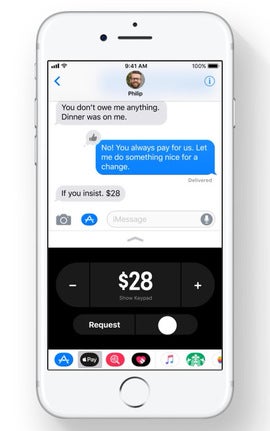 iOS 11 and Apple pay add person-to-person transactions... right inside Messages
First up – Messages. As this is the most popular native iOS application, it makes perfect sense for Apple to make it even better. And improvements come in the form of... a better applications tray. Not groundbreaking, we know, but welcome nonetheless.
Another tweak is the improved synchronization of iMessages across devices. Once you sign in on a new iOS device, all your chat history will be transferred over. Deleting something from the transcript goes away on all devices, by the way. With iOS 11, Apple is essentially moving your iMessages to the cloud, thus freeing space on your device's local storage. And one minor feature that you might have missed: the on-screen keyboard is getting a one-handed mode, with keys squeezed to the edge of the screen for better reach.
And now comes the reason for that sub-heading we put there. With the Messages app in iOS 11, you'll be able to exchange money directly with the people you chat with. As long as you're both Apple Pay users, that is. Apple's payment system is getting support for person-to-person transactions, and those are accessible right from within the Messages app. Convenient, huh?
Siri, speak to me
Siri is also getting an update – most notably, in the way she speaks. Her voice is more natural in iOS 11, and the demo made on stage did sound impressive. As before, Apple's assistant has a male voice option as well. This has also been enhanced to make your virtual assistant sound less like a robot.
Another awesome skill: Siri now has language translation abilities. The feature is still in beta, Apple clarifies, but we saw a pretty convincing demo of Siri translating a phrase from English to Chinese without a hitch. At launch, Siri will support translation of English to Chinese, French, German, Italian, and Spanish, with pronunciation of the translated phrase. More language will be added in the months to come.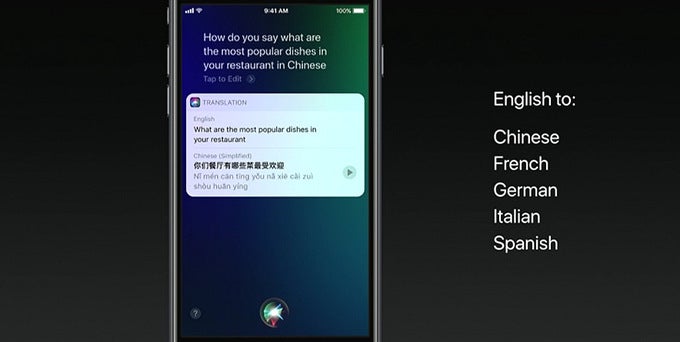 Siri in iOS 11 can translate English into other languages. With pronunciation!
Control Center: redesigned
Voice control is pretty cool, of course, but something you're likely to use a lot more often is the new, redesigned Control Center. As before, you slide up from the bottom of the screen to bring it up, and you'll immediately see its new design. Yes, it does look... different, but we trust Apple that change is for the better. For starters, it's a single-screen experience now. So yeah, no more maxing out the volume by accident! Music controls are in their own widget of sorts, and volume control is a vertical slider. So is the brightness dial.
As before, buttons support Force Touch for richer interaction – using Force Touch on a slider, for instance, makes it bigger. Using it on the music widget brings out more controls and music information, and force-touching the pane with your radios shows additional connectivity toggles.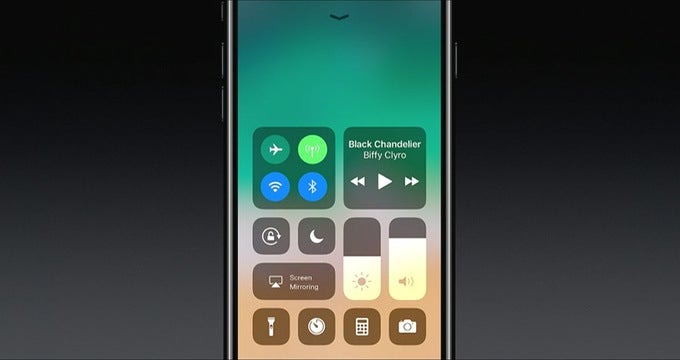 The iOS 11 Control Center. Buttons support Force Touch, as before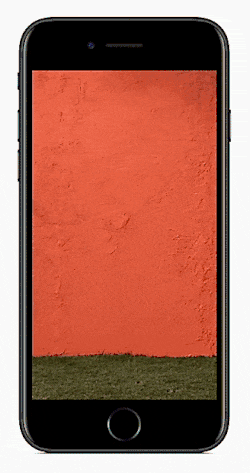 A loop made in Photos in iOS 11
The Camera app in iOS 11 is changing in a number of ways that you might not notice right away. The new OS marks the switch from H.264 to HEVC video format, allowing better video compression, producing files that use up less space. In a similar fashion, JPEG photos are to be replaced by HEIF, which is a high-efficiency image format designed to use less storage. Apple assures us that we'll still be able to share these media with others as before, despite the change in formats. We'll see about that. The camera is also getting improved HDR and low-light performance, Apple brags.
On the topic of imagery, the Photos app in iOS 11 is getting a handful of new features, thankfully ones that are more visible to the end user. One is the option to create loops out of Live Photos, as shown on the right. The other – to add various effects to pictures taken with the Live Photo option enabled. For instance, a long exposure effect – where motion is beautifully emphasized with blur – is available. New creative filters are also there to play with, but the option to crop Live Photos sounds a lot more practical. Basically, iOS 11 lets you extract individual frames if you want to.
Do not Disturb, seriously
But there are times when you shouldn't really be using your iPhone – when driving, for example. There's the new Do Not Disturb While Driving feature in iOS 11, designed to block distractions like non-important notifications. And if someone texts you, Messages will respond with a text, letting the other party know that you'll get to them later. The cool thing about this feature is that it aims to automatically detect if you're driving – using the phone's sensors and radios – and then asks you if you want it active. Disabling the feature is easy in case it is fooled.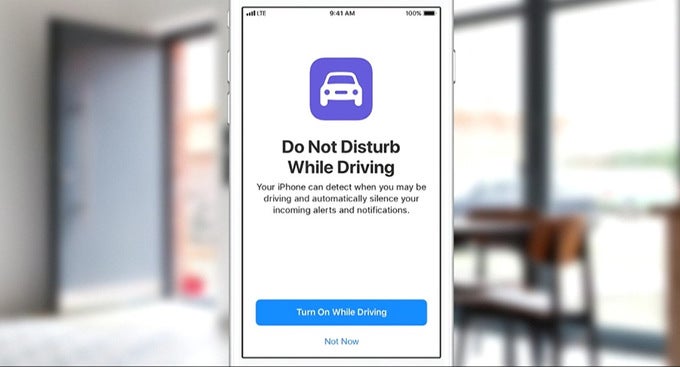 iOS 11 knows when you're driving and blocks distractions
Maps, now available indoors
And even when you finally arrive at your destination, iOS 11 might still come in handy. The new OS will bring along a nice update to Apple maps, adding indoor maps for shopping malls. This feature will initially launch in a few select markets: Boston, Chicago, Hong Kong, London, Los Angeles, and new New York being among them, but hundreds more are to come in the future. Such maps, along with directories and a search option, will be added to major Airports as well.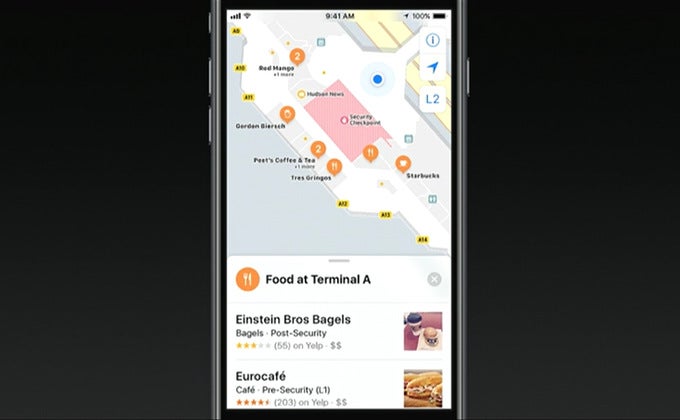 Indoor maps for malls and major airports are coming with iOS 11
AirPlay 2 is announced, Apple Home gets speakers support
Apple Home users, there's exciting news for you as well. Speakers are the latest category of connected tech that is supported – surely no coincidence when Apple announced the HomePod smart speaker later on stage.
In addition, there's a new AirPlay 2 protocol, allowing you to create a multi-speaker system across your home. And control it from your iPhone, of course. What's more, buddies connected to your home Wi-Fi will be allowed to contribute to the music playing, which could be perfect for parties. Major speaker makers, such as Bang and Olufsen, Beats, Bose, Denon, and B&W, will support AirPlay 2 through upcoming products. Or you can just beam music over to your Apple TV if you have one.
The App Store: new inside an out
Apple saved this one for last, even though it's going to have a major impact on how iOS users discover apps and games. Long story short, the App Store is getting a huge redesign.
First off, the whole app has been visually streamlined. The new App Store design features richer and more engaging app descriptions, with images and video showing off the selected app. Moreover, apps and games have been split into two tabs, and that's a change that took longer to bring that it should have. And when you launch the App Store, you're greeted by the Today tab, presenting you with the hottest apps a glance. On a daily basis, Apple will publish its "Game of the day" and "App of the day" picks.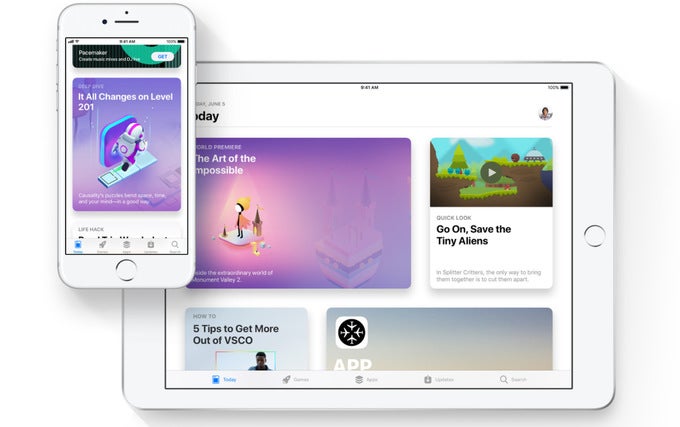 A sneak peek at the new App Store in iOS 11
Turning productivity up to 11!
As we mentioned in the beginning, iOS 11 will be big for those who own an iPad. Apple is adding a number of productivity-boosting features, including enhanced drag and drop, as well as a new way to switch between apps.
It all starts with a redesigned app dock – one that is available from any screen, that holds a greater number of apps, and that intelligently moves the ones you use frequently to the right. And if you want to open two apps side by side, just drag one across from the dock. It is pretty cool that app pairs that you have opened stay together in iOS 11.
Apple Pencil owners can also take advantage of new note-taking features, including the ability to take instant notes. That is done by simply touching the Pencil to the display when it is showing the lock screen. All is then saved in the Notes app. And now that we've mentioned Notes, the app is getting a document scanning feature. Using your device's camera, you can take a picture of a document. It then gets straightened and is presented for you to edit or save.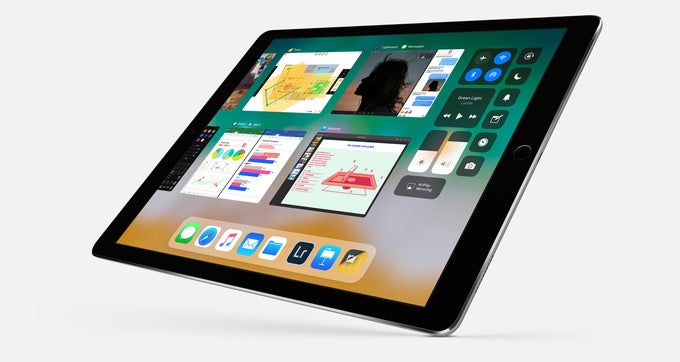 A new application dock in iOS 11 will be available to iPad users
Files: anytime, anywhere
The cloud is an awesome idea, but we all share at least some of our stuff locally on our portable devices. With iOS 11, Apple is making it easier to manage and interact with these files through an app called... Files. Basically, it is a file manager letting you juggle with both offline and online documents. Cloud support is on board, including for third-party apps like Google Drive, Dropbox, and Microsoft SkyDrive.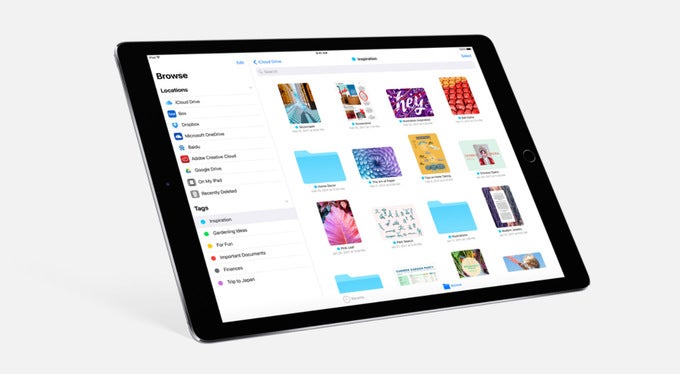 The new Files app in iOS 11
iOS 11 release date
And now comes the big question: when is iOS 11 going to launch? Apple is planning a public release of its new OS in the fall this year – in September, along with the next iPhones, if we had to make a guess. But developers will get an early preview of the new software for the purpose of testing their apps. A public iOS 11 beta is expected to be announced at a later date. Devices that will get iOS 11 include the iPhone 5s and newer models, as well as the iPad Air and newer iPads. Older models that do get iOS 11 might not get all of the features above, however.