2.5 GHz One M8 beats the pants off Galaxy S5, Xperia Z2 and G Pro 2 in benchmarks
64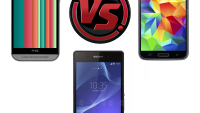 Uh, oh, we have a new king of the benchmarking hill, and it's the HTC One M8. No, not the 2.3 GHz US and European version, but the one for Asia. The Asian variation sports the most powerful member of the new
Snapdragon 801
processor family. Qualcomm's MSM8974-AC chipset is clocked at 2.5 GHz, and if you want to know its exact differences with the 2.3 GHz MSM8974-AB in the US variant of the One M8, you can read our
dedicated article on the matter
.
We'll skip the boring theoretical part, and go straight to the scores from the most popular synthetic benchmarking apps for Android. The Asian HTC One M8 has been pitted against the
Galaxy S5
, which has the same 2.5 GHz chipset, and the
Sony Xperia Z2
with its 2.3 GHz MSM8974-AB model. The new
LG G Pro 2
phablet, and its previous-gen Snapdragon 800 processor, have also been included for a good measure. As you can see in the slideshow below, the 2.5 GHz One M8 model for Asia produced scores that are better than any other flagships in the spring crop, even beating the Galaxy S5 by a small margin. That makes it the most powerful Android phone so far, though you'd have to live in Asia, or do the importing routine, if you want to have it.