1440 x 2560 pixel resolution (QHD) displays: yay or nay?
57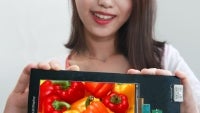 Like many things in this industry, it usually takes one company to take a step forward for the rest to follow through onto the next 'thing'. No guarantees as of yet, but it sure seems like super-dense, 1440 x 2560 pixel resolution (QHD) displays are next on the agenda of Android-based manufacturers. That's not surprising. As mobile hardware becomes more and more ubiquitous, brand name vendors need to continue justifying the need for consumers to upgrade their existing devices. Increasingly so.
QHD displays, in that sense, appear to be a no-brainer. Everyone digs sharp displays, and sharper is better than just sharp (1080p screens in this scenario). The question is: do these truly provide extra value to us, the consumer base?
We'll be honest and admit that we still haven't had the chance to handle any of the current crop of QHD devices (that will change very soon, though), so the following is nothing more than a preliminary opinion. That said, it appears to us that QHD screens entail a whole bunch of compromises, none of which are trivial.
For starters, more pixels pretty much automatically mean more processing power will be needed to achieve a given level of performance, so the chipset in your latest flagship will have to work extra hard to provide you with a worthy flagship user experience. In result, battery efficiency will go down -- a most unpleasant downside, all things considered. What's more,
it's unlikely that you'll actually be able to discern any extra fine detail
unless you hold your phone really close to your face. Lastly, until the new tech matures, such panels will cost more to make, and yields will be comparatively lower. Unless manufacturers agree to stomach these costs increases themselves, it might mean consumers will have to bear them.
Obviously, the above sounds like a very one-sided take on the issue, and that's precisely what it is. Again, we still can't speak for sure, but it would appear that QHD displays only make sense in true phablet-sized devices (and that's around the 6-inch mark nowadays), where the extra screen real estate will require more pixels to offer a pixel pitch comparable with the best out there. Do you agree?