100,000 sign petition to save Google Reader
6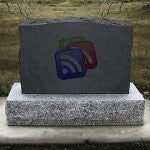 Just the other day, we told to you how
Google had decided to shut down RSS Feed Google Reader due to declining use
. At the same time, Google admitted that the service still had a loyal following. Some of those loyal followers have started petitions in an attempt to get Google to change its mind. While there are about a dozen petitions on Change.org, one in particular has collected a rather impressive
104,000 signatures
.
This one petition was able to garner all of those signatures in just
two days
, although it is probably not nearly enough names to convince Google to keep Reader alive. Frankly, it might take a petition with about 1 million names to get Google to re-think the closing. In the meantime, if you're interested in putting your John Hancocok on that petition, click on the sourcelink.
If you have been using a mobile version of Google Reader and will need a replacement, keep on an eye on
Feedly
as it works on copying Google Reader's API.
source:
Change.org
"Dear Google:

A few years ago -- years, wow -- Google Reader was one of my go-to social networks. It was an accidental one. I was using it for its intended purpose -- aggregating and reading a lot of web content in one place -- but it turns out, a lot of other people were doing the same thing. A lot. Many of which shared interests and when you added the amazing (amazing!) share and comment features, Google Reader blossomed into a wonderful experience for many of us, core to our day-to-day consumption of content online.

Unfortunately, you decided to kill those "extra" functions. I'm not here to ask you to reverse that (you should, though). In doing so, Google Reader's day-to-day value declined, and I, like many, ended up using it less often. Instead of hitting the bookmarklet I have on my Chrome install three, four times a day, it's now a once a day (okay, once every other day more often, recently) experience.

But it's still a core part of my Internet use. And of the many, many others who are signed below.

Our confidence in Google's other products -- Gmail, YouTube, and yes, even Plus -- requires that we trust you in respecting how and why we use your other products. This isn't just about our data in Reader. This is about us using your product because we love it, because it makes our lives better, and because we trust you not to nuke it.

Oh.

So, please don't destroy that trust. You're a huge corporation, with a market cap which rivals the GDP of nations. You're able to dedicate 20% of your time to products which may never seen the light of day. You experiment in self-driving cars and really cool eyewear which we trust (trust!) you'll use in a manner respectful to our needs, interests, etc.

Show us you care.

Don't kill Google Reader."