10 banned Android and iPhone apps
33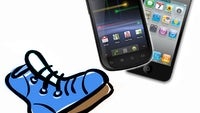 While the Apple App Store and Android Market host hundreds of thousands of apps, getting in is not necessarily easy. Apps do get tested prior to publication, and failure to meet any of the corresponding company' requirements could result in a denial.
However, sometimes apps get accepted only to be kicked out at a later time. Nevertheless, some of them do deserve getting some attention. Care to meet some of them? Well, read along as we introduce you to ten banned Android and iPhone applications.
Here is an app that spies at heart could use – SpoofApp. It allows you to use a fake Caller ID – a number that you are free to specify yourself, in order to protect your privacy or to pull a prank on someone. Sounds like fun, doesn't it? Well, Apple didn't think so, which is why it never allowed the app to enter its App Store. Google, however, didn't mind, which is why SpoofApp was available on the Android Market for about two and a half years. However, it was banned from there last year as it allegedly was in conflict with The Truth in Caller ID Act of 2009. SpoofApp is now available for iPhone, Android, BlackBerry, webOS, and even Windows Mobile directly from the developer's web page.
For a couple of days, an unofficial WikiLeaks app was available on the Apple App Store only to get removed without much explanation given. Sure, it was just an unofficial app, yet half of the revenue that it generated was reportedly going towards funding the WikiLeaks project itself. For $2, the app provided every iPhone owner with access to the controversial database of secret documents. Today, similar apps can be found in the Android Market, and one of them is available at the link provided below.
Grooveshark is one of those online music services that let you upload, search for, and stream all your favorite tunes to a computer or mobile device. The mobile app, however, first got removed from the Apple App Store, and a removal from the Android Market followed in April of last year. Fortunately, Grooveshark is still around. All you need to do is to visit the company's web page and grab the mobile app from there. You can use the service on an Android device, a BlackBerry smartphone, a Symbian or a webOS handset, and even on the iPhone, as long as it has been jailbroken. Grooveshark has a free, ad-supported version, but in exchange for $9 per month you can go ad-less and unlock a bunch of extra features.
Well, PostSecret was not really banned from the App Store, but should its creator had not removed it voluntarily, it would have been only a matter of time until Apple gave it the boot. It was an app with an innovative concept behind it – providing a way for users to share their secrets anonymously with others. And PostSecret was pretty popular too, judging by how quickly it landed among the most purchased apps in the App Store. Sadly, its popularity was the cause for its demise, according to its author. The overwhelming amount of inappropriate content made it increasingly difficult for the app to be supported, which is why the entire project was killed on January 2 of this year.
Prohibition: The Dope Wars 2
Have you tried Mafia Wars on Facebook? Prohibition: The Dope Wars 2 was an iPhone title somehow similar to it in nature. The goal of the game was to collect as much money as possible within a 30 day time limit. How do you collect money, you ask? By selling narcotics. The controversial game was removed the very instant when Apple found out about it, but that didn't stop its developers from releasing a follow-up of sorts. Appropriately titled CandyWars, the game is pretty much identical to its predecessor, but instead of drugs, you sell candy. You can check out CandyWars by following the link below.
Drivers License was a fun, free app that allowed one to make a phony (you guessed it) diver's license. Well, not a real physical one, of course – just an image that the user could share with their buddies online for grins and giggles. It offered realistically looking templates of licenses from every state and allowed for all the personal information to be edited too. Sadly, it was kicked out of the Apple App Store after a complaint from U.S. Senator Bob Casey of Pennsylvania despite being available for about two years. Perhaps he didn't like the way his turned out.
Would you ever download an app that does not do anything? Neither would we, especially when it is priced at $1000 like I Am Rich. That is the astronomical price one had to pay to own the said app, which only displayed an image of a glowing red gem. Oh, and it also flashed a specific mantra on the phone's display, which was probably intended to bring riches to the owner. Not quite what you'd expect out of software costing a thousand dollars, right? The app got removed by Apple eventually, but not before 8 naive iPhone owners purchased it.
For a geek, nothing brings those heartwarming nostalgic memories like a good old video game. And PSX4droid was intended to do just that by letting one play some classic PSOne games on their Android smartphone. Unfortunately, many hearts were broken when Google pulled the app from the Android Market without prior warning. "Content policy violation" was vaguely said to be the reason behind Google's actions, but the real motive was most likely the announcement of the Sony Ericsson Xperia PLAY – the first Android smartphone that could run classic PSOne games (which users had to purchase, of course). PSX4droid is now open source and available for download free of charge.
Spying on people? There was an app for that. Priced at $4.99, Secret SMS Replicator landed on the Android Market only to be banned in a matter of hours after its release. And rightfully so, as it could allow a jealous boyfriend or girlfriend to read their significant other's incoming text messages. All that had to be done was to install the app on the victim's Android phone where it would run unnoticed, with no icon or any indication of its existence, and forward received texts to a predefined number. You won't find it in the Android Market anymore, yet Secret SMS Replicator can be obtained directly from the developer's web page. Using it is going to cost you $19 per month.
As surprising as it may sound, the official Financial Times app for iOS got kicked out of the Apple App Store too. The reason for that was the dispute, which the publication and Apple got into. In a nutshell, while Financial Times made its revenue through user subscriptions, all of which it handled directly, Apple last year announced a change in its policies, which made it mandatory for all subscriptions to be processed through Apple. Neither of the two companies backed off. Somewhat ironically, Financial Times' iPad application won Apple's design award in 2010. And by the way, the Android app did not get affected in any way, so feel free to check it out.
Recommended Stories