Sony WF-1000XM4 review: a worthy upgrade
3
We may earn a commission if you make a purchase from the links on this page.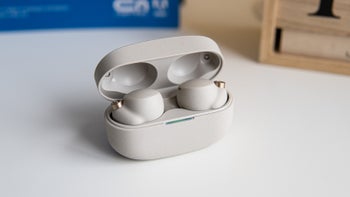 Sony has definitely been on top of its game in the wireless earphone market. The company doesn't shy away from pushing out premium-priced products because it knows it can deliver the quality.
The new Sony WF-1000XM4 earbuds are the successor of the XM3 model, which was already pretty great. Is it a good upgrade?
Why, yes it is. We have a new design to enjoy, a new type of bud tips for a better fit, and a new audio processor inside.
The XM4s have stellar battery life, great audio quality with a pretty useful EQ within the Sony app, very dependable connectivity, and fantastic active noise canceling and ambient sound pass-through modes.
Should you buy the Sony WF-1000XM4 or Sony WF-1000XM3?
Now that the XM4 is out, with a price tag of $280, the XM3 has dropped to about $180. In all seriousness, the old model still sounds fantastic and provides great active noise canceling. It's all about how much money you are willing to spend.
If you have the extra $100 to dish out — just go for the WF-1000XM4. You'll get the modern redesign, wireless charging on the case, IPX4 water-resistance, and slightly better sound (especially in the bass department) with the new Integrated Processor V1, the new 6 mm drivers, as well as the new DSEE Extreme audio processor, which is there to upscale low bitrate tracks to Hi-Fi-sounding ones.
If you'd rather save some cash — get the XM3 and rest assured that you are still getting great quality for your money. The XM3 has slightly weaker bass and its noise canceling is not as great when compared directly to the XM4 (but still pretty good!). Also, no water-resistance rating here.
Are the Sony WF-1000XM4 better than the Apple AirPods Pro?
For noise canceling, ambient sound pass-through, or microphone quality during conversations — both sets of buds are great. So, I'll just get that out of the way.
As with anything that relates to sound and experiencing music, there's a great deal of subjectivity when talking about earphones. But the WF-1000XM4 earbuds are definitely more feature-heavy than the AirPods Pro. You've got an EQ that you can customize to taste, you've got a Quick Attention mode, which makes it easy to hold quick conversations without taking the earbuds off, and you've got Fast Pair and Swift Pair, so the XM4s are really quick to connect to your Android or Windows devices.
Unfortunately, the WF-1000XM4 do not support multi-device connectivity, so you need to manually disconnect and re-pair when switching (which is super-quick with the aforementioned Fast Pair and Swift Pair, but still). This is where the AirPods Pro easily win — provided you are using multiple Apple devices, switching to the active one is just a matter of pressing "play" on it.
But the AirPods Pro don't have an EQ — they sound great, but you can't make them sound "your way".
Sony WF-1000XM4 sound quality
Sony's earbuds are top class and the XM4s do not disappoint. Provided, I did find their sound to be a bit flat and muddy out of the box — some tweaking of the EQ through the Sony Headphones Connect app quickly remedied that. I was able to add some air and make them pop while cleaning up some midrange mud. The bass was great from the get-go, but if you want more punch, the Clear Bass option in the app can definitely deliver.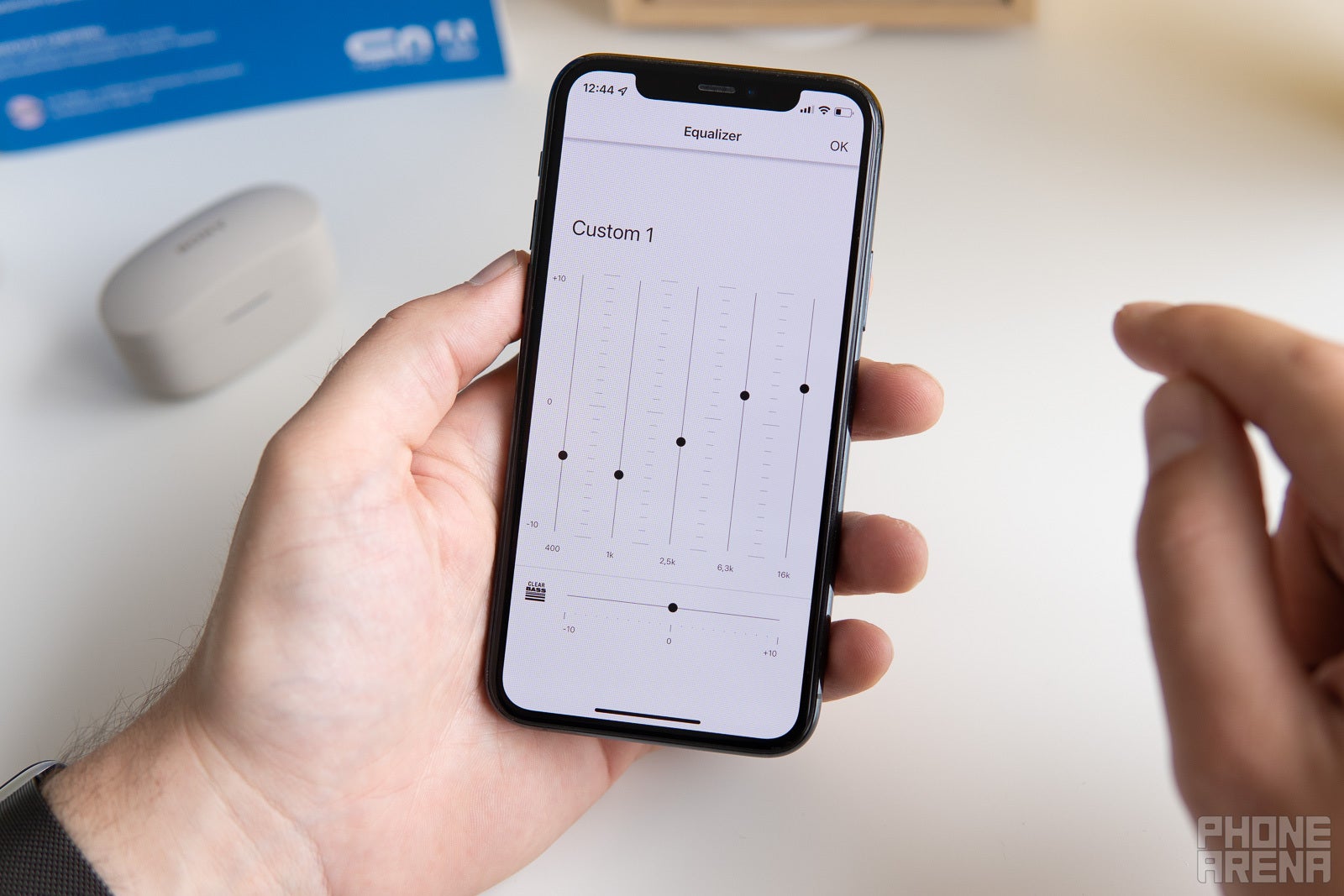 Now, they definitely can't reach the quality of a nice pair of over-ears (like the
Sony WH-1000XM4
or
AirPods Max
), as the music sounds a bit too "cranked" and "in your face". But that's still an inherent quality of the in-ear design, I feel.
Instrument separation is great and everything sounds pleasantly defined and with minimum distortion. I can use these to both enjoy my favorite tracks with their every intricate detail being audible, or even to research and learn songs confidently.
The Sony WF-1000XM4 buds support the 360 Reality Audio technology — a new way of creating a virtual sound stage, where everything — from instruments to reverb — can have a more realistic stereo image. Kind of like the new Spatial Audio with Dolby Atmos, which Apple added to Apple Music.
To listen to 360 Reality Audio tracks, you need to be subscribed to the proper platform — like Tidal Hi-Fi. And you are limited to only listening to tracks that have been mastered for this standard.
Can you listen to Apple Music Dolby Atmos tracks with the Sony WF-1000XM4?
Why, yes you can. From what I could tell, the effect is not as dramatic (tested against a pair of AirPods Max cans). However, with Dolby Atmos enabled in Apple Music, the WF-1000XM4 sounded less "in your face" and more spacious, which was pretty nice.
*Tested on iOS 14.6. When we tried this on iOS 15 Beta, we didn't get Dolby Atmos at all, but this could easily be due to the beta status.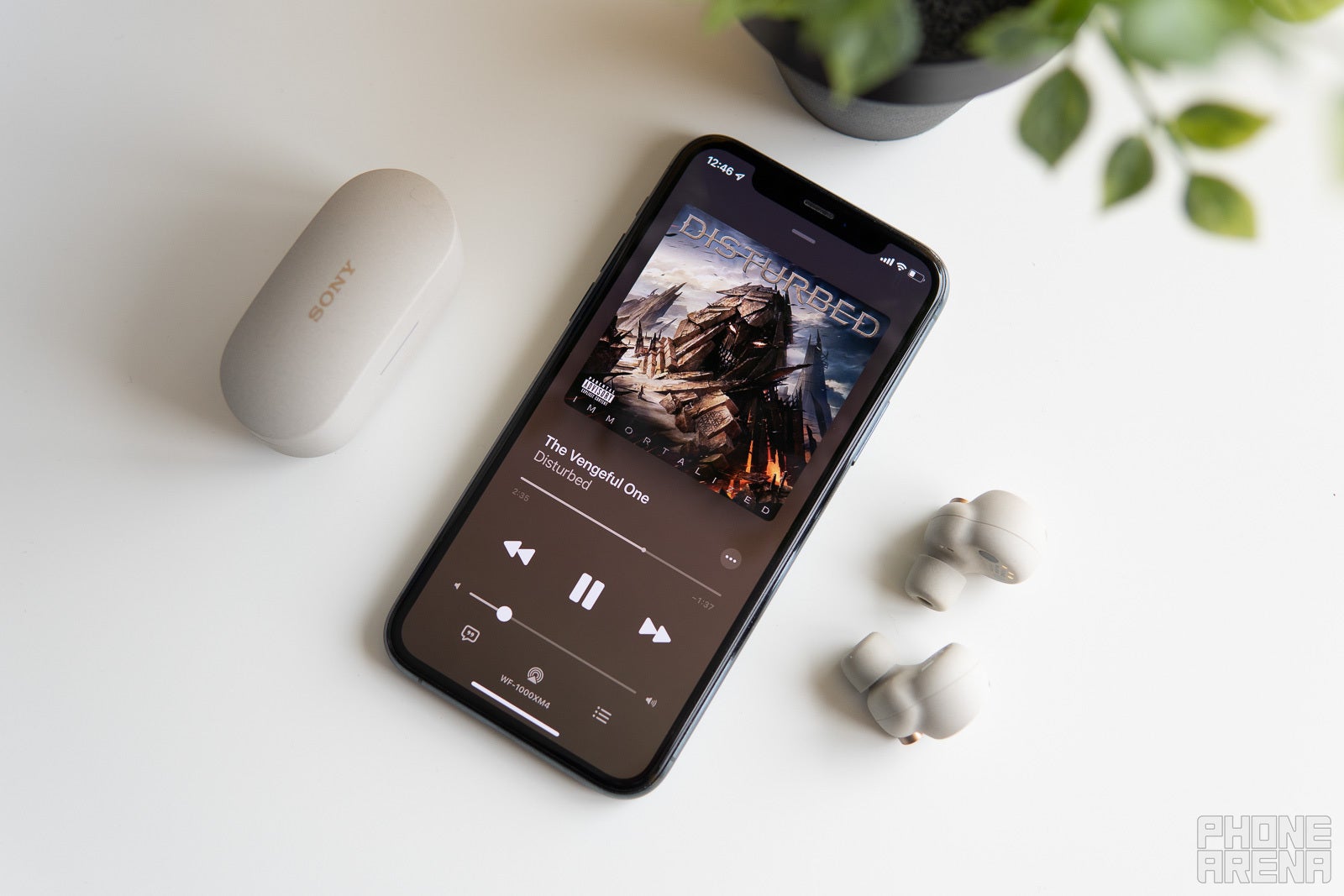 Sony WF-1000XM4 noise canceling
The fact that the XM4s have outstanding noise cancelation is barely a surprise. The foamy tips provide great insulation and the 6 mm drivers are enough to pump out both your rocking tunes and the frequencies needed to create the ANC effect. Mechanical hums from anything that may annoy you are all but gone once you put these in. Curiously enough, high-pitched sounds (like bird chirps) were passing through with seemingly little effort. But I in no way found them distracting (ugh, nature) once I actually pressed "play" in my music app.
The ambient sound pass-through mode is also exceptional, able to deliver a realistic representation of the stereo spectrum around you — sounds from the left come from the left, and sounds from the right come from the right. There's a special "Focus on Voice" mode in the Ambient Sound section of the app. This boosts the mid frequencies and does, in fact, make it easier to hear voices over the sounds of traffic or machinery.
Sony WF-1000XM4 microphone quality
Sony touts precise beamforming technology and noise reduction for calls, so your voice can come across clearly. I'd say the XM4s can definitely deliver an OK quality — it's still voice captured by Bluetooth earbuds, so it can sound a bit digital and just a tad quiet.
I made it a point to ask the interlocutor on the other end of my conversations about it every time, and nobody reported being unable to hear or understand me.
Sony WF-1000XM4 design, fit, and comfort
I'd like to note that my ears are notoriously bad when it comes to holding in-ear headphones. Yet, the WF-1000XM4s fit nicely and stayed in place, with a full seal.
This is both thanks to the new tips and the new resign. The WF-1000XM4's round-ish, kind of bulky bodies are specifically designed to rest against the inside of your earlobe and ensure that the tips stay inside your ears.
The new earbud tips are made of this weird memory-foam like material that deforms like Play-Doh or really soft bread, then returns to its regular shape when pressure is released. They don't feel like they will be able to sustain the wear and tear that classic silicone-made earbuds can, though Sony says they are good to last you years of use. For what it's worth, I certainly appreciate them for their fit and comfort.
There are three tip sizes within the box of the WF-1000XM4 — small, medium, and large. If you can't tell which set provides the best isolation for your ears, the Sony Headphones Connect can run a quick test for you and detect when a certain size is not right for you.
I tried the earbuds on for long listening sessions, while working. At the 2-hour mark, ear fatigue started setting in in the form of mild itching. 3 hours in, there was a dull pain and I had to take them off and let my ears rest.
That's certainly not the worst I've had in the field of in-ear headphones. It's not the best, too, but they can do well for most use cases.
Can you use the Sony WF-1000XM4 for workout sessions? With the new design and the IPX4 water-resistance, sure — they can take some sweat and they won't fall off from shaking. Though they are a bit bulky and the eartip material is much more prone to collecting grime, grease, and earwax. So, yes and no, I guess.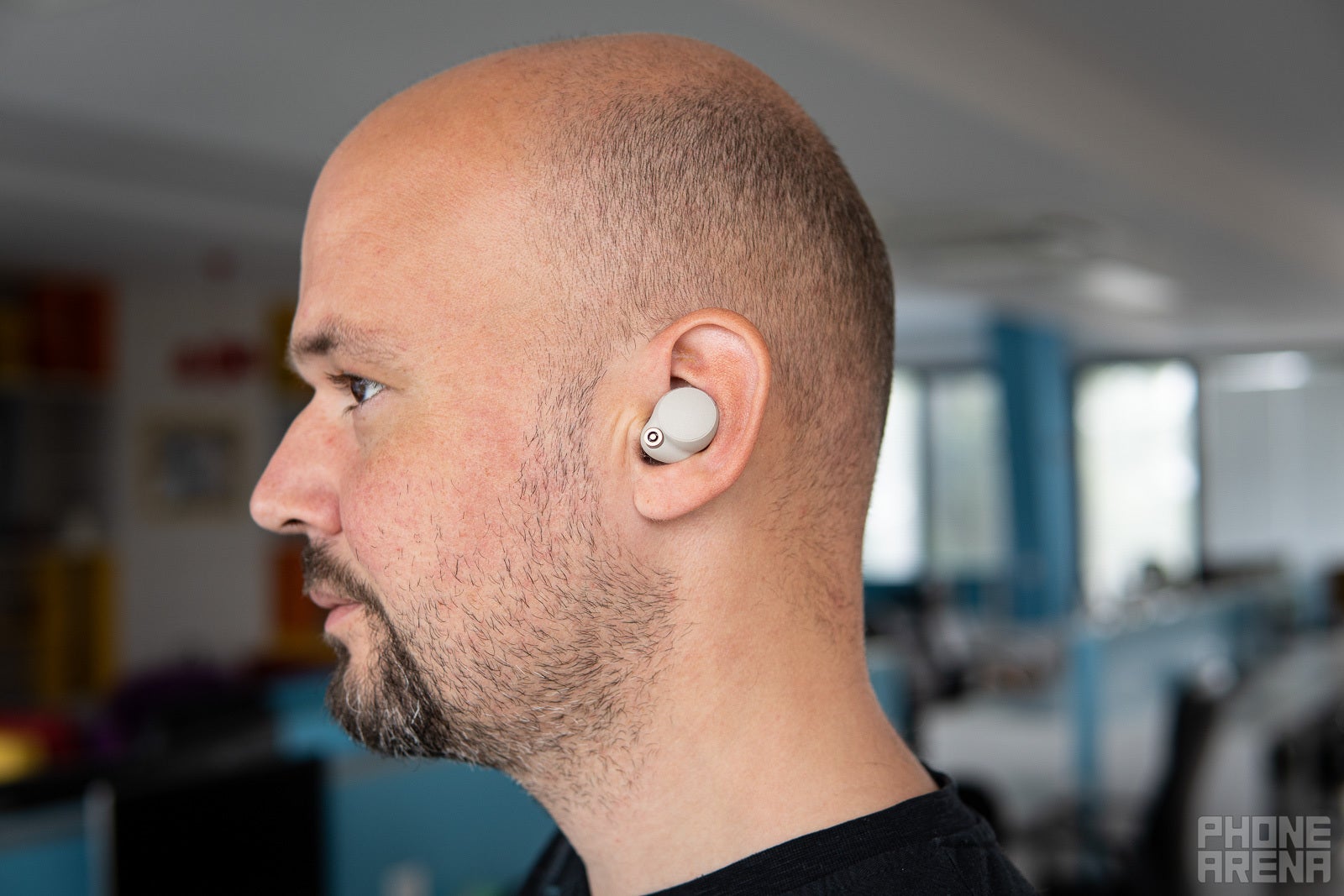 The WF-1000XM4 charging case is also a cute little thing — definitely smaller than the case of the WF-1000XM3, yet just a tad bulkier than the case of the Apple AirPods Pro.
The lid feels solid and it confidently clicks in place when opened or closed. It's a soft matte-finished plastic, which does not collect fingerprint grease easily, and the soft multi-color battery status LED is a nice long stripe, which still stays discreet.
The WF-1000XM4's case supports wireless charging, so you can just slap it on a Qi mat or a smartphone that offers reverse wireless power.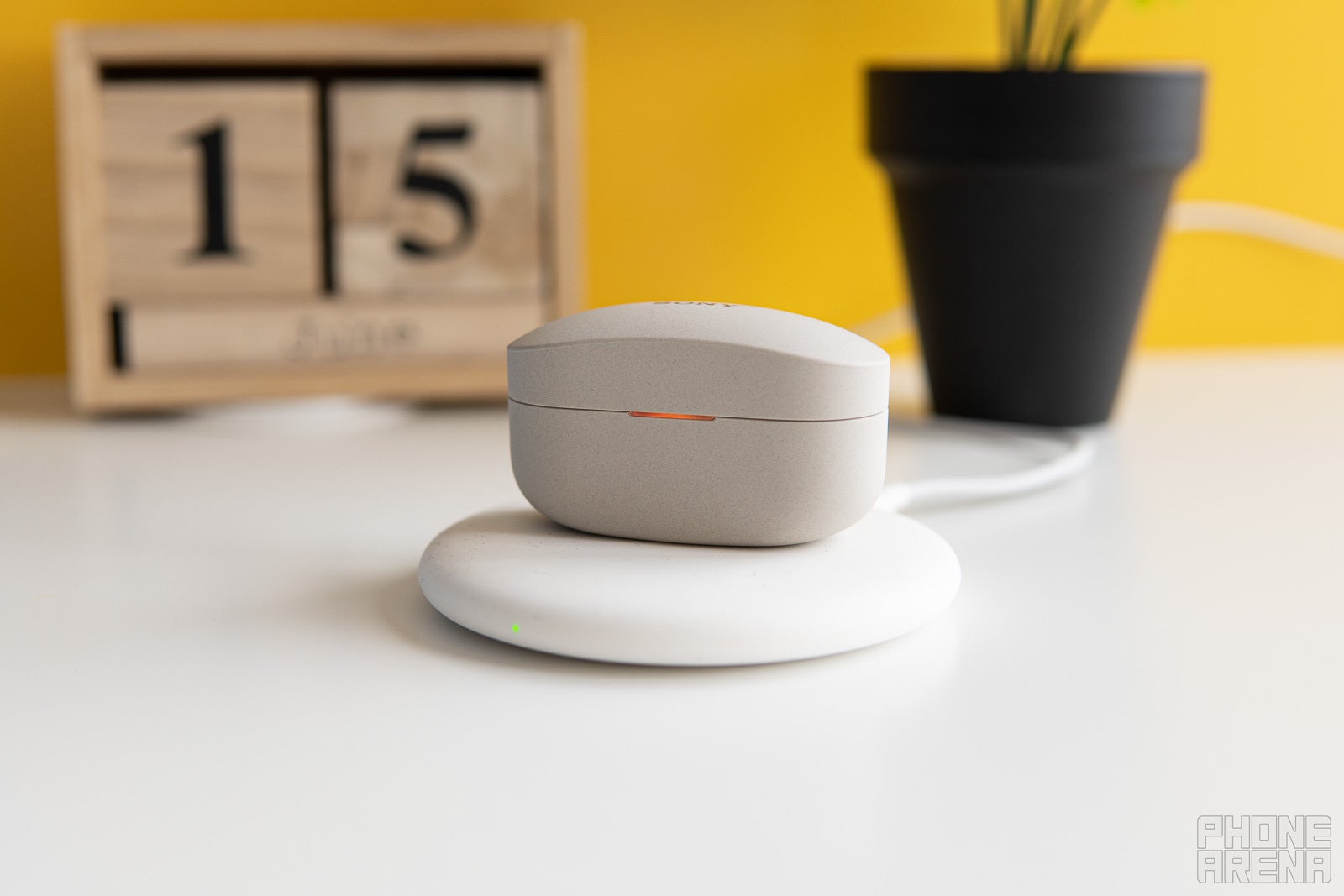 Sony WF-1000XM4 touch controls
The two discs on the outer shells of the buds are actually touchpads.
By default, the left earbud controls active noise cancelation — tapping it will toggle between ANC and pass-through mode. Holding it will activate Quick Attention, which activates pass-through mode with "Focus on Voice" enabled, so you can have a quick "Yes / No" conversation without taking the buds off.
The right earbud controls playback — one tap for play / pause, two taps for next track, three taps for previous.
In the Sony Headphones Connect app, you can choose to have volume control assigned to one of these touchpads, but you will have to sacrifice one set of the aforementioned gestures.
There's also the new Speak to Chat feature — if the earbuds detect that you are speaking, they will activate ambient sound pass-through automatically. I am not a fan of this feature as simply clearing your throat or singing along with a favorite song can trigger it, so I keep it off.
Sony WF-1000XM4 connectivity
The XM4s connect through Bluetooth 5.2 protocol and supports Sony's LDAC coding technology for high-res audio. There's no support for aptX HD, so make sure your Android phone is set to streaming in LDAC if you want to get the high-quality content.
The connection range felt comfortably long and I only started getting dropouts when putting two sets of walls between myself and the streaming device.
Sony WF-1000XM4 battery life
Sony says the buds can last for 8 hours when out of the case. The case itself can charge them to full twice, which means it adds another 16 hours of runtime.
In my testing, I'd say the numbers are correct. At no point was I worried about running out of battery — the life on the XM4s is just super-generous. Considering that I lost about 20% of battery for every 3-hour non-stop-listening session, I'd say the 8-hour prediction is pretty accurate.
Thanks to the case's wireless charging support, there's rarely an excuse to be out of battery with these buds.
Recommended Stories