Apple AirPods Max review: disregard the hype
16
We may earn a commission if you make a purchase from the links on this page.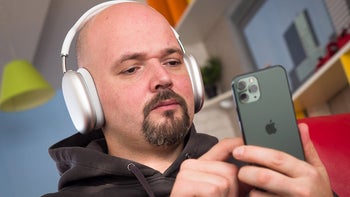 After a couple of years of rumors about an AirPods Studio, Apple has finally released its own over-ear, noise-cancelling earphones. But they don't carry the bold "Studio" moniker. Instead, Apple chose to call them AirPods Max.
What are the AirPods Max in a nutshell? Well, they provide a mostly comfortable fit, a look that is unmistakably "Apple", excellent noise-cancellation, a very detailed sound, and a frequency response that is very "safe". In other words, if you are in the market for excellent wireless cans, you can't go wrong with these.
That is, if you are willing to pay $550 for them while there are some great options on the market that hover around the $300-$350 value (like the
Sony WH-1000XM4
).
Are the AirPods Max worth the $250 extra? Well, if you are deep into the Apple ecosystem, they might provide a couple of convenient extras, but honestly nothing too amazing.
At this point, you might be wondering "Well, are you recommending them or not?". I have to say, I can definitely see the allure of the AirPods Max — the design is something you can't find elsewhere, the AirPods-to-iCloud sync is something pretty cool that I always enjoy, and the sound is quite good. These will definitely have people lusting after them.
But if it were my money I was spending, I'd go for one of the lower-priced competitors.
Apple AirPods Max alternatives
Apple AirPods Max design
This is one of the points where the AirPods Max truly shines. They are elegant, clean, simplistic — very, very Apple-looking all around. This alone is something that hardcore Apple fans will want the AirPods Max for and there's nothing wrong with that.
They are also entirely made of metal — from the stainless steel frame to the earcups. "Cool" you might say, but I will retort "Heavy as well". To be fair the weight isn't a huge issue — it's something I got used to. Though, I definitely enjoy a light, "barely there" feel for my over-ears more.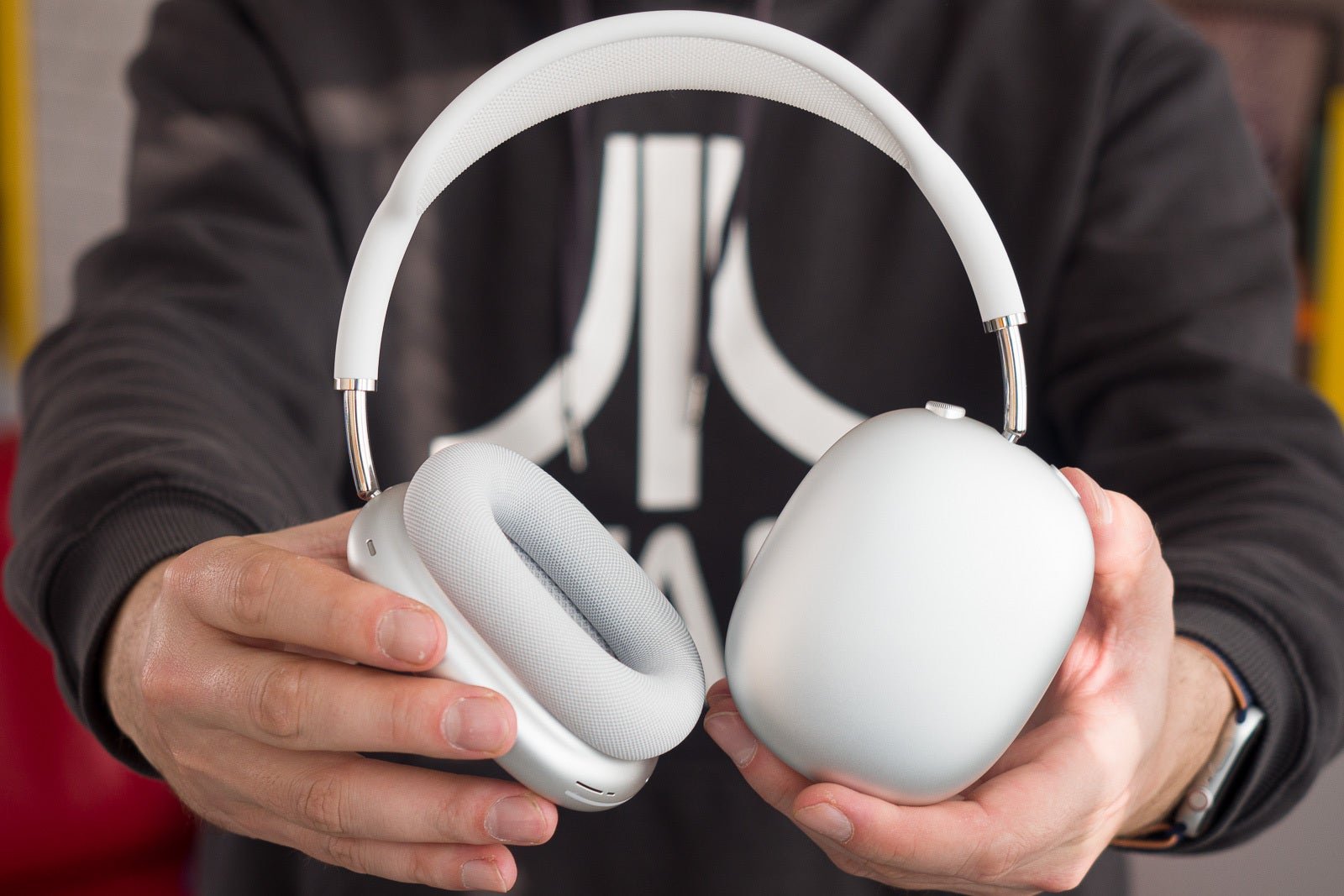 The cushions of the AirPods Max are extremely soft and — even though the frame provides a slight squeeze over the sides of my head — the AirPods Max gave me no fatigue after hours of usage. The worst type of discomfort I got was a slight itch around the earlobes.
The mesh canopy on the headband works as advertised — it's very soft and gentle on the top of my head.
Then, we have the hardware controls, which I have a love-hate relationship with.
The AirPods Max are controlled by two buttons — one oversized "Digital Crown" will take care of volume and media playback control. Then, there's a noise cancellation button, whose sole purpose is to activate Transparency Mode when you need it.
While I do enjoy controlling my volume with the smoothly-rotating Digital Crown, I find the playback controls to be outdated and cumbersome. Press the crown once for play-pause, press it twice for next track, press it a whole of three times to go back a track. At this point, I am much more used to the touchpad-equipped headphones, which allow you to just swipe around, and that feels a bit more natural and sophisticated.
I also don't like how the AirPods Max have their hardware controls at the very top of the earcup. Rest assured, every time you reach up to adjust the length of the headband, you will be pressing these by accident.
AirPods Max case
A couple of words need to be said about the... case that the AirPods Max come with. Well, it's basically a diaper for headphones if I've ever seen one. See, you don't get a carrybag or anything — just this wrapper with a magnetic flap, which only protects the earcups, and barely at that.
I am pretty sure that there will be 3rd party solutions (or maybe a separately-sold Apple case) very soon, and you will probably want that.
You do need to put the AirPods Max inside the case in order to turn them off. Yep, there is no off switch on those bad boys.
But don't worry — if you just leave the AirPods Max laying out, they do go into a battery-saving standby mode. I tested this and left the AirPods Max out of their case for 24 hours. The toll was a total of 5% of battery.
This means that, during your regular daily hustle and bustle, you can leave the headphones lying around and pick them up whenever you wish without worrying too much about the battery. Once you are completely done with them — wrap them in that
diaper
case and let them rest.
Apple AirPods Max sound quality
OK, for the price of $550, one would think that the AirPods Max will plunge you into a soft cloud of heavenly sound, with an angelic choir singing from a rainbow overhead. Eh, yes and no, I suppose.
I will have to split this part of the review into two — frequency response and sound detail.
Maybe it was the high expectations or hype, but the frequency response of the AirPods Max kind of let me down. It's just extremely "safe" — there's a good amount of bass thump to give you a "wow" effect at the start. Not as much as any Beats headphones before that — don't get me wrong. The AirPods Max definitely sound a bit more "controlled" around the bottom end, but that doesn't change the fact that the bass has been beefed up beyond the point that audiophiles might enjoy.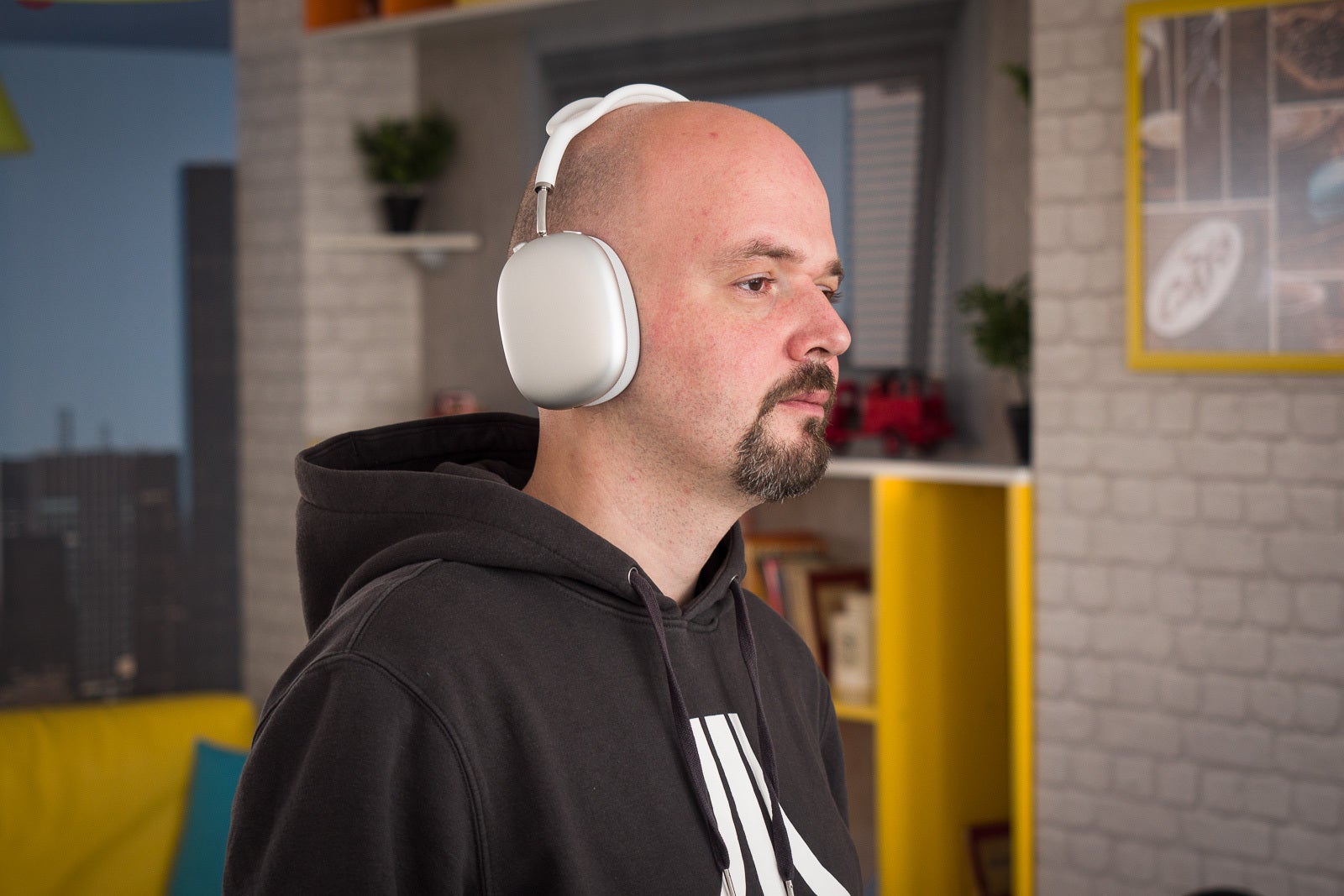 But then, as you move to the mids and highs — they just sound… OK. There's no sparkle or chime, and no risky "grind" added to the upper mids. This is fine, since you would be hard-pressed to find a track that sounds honestly bad when played through the AirPods Max. But I would've enjoyed some more air and punch for sure.
What makes this extra irritating is that Apple — being Apple — wouldn't let you have an advanced AirPods Max app, which lets you control the EQ how you like it. Oh no, they sound like they sound, and that's it.
When it comes to actual clarity and instrument separation, however — oh, baby! The AirPods Max sound so, so clean and detailed. You can make out every instrument, every little pluck, reverb, delay, and even shoddy compression done in the production work if you have the ear for it.
So, to sum it up — OK-sounding EQ, outstanding detail.
Apple AirPods Max noise-cancelling and transparency
I'll be very brief about the AirPods Max noise-cancellation quality — it is excellent. It doesn't eliminate noise quite as much as some competing high-tier headphones do, but it definitely silences a ton of environmental sounds. Barely anything gets through — it removes the hum of the air conditioner, and silences the whirl of the vacuum cleaner or the purr of a car engine (I am NOT suggesting you wear these while driving, mind you).
I did get to test these during the week of New Years', which means there were a lot of fireworks and cherry bombs going off in unexpected moments. And yes, the big ones did come through, though they were quite suppressed. The tiny ones, I couldn't hear at all (before you ask how I knew there was a cherry bomb if I couldn't hear it — my dog would let me know).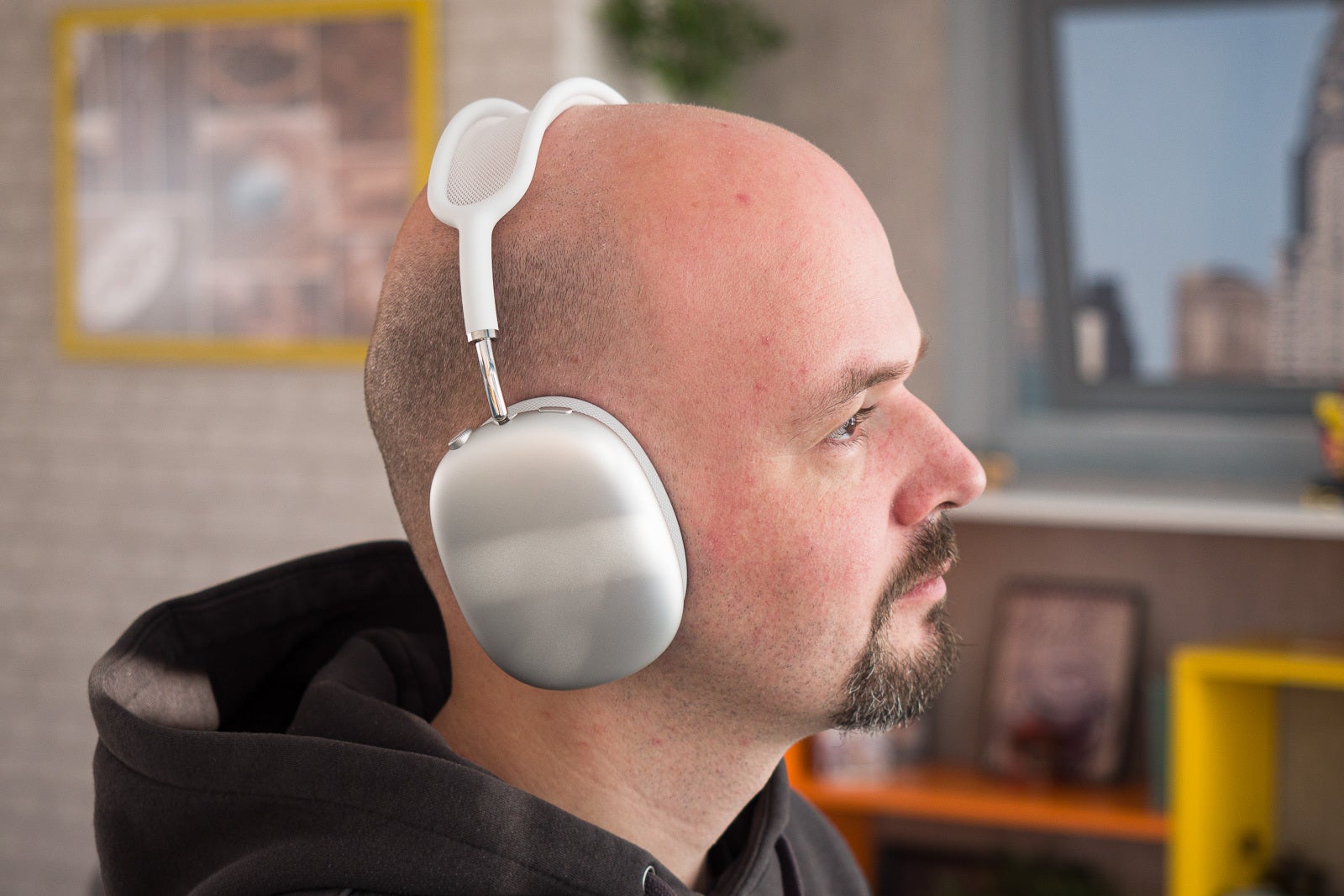 As for transparency, it's been said before, but I will say it again — the AirPods Max has the best Transparency Mode out there, hands-down. What is Transparency on the AirPods Max? Basically, the earphones will turn noise-cancellation off and will give you a live feed of the "outside" sounds as they are heard by the microphones in the earcups.
Competing headphones also have their own Transparency (or hear-through, or however it's called on the specific model), but it usually sounds tinny, mid-heavy, and kind of straining. Transparency on the AirPods Max sounds as close as being natural and true-to-life as I have heard — even down to which direction the sounds are coming from.
You can use Transparency when crossing a busy intersection, when you need to listen to an announcement over a PA, or whenever you are caught in a short conversation (I mean… it's still pretty rude to keep the headphones on).
Apple AirPods Max spatial audio
Of course, I tested the Spatial Audio feature, which Apple made a big deal of when announcing these. So, what is Spatial Audio on the AirPods Max?
Basically, if you are watching any content recorded and streamed in a 5.1 or 7.1 standard, the AirPods Max will attempt to reproduce that surround feel. But, even more, it will keep an active track of your head positioning, and keep the illusion of the sound sources staying in place in the environment around you if you happen to move.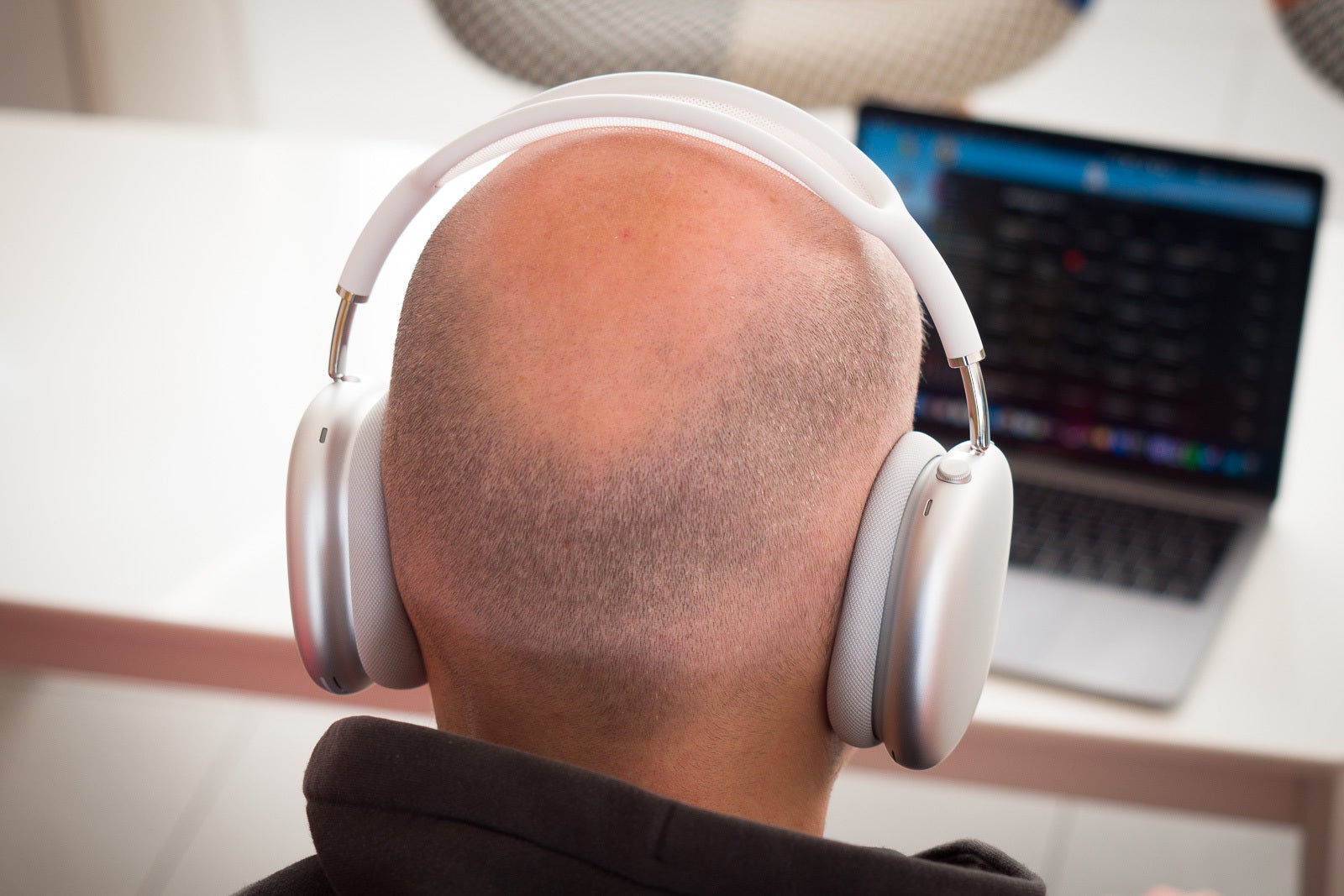 A simple example — say you are watching a dialogue scene with some music playing in the background. The music is omnipresent — it always sounds like it's overhead and a bit behind you. But, as you turn your head left to right, you will still hear the characters' dialogue as if it's coming from the screen of your tablet.
Ah yes, I said tablet. Because this feature only works on iOS and iPadOS. Sooo… it's very neat and extremely impressive, but I honestly can't say it's a gamechanger of any sort.
Apple AirPods Max connectivity
The AirPods Max are Bluetooth headphones and they work best when connected to Apple gear — iPhones, iPads, MacBooks, et cetera. Just like the vanilla AirPods or the AirPods Pro — once you sync the AirPods Max to any one of your Apple device, it will also pair up with anything else that's logged into your iCloud.
This makes it extremely easy to switch between devices — most of the times you don't even need to do anything. Play music on your iPhone — it goes to the AirPods Max. Pause that and go watch Apple TV on your iPad — boom, the AirPods Max are ready to go.
It's one of the main selling points of the regular AirPods, in fact — they are the first buds that made it so easy to swap devices on the fly.
But the AirPods Max do have competition. Higher tier over-ear headphones like the Sony WH-1000XM4 and Bose 700 also have multi-device connectivity. And yes, they "only" support up to two devices at a time, but for most use cases, that's just enough.
When it comes to range, the AirPods Max can definitely hold a connection over a couple of rooms without a hitch.
Can you connect AirPods Max to an Android phone or tablet?
You most certainly can — just follow these steps
Initiate Bluetooth scanning on your smartphone
On the AirPods Max, press and hold the Noise Cancellation button
When the white LED on the bottom begins flashing white, the AirPods can be "seen" by the smartphone
Select the AirPods Max on your smartphone
Do AirPods Max still have noise cancelling on Android? Why yes, they do. You can enjoy both noise-cancellation and Transparency mode. Of course, you're going to have to pass on multi-device connectivity or the Spatial Audio feature.
Apple AirPods Max battery life
Apple advertises a 20-hour battery life for these earphones. While I haven't attempted to strain them until I can get the battery fully drained to 0%, I certainly never felt pressured by a lack of battery. Listening to them for 6 hours straight, two days in a row, gets me down to about 40-something percent of charge left. So, I'd say the official stats aren't off by much.
The AirPods Max come with a Lightning to USB-C cable in the box but — you guessed it — no charger. You can use an old iPhone charger with an old Lightning cable to charge these just fine. Maybe not as fast, though.