Samsung Galaxy S22 vs S22 Plus vs S22 Ultra: differences
13
We may earn a commission if you make a purchase from the links on this page.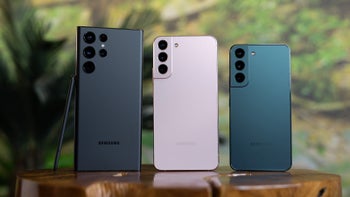 Intro
The Galaxy S22 flagship series is Samsung's offering for 2022, and while they all have the same powerful processor and run the same software, the latest Samsung handsets come in different sizes, with different features and with batteries that last longer on the bigger models.
But which of the new Galaxy models should you pick? The compact Galaxy S22, the larger Galaxy S22 Plus, or the Note-inspired Galaxy S22 Ultra that features the largest battery and comes with an S Pen? The only way to find out is for you to continue reading this comparison.
So, let's dive deep in the tiny differences between the three and how they will affect your experiences right below, so let's get started!
Galaxy S22 pros and cons
Galaxy S22 Plus pros and cons

Galaxy S22 Ultra pros and cons


Reservations for the Galaxy S23 series are now open! Reserve now:
S22 vs S22 Plus vs S22 Ultra Specs Differences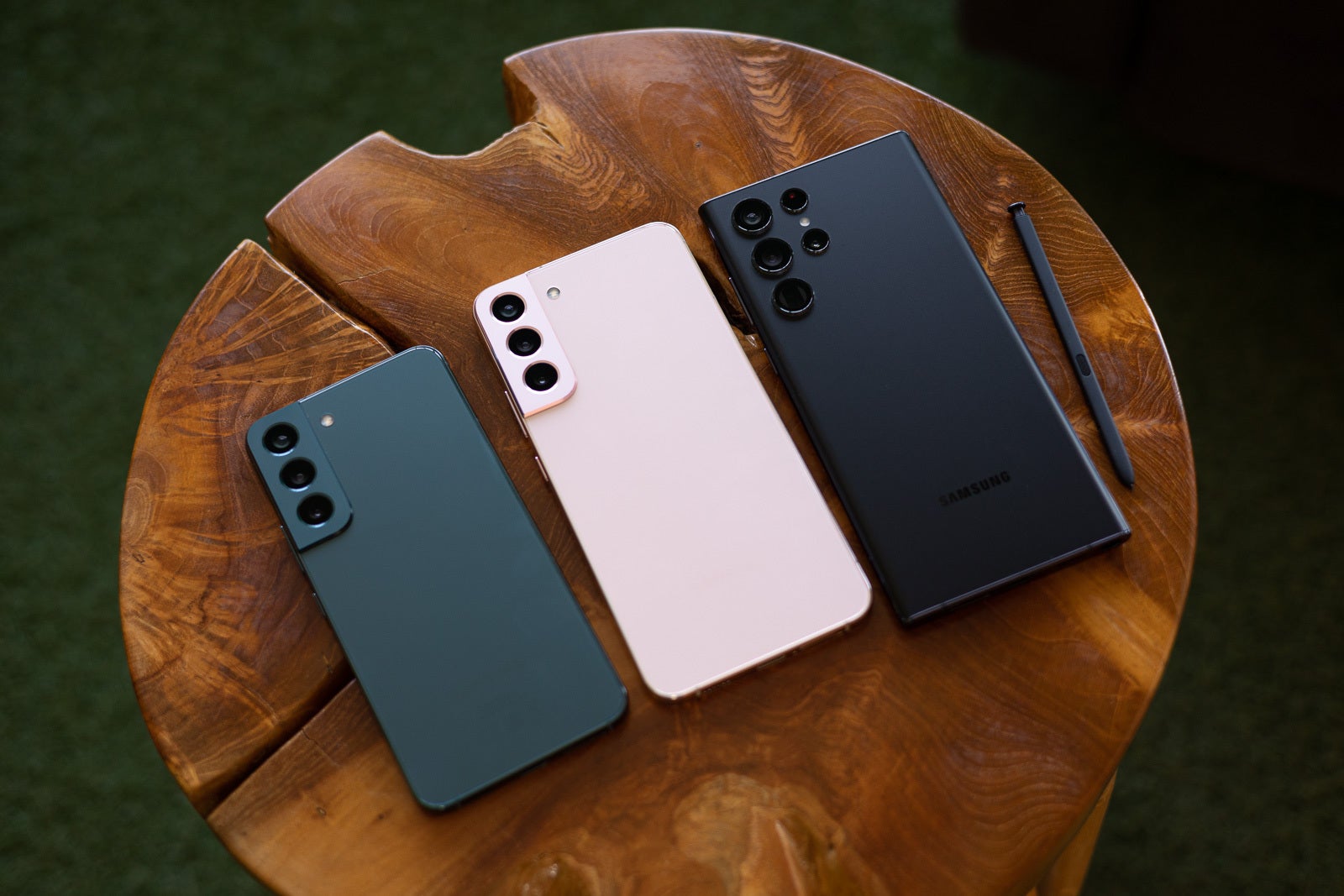 Before we explore each of the differences, we have a summary where you can get the bigger picture with all the specs differences between the three Galaxy S22 models:


Galaxy S22
Galaxy S22 Plus
Galaxy S22 Ultra
Size and weight
70.6 x 146 x 7.6mm, 168g
IP68 certified
75.8 x 157.4 x 7.6mm, 196g
IP68 certified
77.9 x 163.3 x 8.9mm, 229g
IP68 certified
Display
6.1", 1080p FHD+, 10-120Hz
1,500 nits max brightness
6.6", 1080p FHD+, 10-120Hz
1,750 nits max brightness
6.8", 1440p QHD+, 1-120Hz
1,750 nits max brightness
Processor
Snapdragon 8 Gen 1 in US
Exynos 2200 in UK and Europe
Snapdragon 8 Gen 1 in US
Exynos 2200 in UK and Europe
Snapdragon 8 Gen 1 in US
Exynos 2200 in UK and Europe
RAM and Storage
8GB / 128GB
8GB / 256GB
8GB / 128GB
8GB / 256GB
8GB / 128GB
12GB / 256GB
12GB / 512GB
12GB / 1TB
Cameras
50MP wide, f/1.8
12MP ultra-wide, f/2.2
10MP, 3X zoom, f/2.4

10MP front, f/2.2
50MP wide, f/1.8
12MP ultra-wide, f/2.2
10MP, 3X zoom, f/2.4

10MP front, f/2.2
108MP wide, f/1.8
12MP ultra-wide, f/2.2
10MP, 3X zoom, f/2.4
10MP, 10X zoom, f/4.9

40MP front, f/2.2
Connectivity
Wi-Fi 6
5G
Wi-Fi 6E
5G
UWB
Wi-Fi 6E
5G
UWB
Battery
3,700 mAh
4,500 mAh
5,000 mAh
Charging
25W wired
15W wireless
45W wired
15W wireless
45W wired
15W wireless
Price
$800
$1,000
$1,200
Design and Size
Glass on all three models, wider form factor and uniform bezels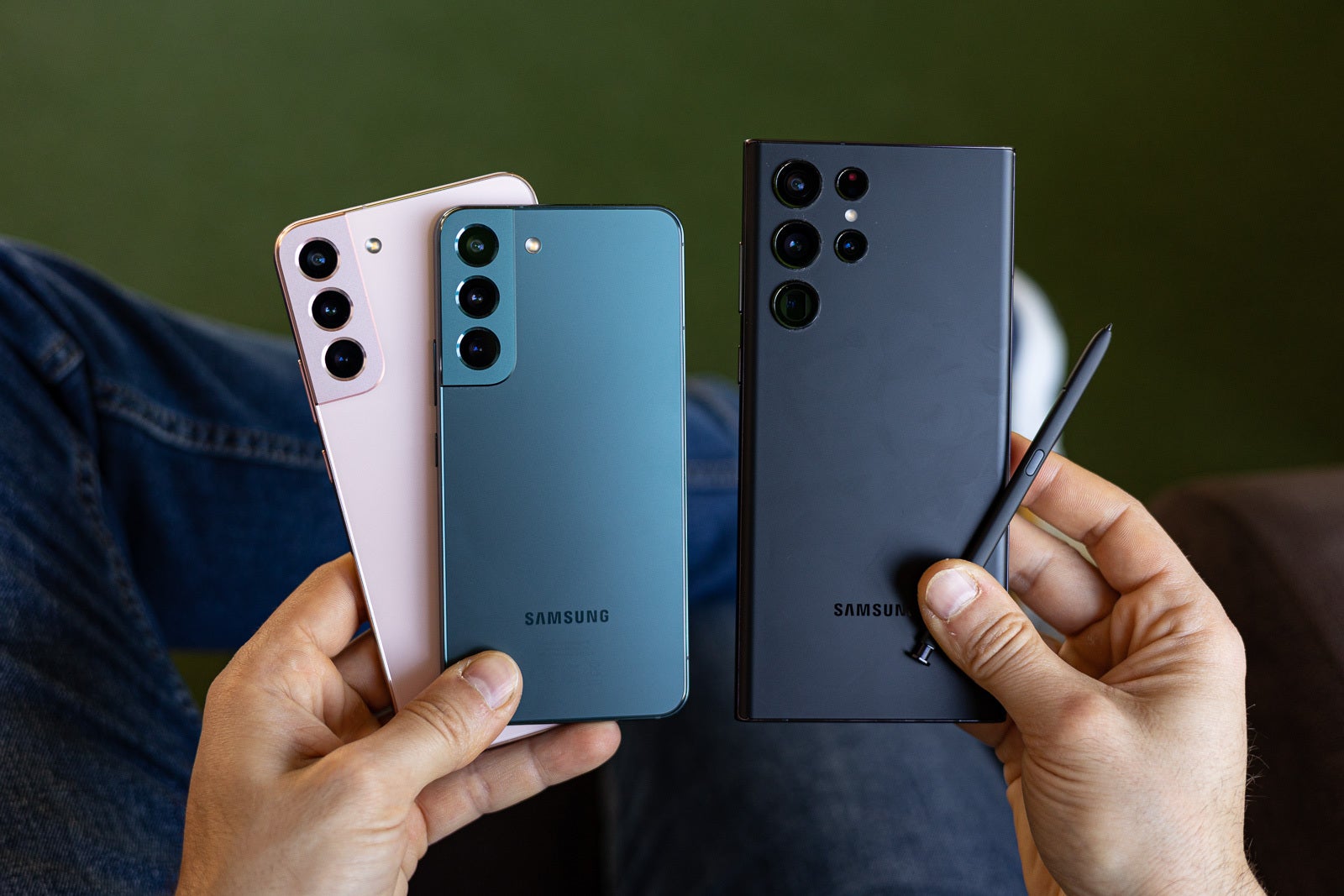 There are two big news on the design front: first one is that Samsung is going back to using glass on all three models. And not just any glass, you have Corning's toughest Gorilla Glass Victus Plus on the back and front of all three S22 versions. And did we say that the S22 and S22 Plus are noticeably smaller than last year's models? That's one big win for compact phone lovers.
The second big change is just the switch to a Note-inspired look on the S22 Ultra model, which has squared off edges and a curved screen, while the other two models, S22 and S22 Plus, keep the familiar look from last year's models and have a flat screen.
It's also worth noting that Samsung adopts a wider aspect ratio on all three models. Previous Galaxies used to be tall and narrow, with a 20:9 aspect ratio, while these newer phones are proportionately wider and not as tall, with a 19.5:9 aspect ratio on the S22 and S22 Plus, and an even wider, 19.3:9 aspect ratio on the S22 Ultra.
One small detail that will be particularly satisfying for the perfectionists out there is that the border around the screen on the S22 and S22 Plus is exactly the same on all four sides, while previously Galaxies used to have a slightly bigger bottom bezel, the so-called "chin".
The rest is quite similar across all three: they all feature an aluminum frame. The power and volume buttons are located on the right hand side. All of them come protected from the elements with an IP68 water and dust certification that Samsung says ensures they can survive 30 minutes in up to 5ft deep fresh water, but of course they are still not recommended for pool or beach use.
S22 and S22 Plus colors: Phantom White, Phantom Black, Green, Pink Gold
S22 Ultra colors: Phantom White, Phantom Black, Green, Burgundy
You have the standard black and white versions that look classic, then you have a pink version for the smaller phones, and an exclusive burgundy red edition on the S22 Ultra.
By the way, speaking of colors the S Pen on the S22 Ultra is black no matter the color of the handset, in case you were wondering.
There is also no difference in what's in the box on all three phones here. You only get a cable and there is no charger, nor headphones included.
Display Quality
Industry-leading
We already touched upon the smaller physical size of the phones, but it's worth mentioning that the displays on the S22 and S22 Plus have also gone down in size and now measure 6.1" and 6.6", while the Ultra model features the biggest, 6.8" screen.
Samsung makes the best screens in the industry and it has saved the latest generation display technology for the S22 series, which it calls Dynamic AMOLED 2X. You get brilliant and accurate colors on all three, however there are certain differences.
First, while all models support up to 120Hz refresh rate for buttery smooth scrolling, only the S22 Ultra can modulate its refresh rate all the way down to 1Hz, while the lowest the other two can go is 10Hz.
Display measurements and quality
Secondly, the max brightness on the small S22 models goes up to 1,500 nits, while the S22 Plus and S22 Ultra go even higher to 1,750 nits (those are the official Samsung numbers that are likely measured at very low white levels, while our measurements in the chart above are done at 100% white level).
There is no difference in the biometrics, though. All three models feature an in-display ultrasonic fingerprint scanner, which works about the same as it used to on last year's Galaxy S21, which means it's fairly accurate and fast. You also get image-based face recognition via the front camera on all three.
Performance and Software
Snapdragon for the US, Exynos in the UK and Europe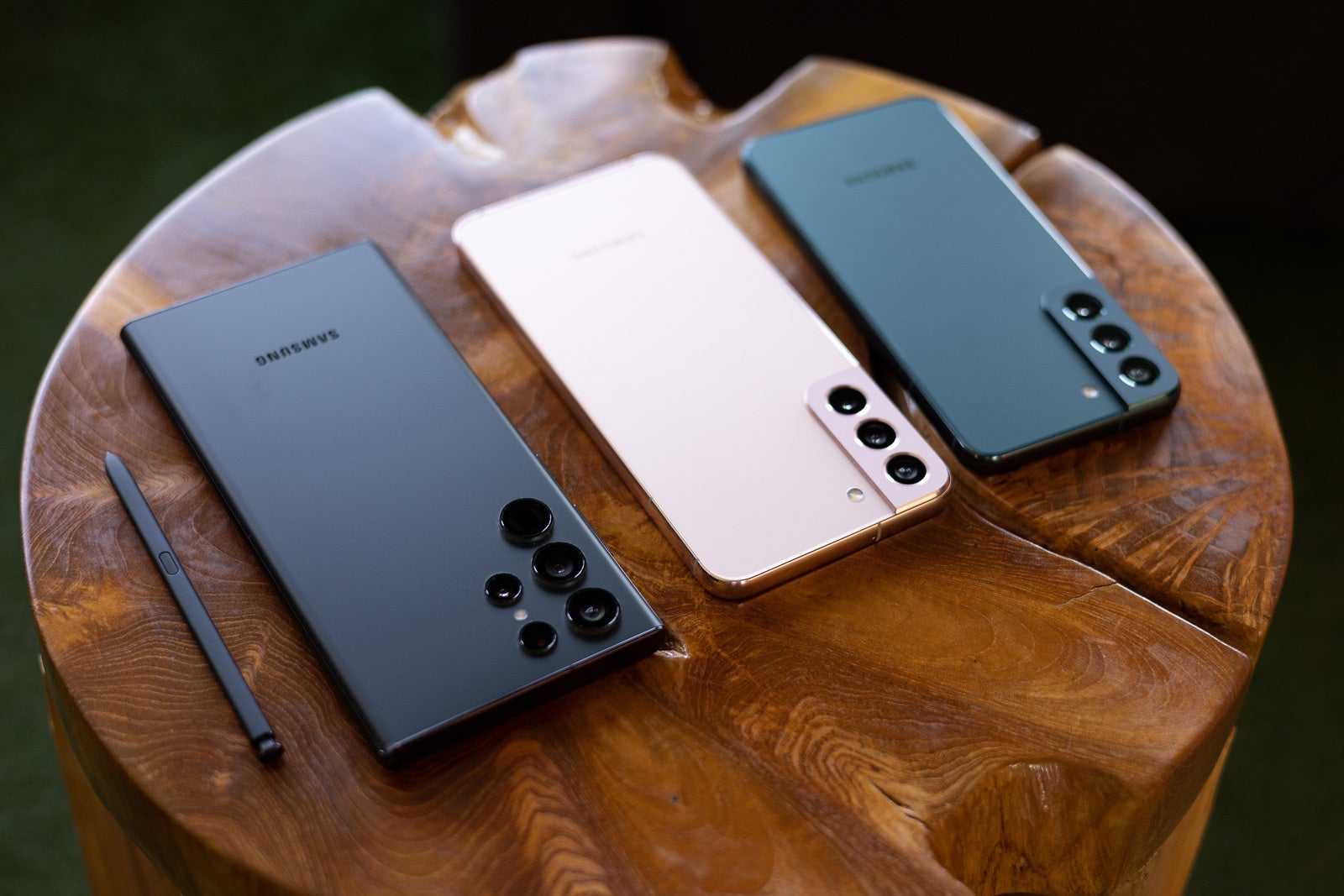 Samsung continues with its strategy of using different processors for different markets, and if you buy a Galaxy S22 series model in the United States, you get a Qualcomm Snapdragon 8 Gen 1 processor inside, while in the UK and Europe, models ship with a Samsung-made Exynos 2200 processor.
It's too early to say just how much of a difference there is between the two, but despite Samsung's efforts, Exynos chips traditionally deliver just a bit less in terms of performance, battery life and the chip even affects image quality. This year, however, Samsung has partnered with AMD on the GPU front and is expected to deliver the goods, especially for gamers.
Another curious detail here is that the Ultra model which last year used to start at 12GB of RAM, now comes with 8GB of RAM in the base model in certain markets, a strange downgrade. On the other hand, those who want the very best, will have the option to pay more and get 12GB of storage and as much as 1TB of storage in some countries.
We will be updating this section with benchmarks from all three models that will show how their performance differs, but right now we have the benchmarks for the Ultra and the Plus.
*Keep in mind that we have the Exynos versions of the phones at the moment.
Despite the same chip inside all of them, the more compact S22 simply does not have the size and throttles a bit earlier than the bigger Plus and Ultra models, so they should have a slight advantage.
This is a good place to also say there is no microSD card slot on either of these phones, so you cannot expand the storage.
There is practically no difference in the software on all three: you get an up-to-date Android 12 version with the latest One UI 4.1 Samsung skin. Samsung now promises 4 years of major OS updates and 5 years of security updates, which is big news in the Android world where other phone makers and even Google only provide 3 years of OS updates.
Camera
Bigger main camera sensor and a periscope zoom lens on the Ultra give it the edge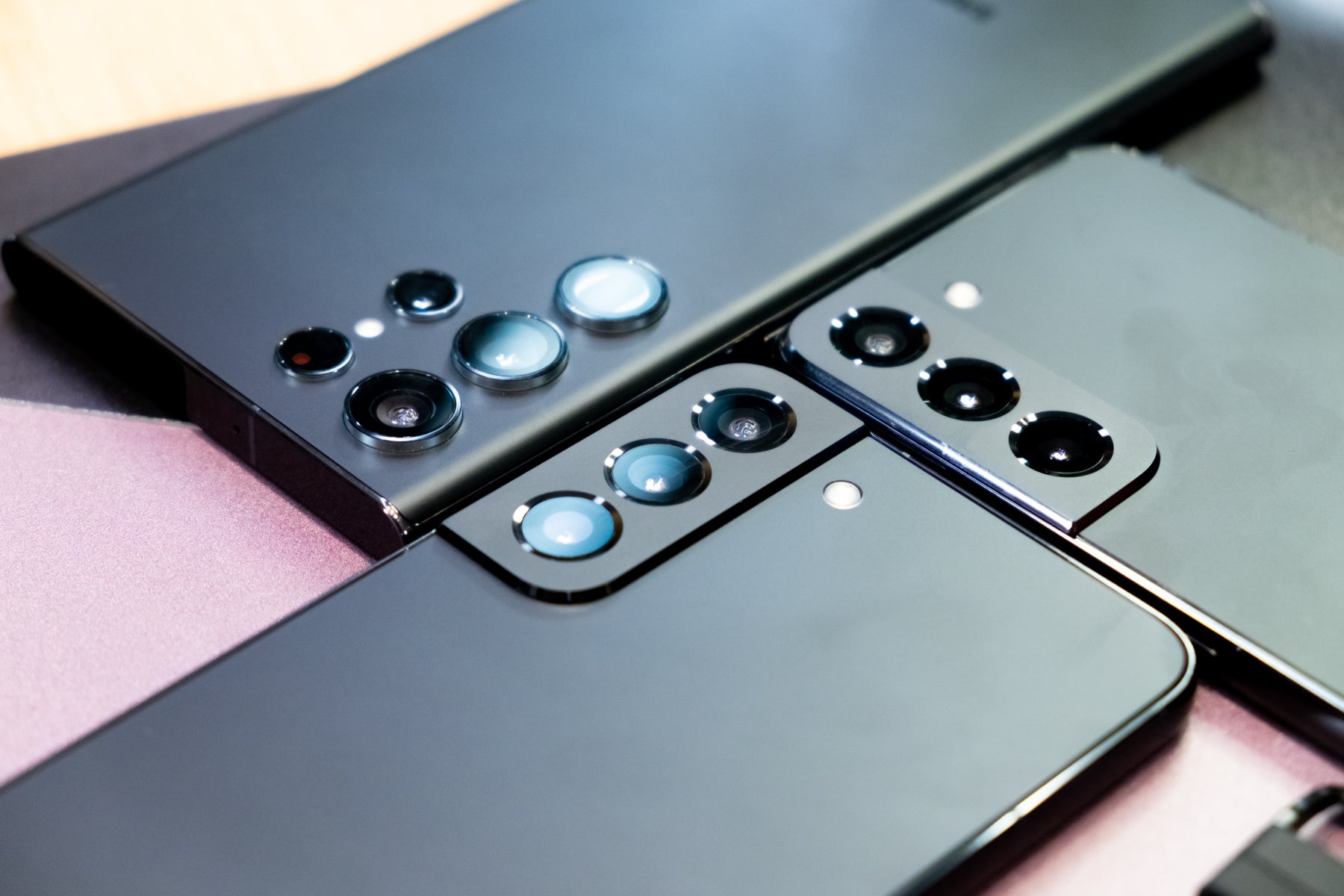 Just looking at the camera systems, it's obvious how the Ultra has the more firepower with larger sensors and an additional, fourth camera.
Here is how all of that breaks down in terms of camera specs: you get an improved version of the familiar 108MP sensor with a 1/1.33" size on the Ultra vs a 50MP sensor with a smaller, 1/1.56" size on the other two models. The three phones, however, share the same 12MP ultra-wide sensor, and the same 10MP 3X zoom lens. The Ultra, finally, has a 10X zoom periscope lens and can go up to 100X using digital zoom, while the other two lack a periscope zoom lens.
We will be taking a deeper look at how this actually reflects in photo and video quality. Samsung specifically promises to "break the night" with the Ultra, and we'll see if the other two S22 models can match it up.
Audio Quality and Haptics
Let's start with the obvious: there is no headphone jack on the S22 series. No surprise here.
All three phones use dual loudspeaker systems with a main bottom-firing speaker and a secondary speaker built in the earpiece at the top. One detail worth noting is that on the Ultra, the speaker grill on the bottom is to the left of the USB-C port, while the SIM card slot is to the right, in immediate proximity to the microphone, so be extra careful when trying to open the SIM slot and make sure you don't pierce the microphone instead.
Our initial impressions are that the haptic feedback on all three phones is nice and precise, but we will be testing this in a bit more detail and update you later.
Battery Life and Charging
Bigger gap between the giant battery on the Ultra and the smaller batteries on the other two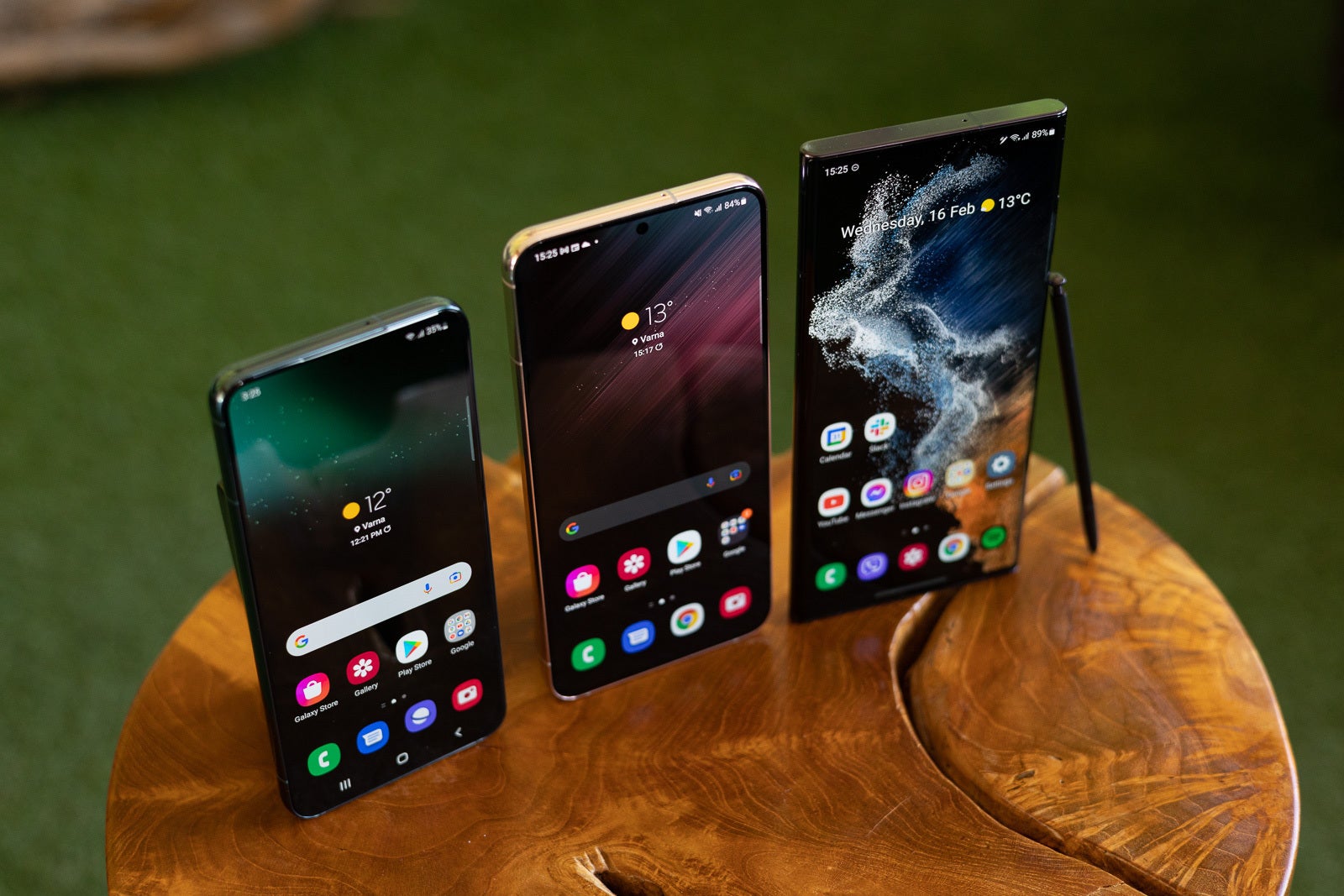 Finally, the biggest compromise that Samsung has had to make this year is smaller battery sizes on the S22 and the S22 Plus.
The S22 is the one we are most worried about as it now comes with a 3,700mAh battery, down from a 4,000mAh battery on the S21. The Plus version features a 4,500mAh battery, also a downgrade from the 4,800mAh cell on the S21 Plus. And only the S22 Ultra has managed to stick with the same sized, gigantic 5,000mAh battery.
Despite these battery sizes, our independent battery tests, show some curious discrepancies in the actual battery life:
The biggest one has got to be that the S22 Ultra is underperforming in both our Web Browsing and YouTube video streaming tests, scoring below the Galaxy S22 Plus, which has a smaller battery. And this is actually quite consistent with our daily use of the S22 Ultra, our model scores about 4 hours of screen time with social media use, which is definitely short of expectations for a phone with a 5,000mAh battery.
Finally, in terms of charging speeds, Samsung is bringing back 45W charging speeds on the S22 Ultra and S22 Plus, while the smaller S22 will be limited to 25W charging speeds.
Keep in mind that in the box with the phones you only get a cable, and you'd need to purchase a charger separately. Also, if you plan on getting a 45W charger, you should know that it comes with a thicker cable in the package, and only with that cable you get the full 45W speeds, so avoid pairing the 45W charger with the thinner cable in the box (it will work, you just won't get the full 45W charging speeds).
Of course, these are flagship phones and they also get wireless charging. The speeds here are 15W across all three, and Samsung is also introducing new wireless chargers that you can purchase separately. Reverse wireless charging, or PowerShare in Samsung lingo, is also available on all three, so you can use these phones as a kind of a wireless power bank.
Prices and Deals
Finally, good news is that there isn't much of a price change compared to last year's models. The only thing that has happened that we did not expect is that Samsung discontinued the S21 Ultra model from its official web store, which only shows how much it wants people to buy the new S22 Ultra. Good news is that all three S22 phones sell at about the same prices as last year's models.
Galaxy S22: from $800 (8GB RAM/128GB storage)
Galaxy S22 Plus: from $1,000 (8/128GB)
Galaxy S22 Ultra: from $1,200
At these prices, the new Galaxies remain competitive. Higher prices would have been a tough pill to swallow as even arch-rival Apple would have had lower prices.
Summary and Final Verdict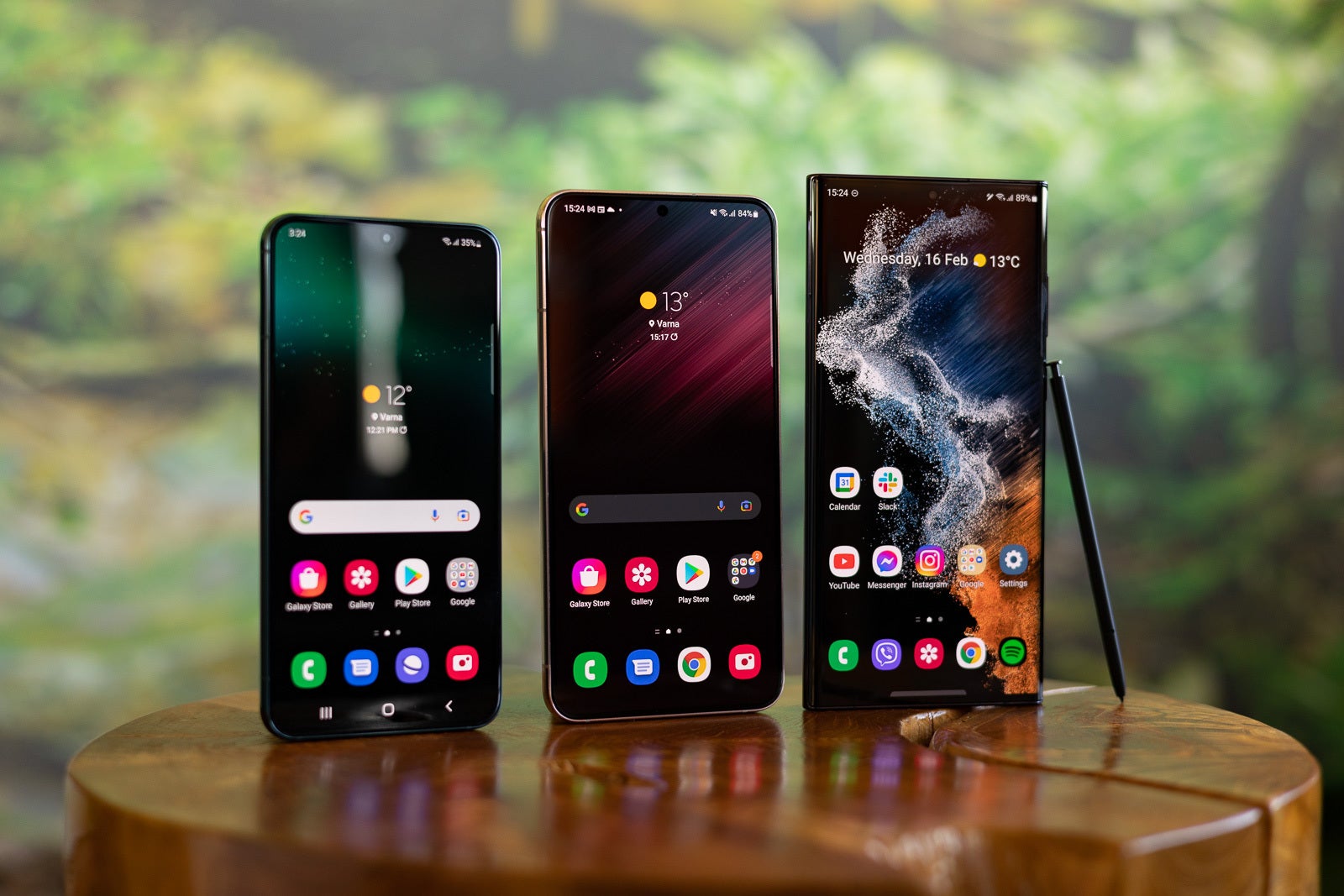 So... which Galaxy S22 model should you choose?
First of all, it's about size. This is something you know best for yourself and if you don't, we recommend you just try out the different sized models in a store first. Yours truly is a compact phone person, and I will be going with the smaller S22 version, despite it not quite having the best feature set.
The S22 Plus is in a bit of a weird place, though: it's still a bit phone, even if lighter than the Ultra, but we imagine many people would see the S Pen, bigger battery, periscope camera and overall feature set on the Ultra, and decide that phone offers a lot more at a bit higher price.
At the end of the day, the S22 Ultra is the heavy hitter, a device that brings the best of the Note series and Galaxy S series together, and it's the most exciting one to try out.