Samsung Galaxy A52 vs iPhone SE (2020)
8
We may earn a commission if you make a purchase from the links on this page.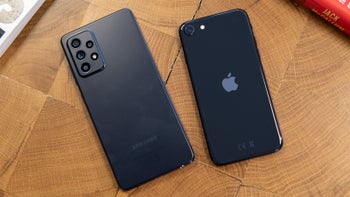 Samsung's midrange Galaxy A line is slowly gaining traction among those that want some flagship specs in their non-flagship phones. Specifically, the
Galaxy A52
has a high refresh rate screen (90 Hz) with a beautiful
Samsung
AMOLED panel, an OIS-equipped monster of a camera, and a 5G variant for the early adopters.
All of that for a projected price somewhere around the $400 mark.
There still are some interesting options to look at in that price segment. Even
Apple
has its own offering here — an
iPhone SE (2020)
starts at $400.
So, you might be wondering — do I want the iPhone SE or do I want the Galaxy A52? Well, let's try to pull at some threads.
Here's a quick look at things. Galaxy A52 vs iPhone SE (2020):
Galaxy A52 has a much bigger screen
Galaxy A52 has more cameras and therefore camera features
Both phones equipped with fingerprint scanners
iPhone SE is much more compact and more powerful
Galaxy A52 has a superior battery life by far
Galaxy A52 has a high refresh rate screen for smooth animations
Galaxy A52 has a headphone jack and microSD card slot
Galaxy A52 stereo speakers can be tuned to actually sound pretty good!
So, we have two phones that are aimed at two very different crowds here. The Galaxy A52 is there for media-hungry users who want a big, beautiful screen to view content on. The iPhone SE (2020) is more meant for the user that keeps their phone in their pocket most of the time. It has a tiny screen and an outdated design — not something flashy to show off with.
The iPhone SE has a very powerful Apple processor inside, but that's to be considered as headroom and future-proofing, not as a greenlight to use this phone as a poweruser. Why? Because its small battery can barely keep up once you start playing games or editing video on it.
The Galaxy A52 may be forced to play all your games at low settings, sure. But its battery life is out of this world and it can take tons of abuse before you need to get to a wall outlet.
Bottom line is, if price is the only reason you are looking at these two phones in particular, the Galaxy A52 will get you more bang for your money. The iPhone SE (2020) is great for those that specifically want to be in the Apple ecosystem — with Apple Watch, AirPods and such.
Galaxy A52 vs iPhone SE (2020) design and display
If screen size is of utmost importance to you, then the A52 will definitely be the more lucrative offer. It has a big, 6.5-inch diagonal AMOLED screen with a modern 20:9 aspect ratio. And, again, it has a 90 Hz refresh rate for smoother animations. If you go for the A52 5G, you will even get a bump up to 120 Hz!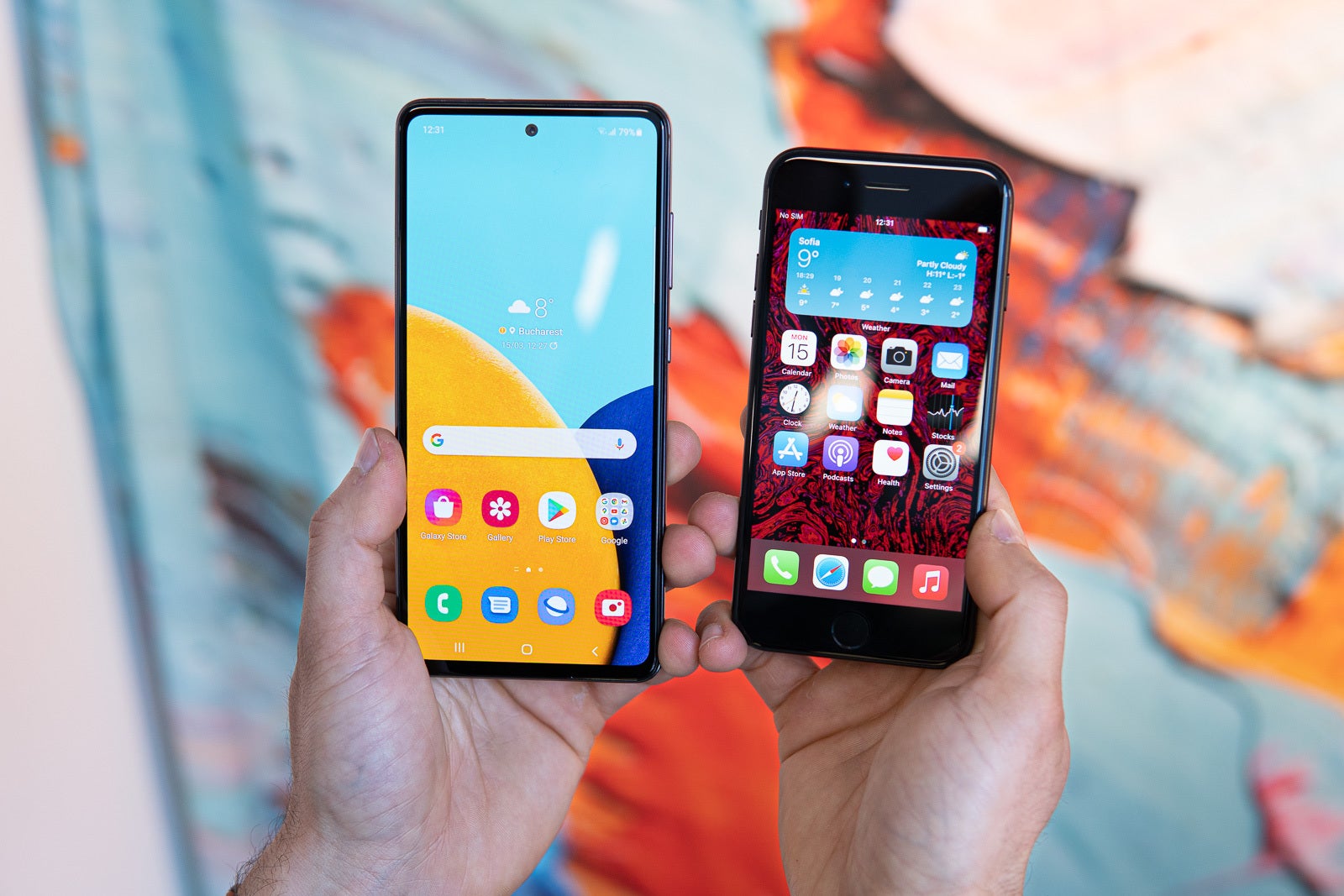 The iPhone SE (2020) still has an LCD panel. And that's fine — Apple's LCDs look great — but it's also tiny with a 4.7" diagonal over a classic 16:9 ratio. It's not the dream screen for gamers or YouTube addicts, for sure.
But the iPhone SE (2020) is definitely the more compact experience. If you long for the days when using your phone with one hand was actually doable — nay, normal! — then the iPhone SE (2020) might be right up your alley.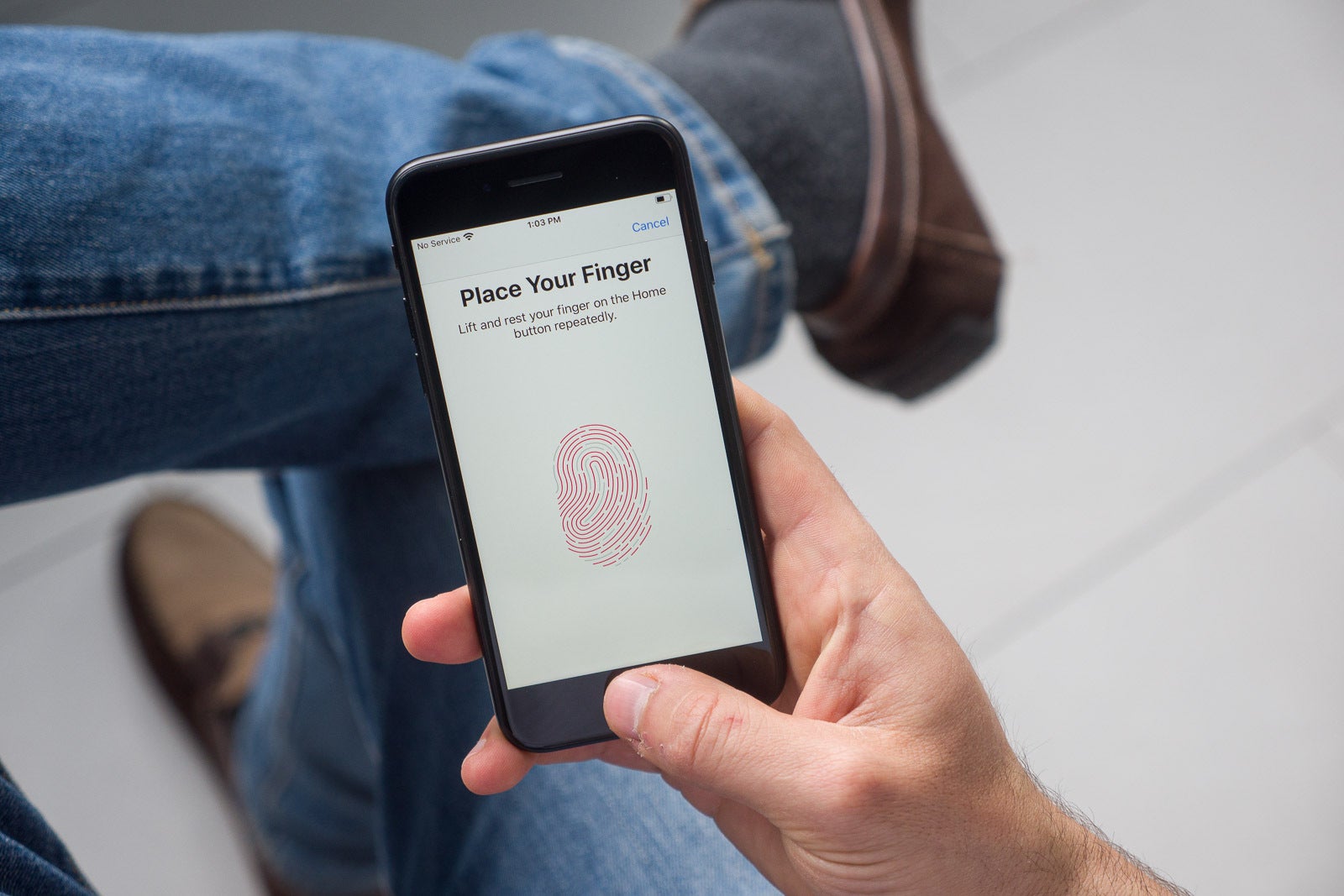 iPhone SE (2020)
In terms of design, I am a bit torn here. On one hand, the iPhone SE (2020) has that old, old iPhone 6 design. Thick bezels, home button on the bottom, too much body, too little screen. But it's still a classic and it's built with aluminum and glass. Nice.
The Galaxy A52 is pretty much plastic all around. The materials have been treated to look like a metal and glass combo and — I have to admit — the phone does look great in person. But it does feel plasticky. It has a thinner bezel and modern look with an under-screen fingerprint scanner. So, no real estate wasted here — it's all screen!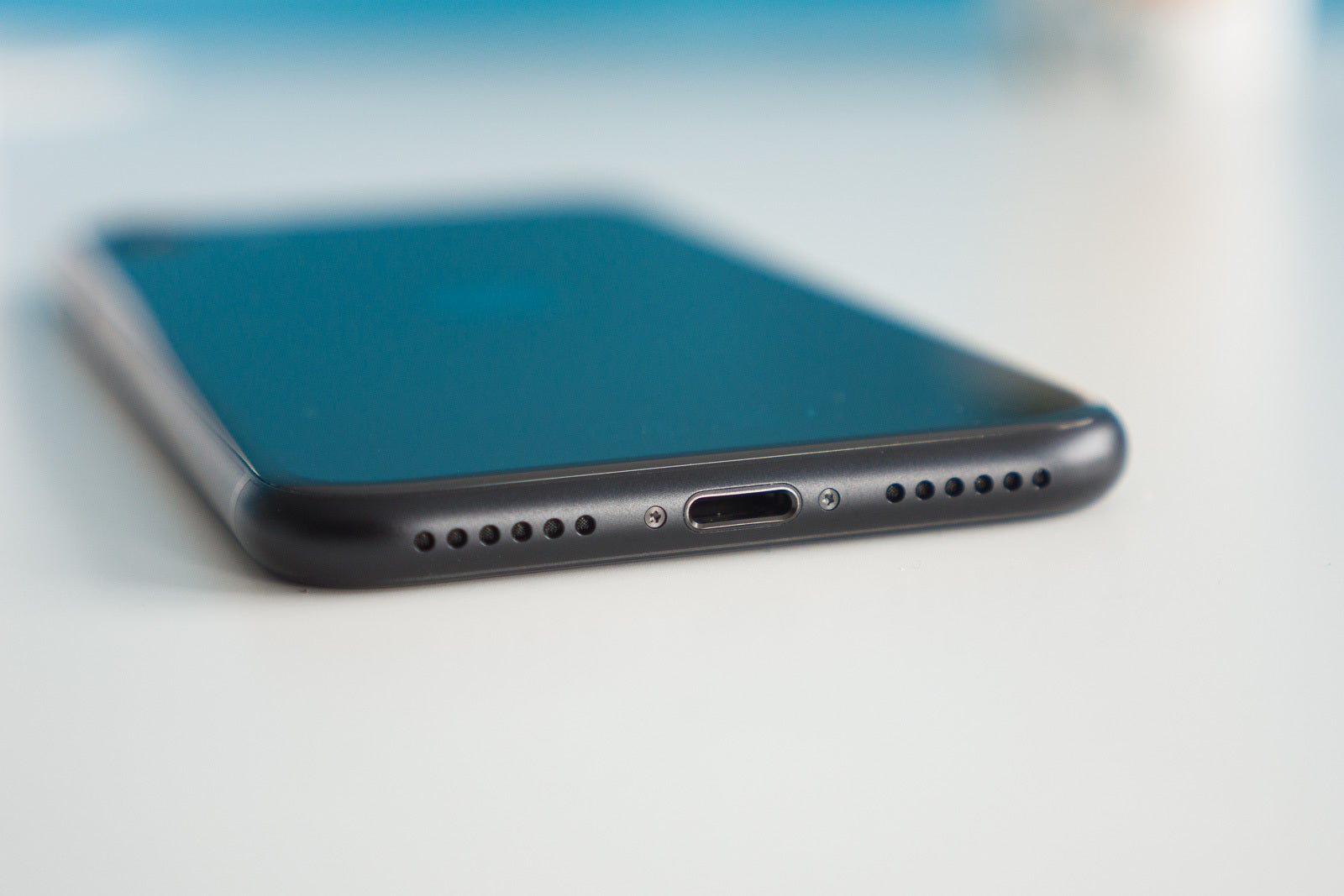 iPhone SE (2020
It's worth noting that the iPhone SE (2020) has a set of stereo speakers and a pretty OK sound for the small device that it is. The A52 also comes with dual drivers on board, which can definitely get loud. At default settings, it sounds a bit honky, but when you activate the Dolby Atmos optimization in Settings and tinker with the EQ — the Galaxy A52 speakers sound great!
Galaxy A52 vs iPhone SE (2020) camera
In raw numbers — the Samsung Galaxy A52 is killing it. A quad camera on the back, a 64 MP main sensor, 32 MP selfie sensor — insane, right? Let's take a deeper look.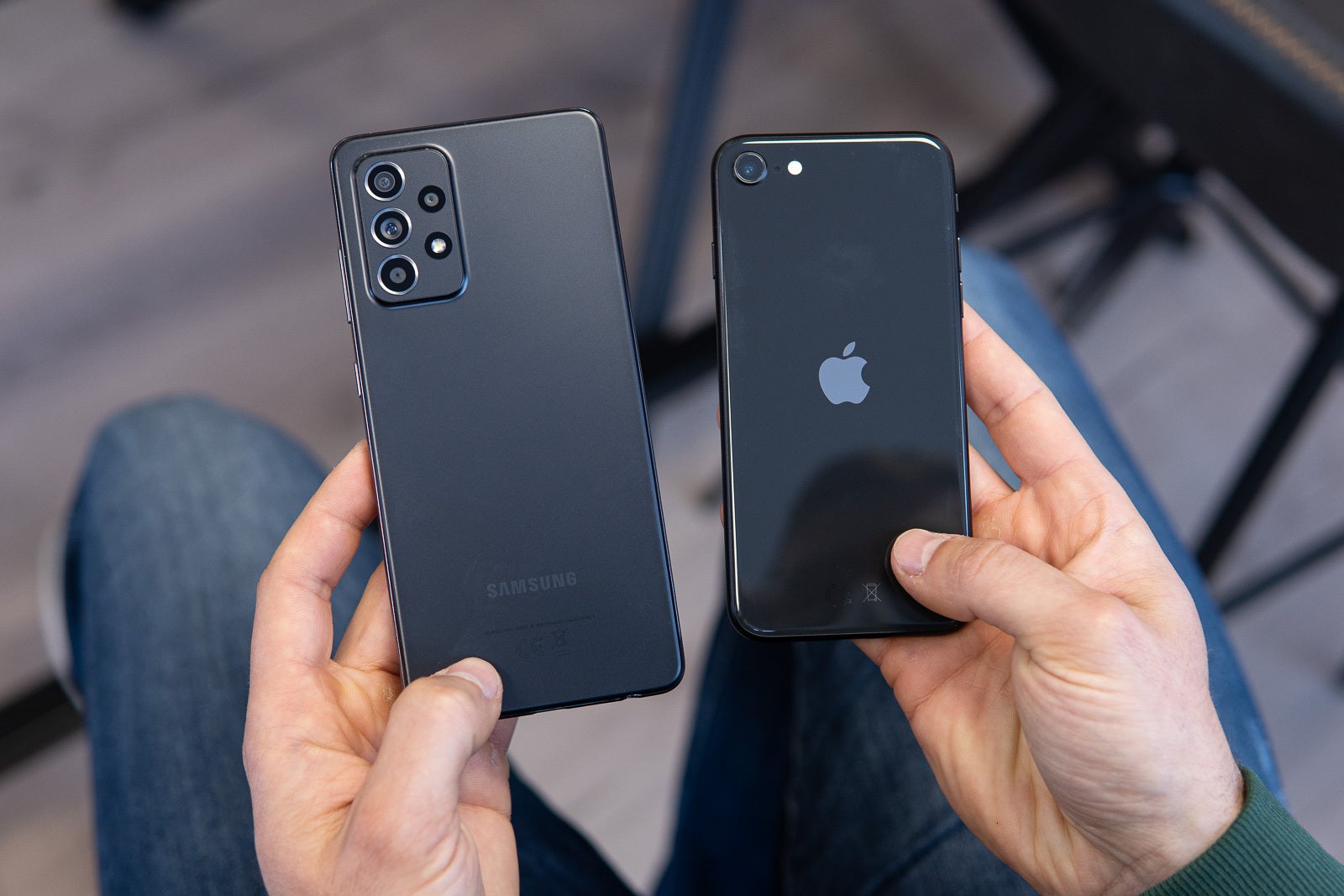 So, the 64 MP main camera seems to be more than decent. It has an optical image stabilization (OIS) module, which is a pretty big deal on a midrange smartphone. It works for both video and stills, meaning clips will come out more stable and pictures in the dark will be assisted by the stabilization and not come out blurry.
Then, there's a 12 MP ultra-wide camera — the unsung hero of modern smartphone cameras, ultra-wide lenses are surprisingly handy when trying to capture erratic movement on video, a landscape shot, or an artsy picture.
The other two sensors of the Galaxy A52, you needn't get excited about. One is a 5 MP macro camera… so, yeah. The other is a 5 MP depth sensor, which will basically work in the backend whenever you are trying to take a Portrait Mode photo. OK.
What does the iPhone SE (2020) have to answer this barrage of camera sensors? A single 12 MP camera and a 7 MP selfie camera. Granted, it's incredibly consistent and pretty good, considering it's a tiny smartphone that you can put in any pocket. It has an optical image stabilizer, too, but no Night Mode, which kind of cripples it once the sun goes down.
In general, the Galaxy A52 photos come out with punchier colors and consistently have more contrast, which is a matter of taste. The iPhone SE (2020) photos have that signature warmth to them with a yellow-ish cast in every photo. Otherwise, the colors from the SE are closer to reality. Both phones seem to have somewhat equal dynamic range and well-performing HDR algorithms, but the Galaxy A52 is a step above the iPhone in some scenarios. Look at the sky above the bench on the first scene and the patterns of the decorative pillar in the 4th scene — the A52 did better in both cases.
At night, the Galaxy A52 just slaughters the iPhone SE (2020), even with Night Mode disabled.
For zooming, the Galaxy A52 can go up to 10 times magnification. The iPhone SE (2020) doesn't have a number on its slider, but it looks like it's about 6x. For what it's worth, an iPhone picture at 6x looks slightly clearer and sharper than the A52's image. But, in general, you don't want to zoom in with either of those phones.
< A52 6x zoom
iPhone SE max zoom >
< A52 7x zoom
iPhone SE max zoom >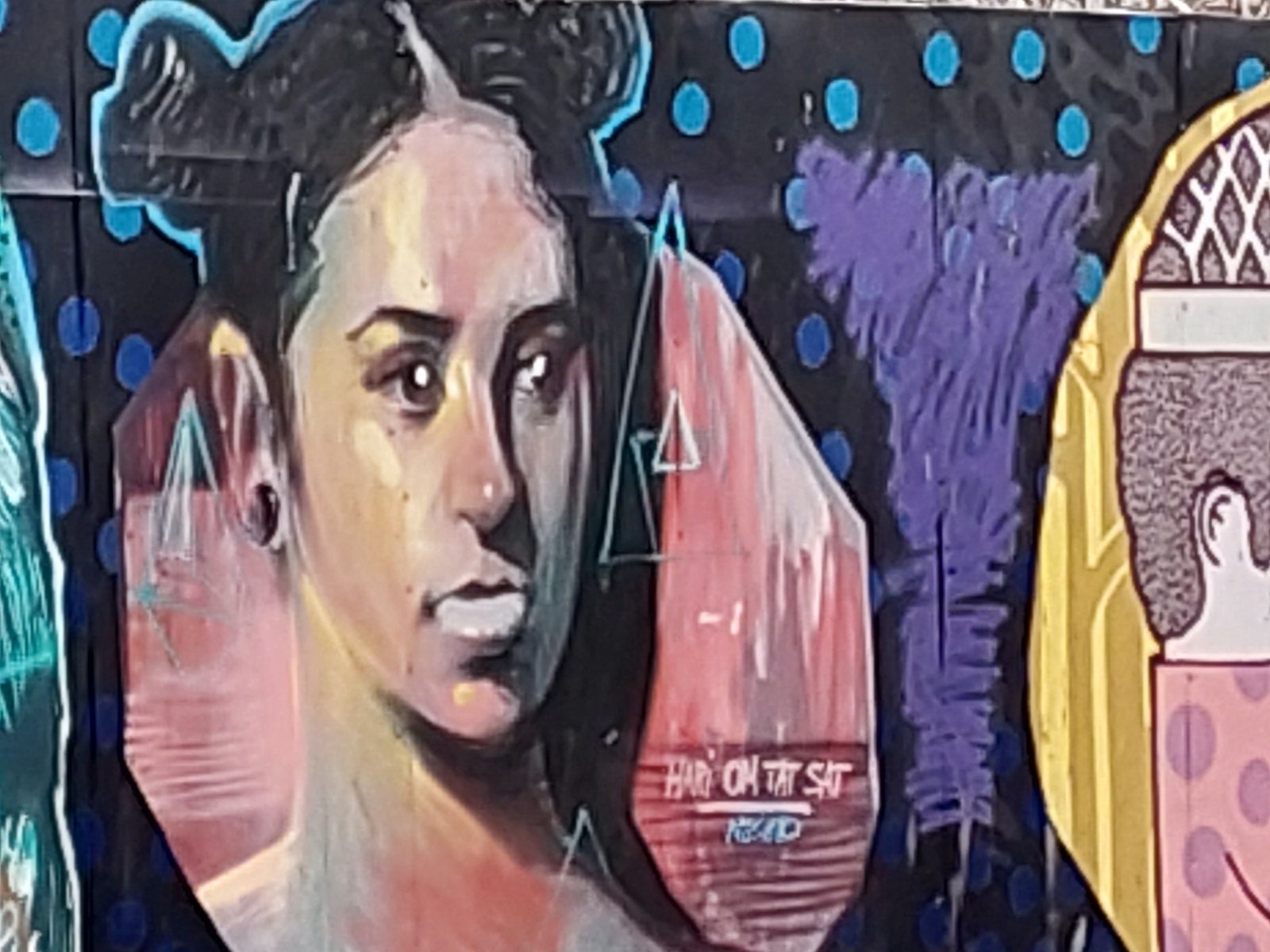 Galaxy A52 10x zoom
But then, the Galaxy A52 adds fancy and fun features, like Night Mode, Single Take, macro, and Portrait Mode. Yes, the iPhone SE (2020) does have a Portrait Mode, but it will only work if it detects human faces — no pet detection on board. And, as we know, in 2020 and early 2021, we pretty much only hang out with our pets, so...


The Galaxy A52 gives you a lot more to play with. The iPhone SE (2020) camera is more like that "dependable work horse" that can only do a couple of things, but does them really well.

On the selfie side — the 32 MP camera on the Galaxy A52 is pretty OK. It looks sharp, but it was very hard for me to take a non-blurry selfie. I suppose the shutter speed was just slow. Skin tone looks a bit weird — sometimes pale, sometimes pink. And the selfie Portrait Mode is not very impressive. The iPhone SE wins in skin tone and Selfie Portrait, but looks softer on the details. And, when all of the lights are off, the A52's Night Mode can still secure a selfie, whereas the iPhone SE raises the white flag.


As for video, they both produce pretty good clips. The stabilization of the iPhone SE is better, while the Galaxy A52 introduces some wobble and warping. Otherwise, colors, details, and dynamics look great.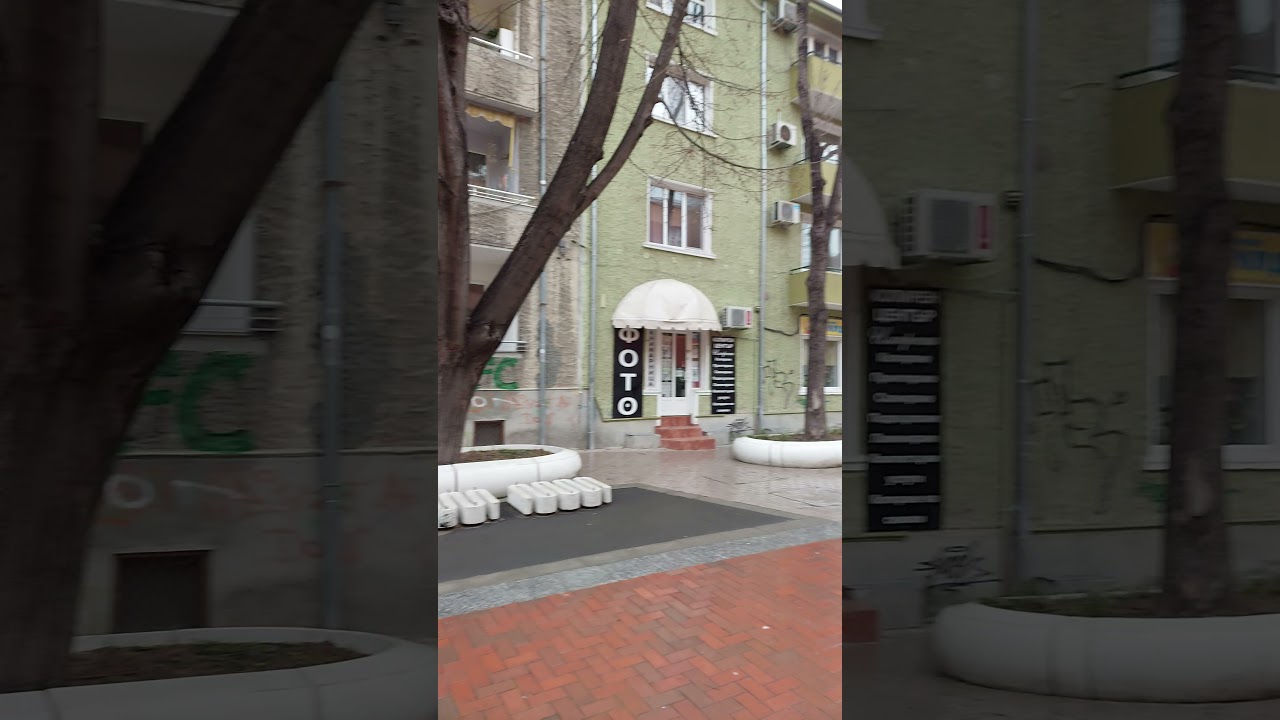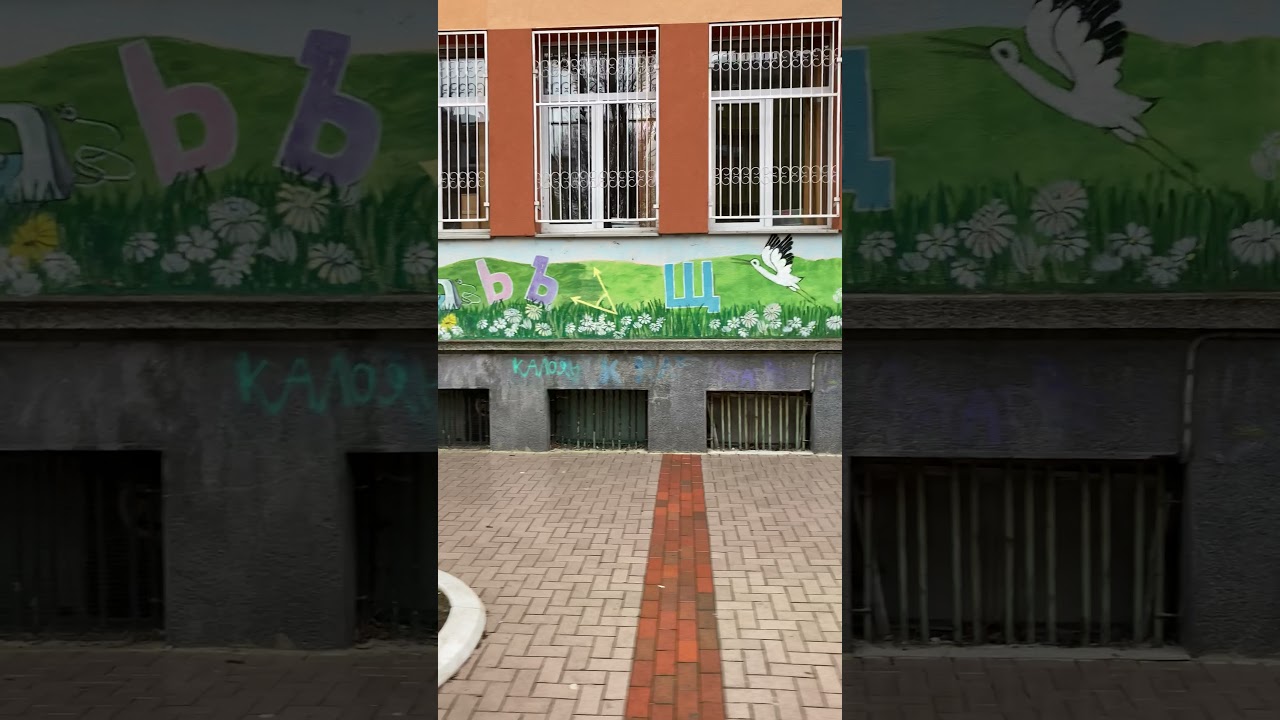 Galaxy A52 vs iPhone SE (2020) specs and performance
The Galaxy A52 is sporting a Snapdragon 720G under the hood. It's a midrange-tier processor. It won't blow you away with performance, but its still a 2.2 GHz octa-core chip, so it can hold down the fort for daily tasks. If you go for a Galaxy A52 5G, you get the slightly more powerful Snapdragon 750G.
The iPhone SE (2020) has Apple's hexa-core, 2.65 GHz A13 processor, which is an absolute killer. Both in terms of performance and in killing battery. So yeah, while it has a lot of power on tap, you won't be able to run it in overdrive for long.
Long story short — the iPhone SE (2020) smashes the Galaxy A52 when it comes to graphics and performance in games, editing video, or doing tasks quickly. The Galaxy A52 can hold its own and feels responsive, but sometimes lags a little when it needs to "think things over" — when sharing a bulk of photos, switching to a heavy game, or anything else that needs some more processing power.

The Galaxy A52 starts at 128 GB of storage with a microSD card slot on the side, so — potentially — storage will never be an issue for you. The iPhone SE (2020) starts at 64 GB at the $400 tier but an upgrade to 128 GB is only $50 extra. Still no microSD slot, though, keep in mind.



Then, in terms of RAM, the Galaxy A52 starts at 4 GB, which is not mind-bending nowadays, but still OK for an Android midranger. The iPhone SE (2020) has 3 GB of RAM, but that's kind of a moot point because of how iOS treats background apps — it just freezes them. And it also goes along with the iPhone's general use case — it's meant as a base phone, not a powerusers dream.
Galaxy A52 vs iPhone SE battery life
The difference here is so huge that even attempting a comparison is comical. See, the iPhone may have all that horsepower in its chip, but it barely has the battery capacity (only 1,821 mAh) to keep it running for long. On the flip side, the Galaxy A52 has a huge, 4,500 mAh cell, and a bunch of software optimizations to preserve battery life on top of a processor that is already light on the energy consumption.
The result? The Galaxy A52 is an endurance beast. Whereas the iPhone SE... well, bring a power bank.
Galaxy A52 and iPhone SE (2020) 5G

Easy! The Galaxy A52 has a 5G edition. The iPhone SE (2020) does not. So, if you want to be ready for that next-gen connection era, your choice just got narrowed down.
Recommended Stories