Samsung Galaxy A33 5G vs Galaxy A32 5G: all the differences
3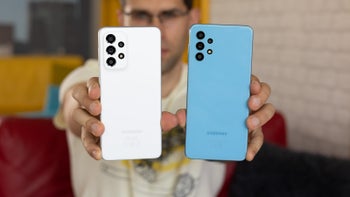 If you are looking for a budget phone, Samsung has updated one of its most popular budget options with the newer Galaxy A33 5G.
Priced at way under $400, this phone is a huge upgrade over last year's Galaxy A32 5G. Gone are the low-resolution LCD screen, the slow refresh rate, and the sluggish processor. The new A33 5G has made improvements all around, and it seems like one of those rare cases where even those who own last year's model should consider upgrading to this new one.
So let's take a closer look at the Galaxy A33 5G vs A32 5G differences, and see what makes this new budget phone so special.
Samsung Galaxy A33 5G vs А32 5G in a nutshell:
Plastic construction on both
OLED screen on A33 5G
90Hz vs 60Hz
Faster processor, more RAM
Double the storage
Same size 5,000mAh battery on both
Faster 25W charging
But no charger in the box with A33
Display and Design
Finally, a gorgeous OLED screen with fast refresh rate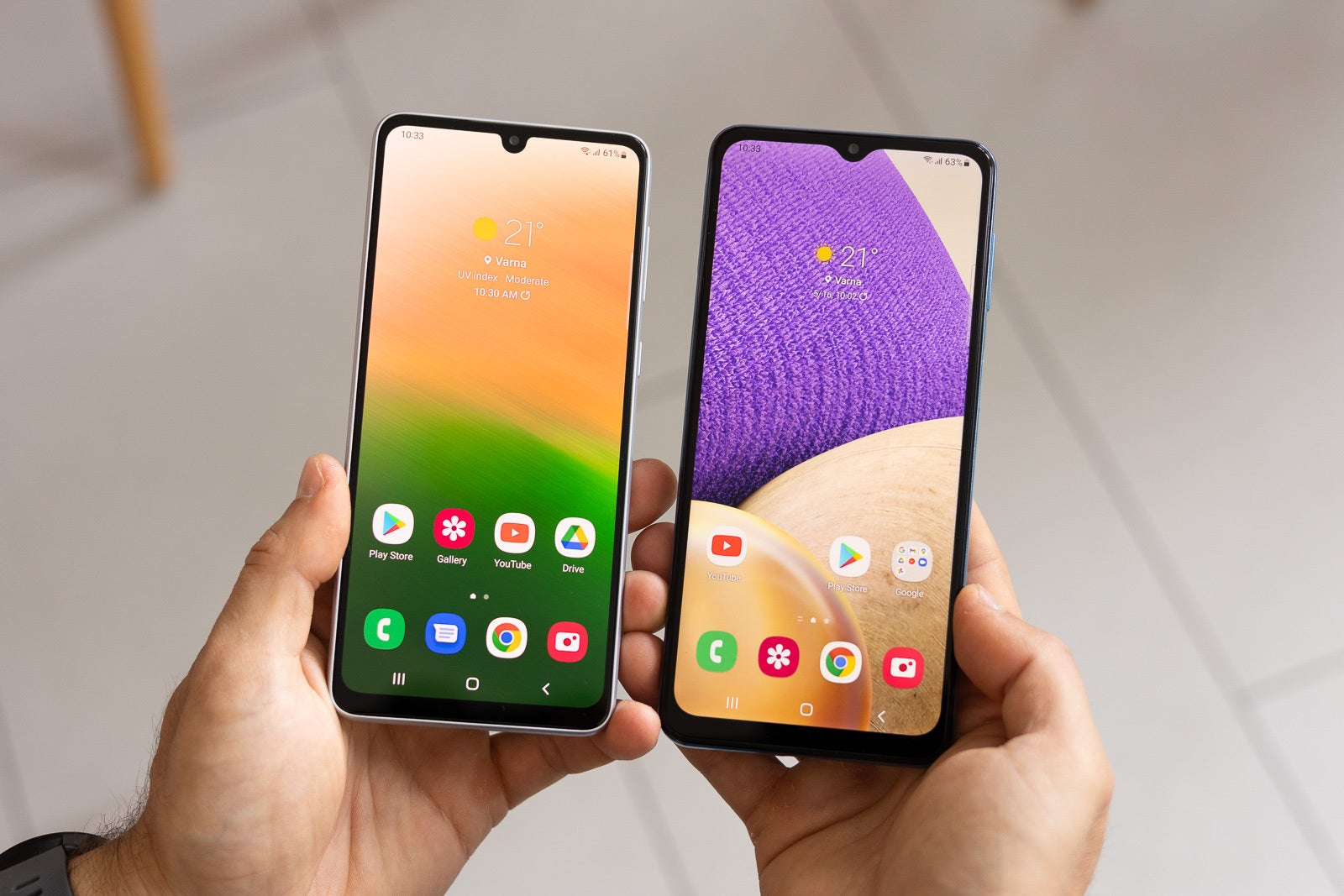 The new screen on the A33 (left) looks SO MUCH BETTER than the dim old-school LCD on the A32 (right)
Last year's Galaxy A32 5G had a 6.5" LCD screen with a 720p resolution, and as you can guess, it was lacking severely in sharpness, but also colors appeared bleak and nowhere near as vibrant as most modern phones. Thankfully, the new A33 5G completely changes that. It brings a slightly smaller, 6.4" screen size, but this time an OLED display with excellent contrast, deep blacks and vibrant colors, a much sharper 1080p resolution, and even a 90Hz fast refresh rate option compared to the sluggish 60Hz on the predecessor.
It's a night and day difference, and if you value a good screen, this alone might be a reason to upgrade.
Still, the A33 5G is not quite perfect as it has bigger than usual borders and a teardrop style camera, but those are esthetic things you can definitely live with.
As for the design and styling, again, a massive difference! Last year's model was big, thick, and bulky, just take a look at our size comparison tool below:
Notice how the A33 5G is slimmer and weighs substantially less than its predecessor.
You also get IP67 water and dust protection on the A33 5G, a feature that was not available on the A32 5G.
What's missing on the newer phone is a headphone jack, but such are the times we live in.
Cameras
More stable main camera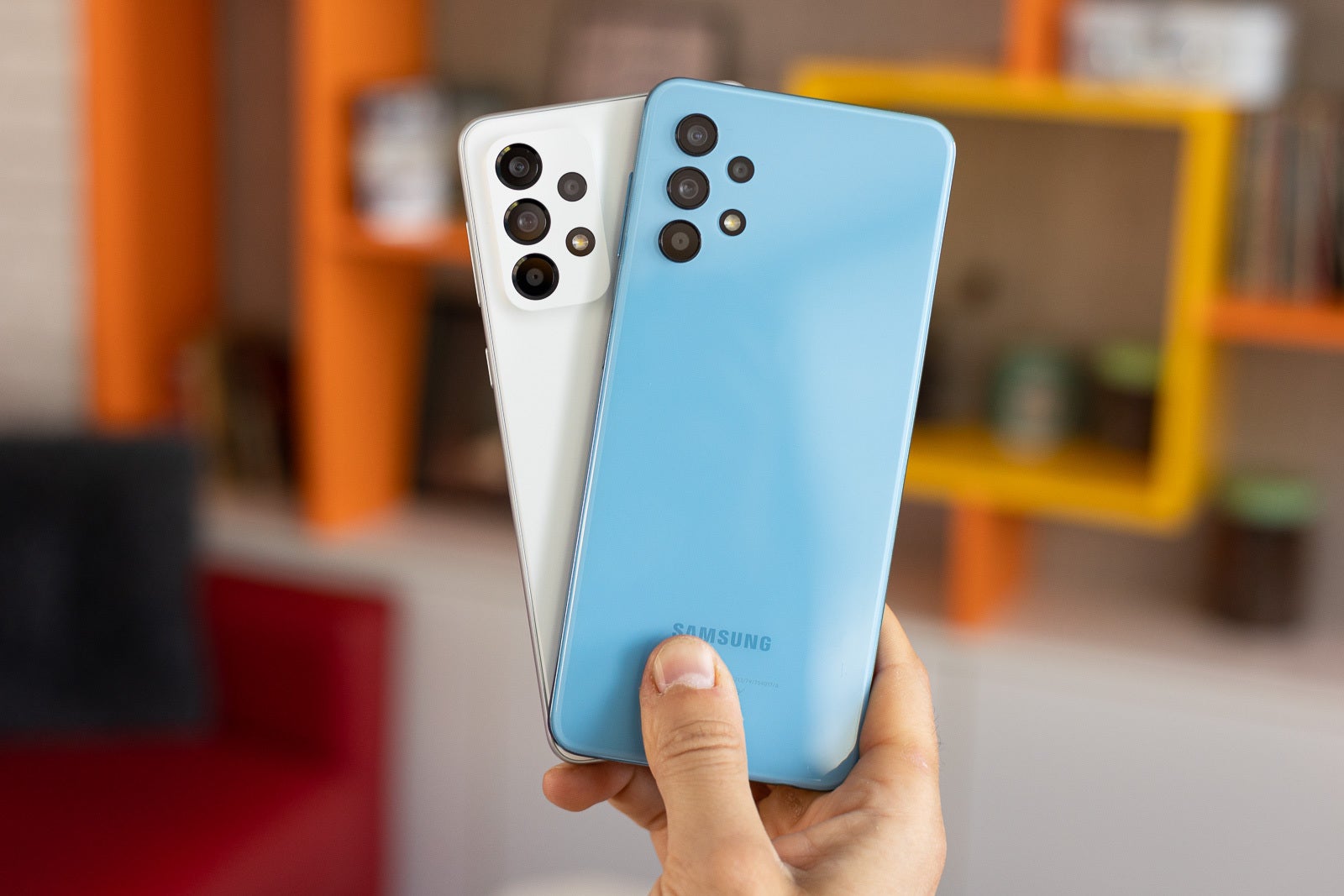 It's a bit strange how Samsung insists on having four cameras on the back of these budget phones, as if trying to impress us with the sheer number of lenses.
As you probably know, only two of those cameras are useful. The other two, a macro and depth cameras, are pretty much completely useless.
The one thing that we appreciate having on the A33 5G is optical image stabilization with the main camera, a feature that was missing on the predecessor.
But how do actual photos and videos from these two devices differ?
Both being Samsung phones, there are more similarities in photos between these two rather than differences, as both proudly carry those vibrant better-than-life colors that Samsung phones are known for. Still, photos taken by the main camera have more pop on the newer A33 model, with added saturation (skies are a deeper blue, greenery is extra green), as well as sharper detail as it seems that the lens has been improved with less flare and cleaner resolution.
While you can catch the differences in the main camera, as well as with selfies, the ultra-wide cameras look nearly identical.
In terms of video features, both phones max out at 4K30 video recording, but one new option that was missing on the A32 and is now present on the A33 is FHD 60fps video recording.
Many of the recording limitations, however, remain: you cannot use the ultra-wide camera in 4K video on either phone, for example. The A33 adds the option to use the ultra-wide camera for video in FHD mode, something that was missing on the last-gen model.
But the one feature that makes the most difference has got to be the optical stabilization offered on the main camera on the A33, which helps get much smoother footage.
Performance and Software
A welcome speed boost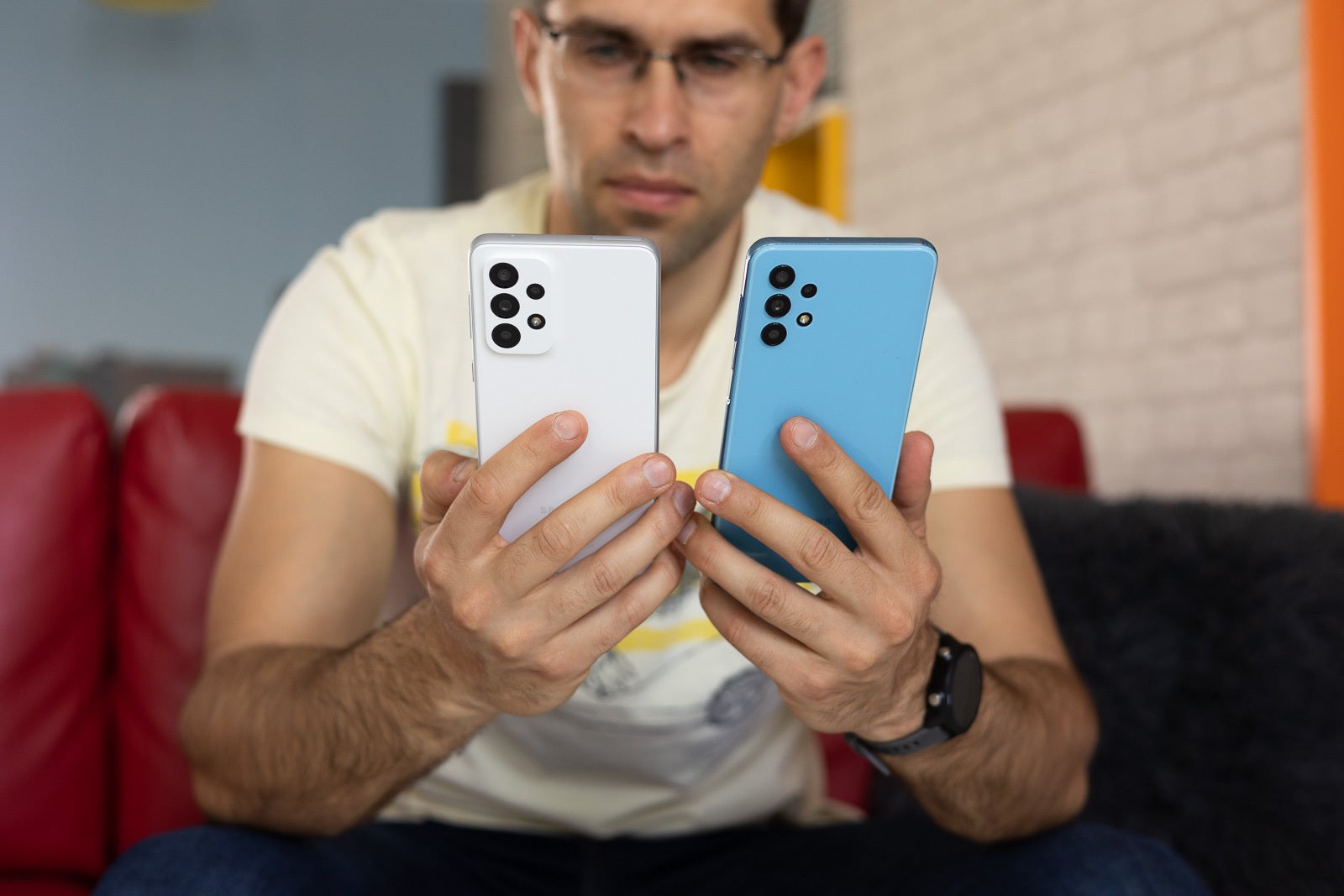 The new chip in the A33 is a big upgrade
The A33 5G also has a faster chip under the hood. Equipped with the Exynos 1280 coupled with 6GB of RAM, this is a big boost from the MediaTek Dimensity 720 and mere 4GB of RAM on the A32 5G.
Below, you can find performance benchmarks showcasing what kind of performance boost you can get out of that new processor on the A33 5G:
You also get double the storage: the A33 5G has 128GB of on-board storage compared to 64GB on the A32 5G, and yes, both phones come with a microSD card slot.
Software
In terms of software, the A33 5G ships with the latest Android 12 with One UI 4.1 on board, and most importantly, you get the promise for 4 years of major software updates, which is frankly, unprecedented for a budget phone! We love that.
Battery and Charging
Faster charging on the new model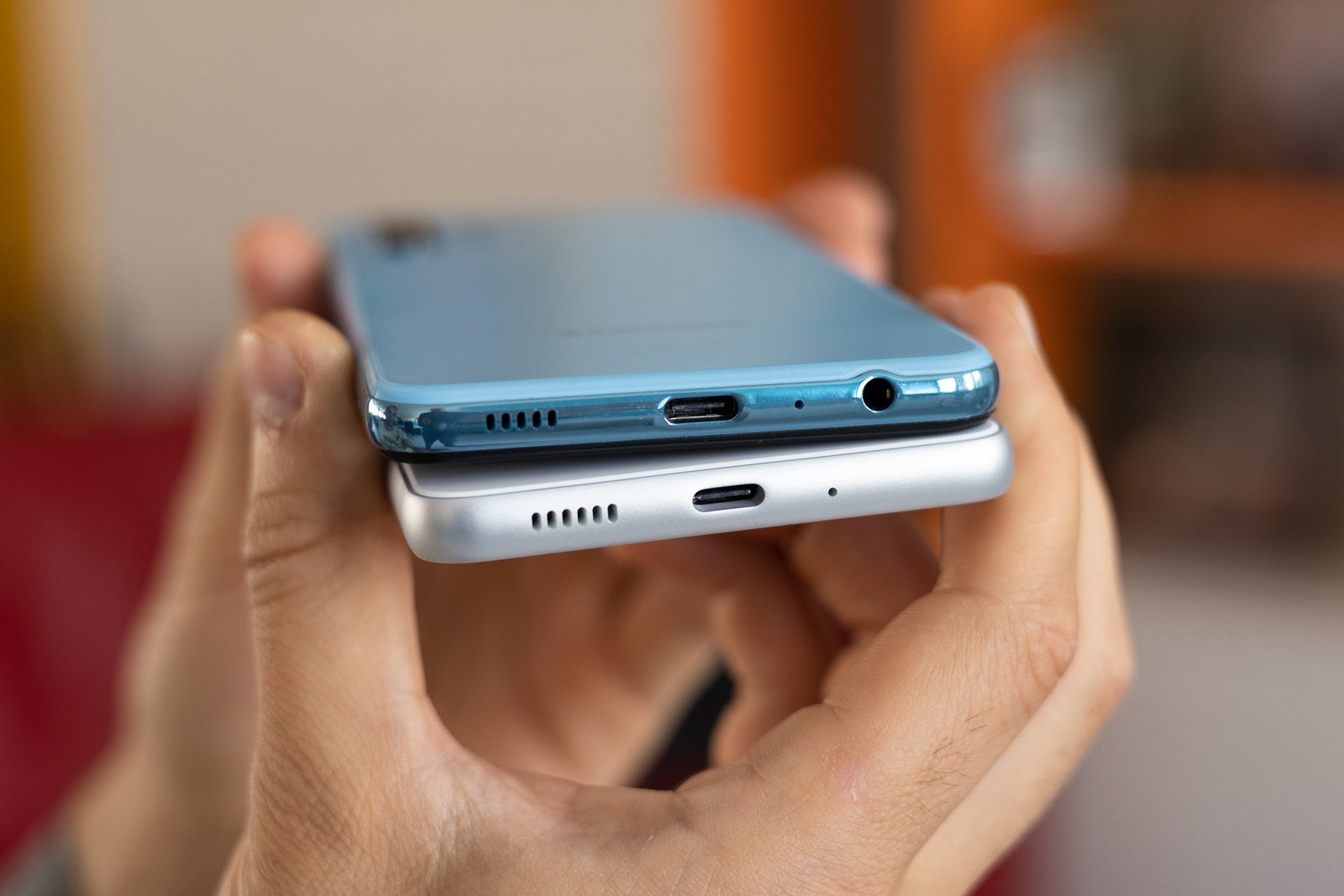 Both come with 5,000mAh batteries, but you lose the headphone jack on the new A33
Battery life has always been excellent on the Galaxy A series, and the A33 5G only solidifies that with up to 2 days of battery life. Both the newer A33 5G and the older A32 5G model come with massive, 5,000mAh batteries.
Below, you can find results from our three battery tests, which we perform at the same brightness level and identical conditions over a Wi-Fi connection on all phones:
What's also great is that the newer A33 5G also brings faster, 25W charging. You don't get a charger in the box, which is a pity, but also it's an extra $20 to get a proper 25W charger, so it won't quite break the bank, and this charger will top up the phone much quicker than the 15W speeds supported by the predecessor.
There is no wireless charging support on board on either one, but that's one feature traditionally missing on most budget phones.
Galaxy A33 5G vs A32 5G: Specs Comparison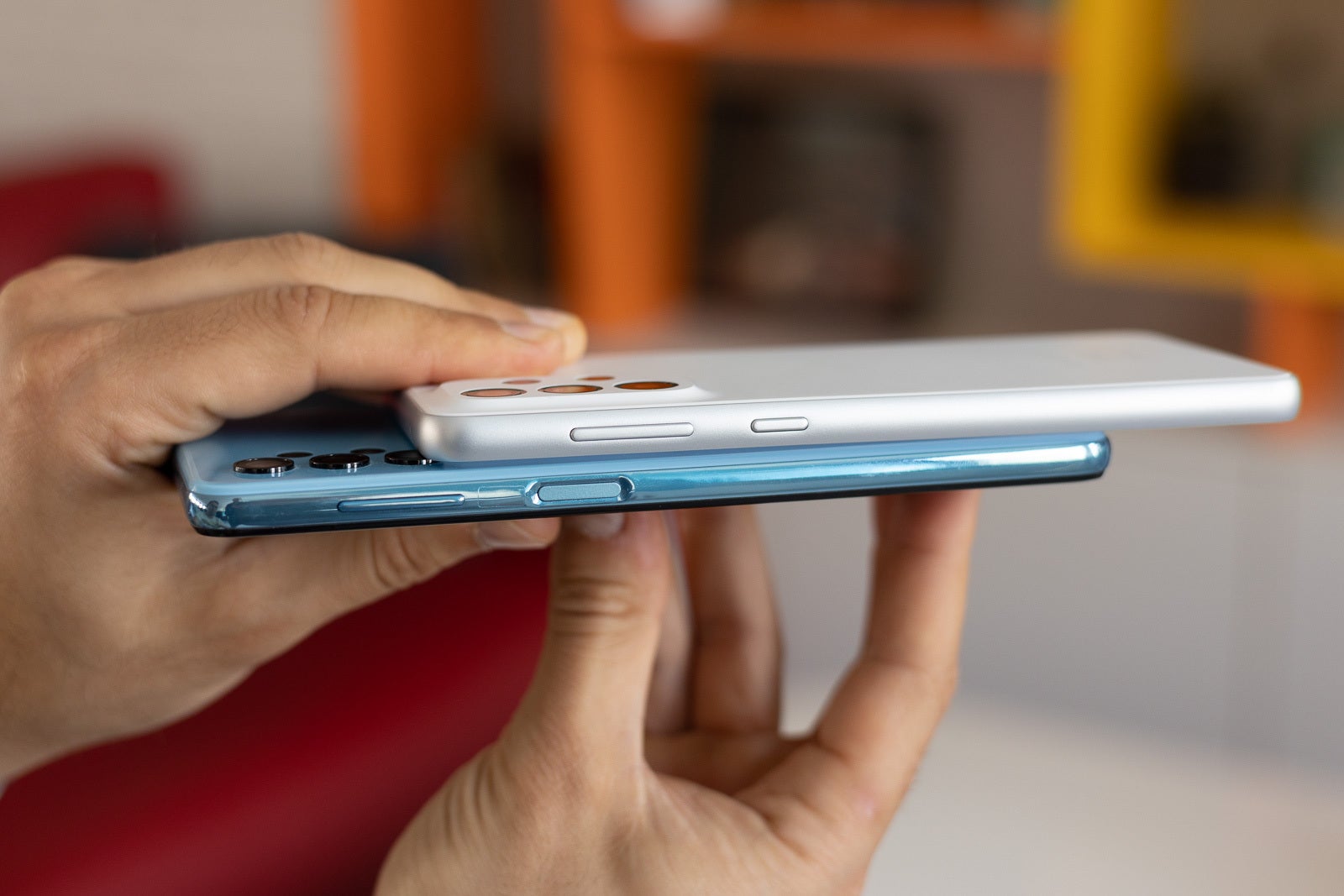 The A33 is much thinner
And here is a detailed specs comparison between the Galaxy A33 5G and the A32 5G model:
Galaxy A33 5G
Galaxy A32 5G
Size and Weight
159.7 x 74.0 x 8.1 mm, 186g
164.2 x 76.1 x 9.1 mm, 205g
Display
6.4" OLED, 1080p, 90Hz
6.5" LCD, 720p, 60Hz
Processor
Exynos 1280
MediaTek Dimensity 720
RAM
6GB
4GB
Storage
128GB
microSD card slot
64GB
microSD card slot
Cameras
48MP wide, f/1.8, OIS
8MP ultra-wide, f/2.2
5MP macro
2MP depth
48MP wide, f/1.8
8MP ultra-wide, f/2.2
5MP macro
2MP depth
Battery size
5,000 mAh
5,000 mAh
Charging speeds
25W wired
no wireless charging
15W wired
no wireless charging
Prices
370 euro (US price not announced yet)
$280 MSRP


At the end of the day, the Galaxy A33 5G is a huge upgrade over its predecessor with a much better screen, more palatable design, faster processor, and improved camera. It's the better phone all around. Not least, Samsung promises to deliver 4 years of major software updates, unprecedented longevity for a budget Android phone.
In our opinion, this A33 5G will be one of the most popular budget phones in 2022, with the right price and a great feature-set, it is a worthy upgrade over the A32 5G.