Huawei Watch GT3 Pro review: Sport meets Fashion
2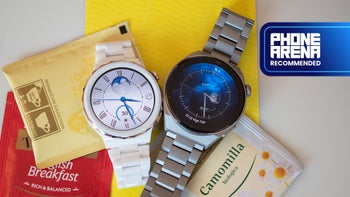 Two years have passed since Huawei launched its flagship smartwatch - the GT2 Pro. The company has been busy during that time, trying to polish the wearable experience, and iron out some imperfections that were present on that model.
The Huawei Watch GT3 Pro is an evolution but it also brings some revolutionary ideas to the table. There are two variants now that are quite different from each other as far as design goes.
The big 46 mm Watch GT3 Titanium Edition is the spiritual successor to the
Watch GT2 Pro
, and the similarities can be spotted right away. Despite the shared design DNA, there are a lot of upgrades across the board.
There's also a smaller 43 mm version that uses mainly white ceramic as a building material, and it's quite eye-catching. From the glossy white shine of the ceramic, to the beautifully ornamented gold ring around the display, this watch is a fashion statement.
Today, we're going to deep dive and find everything about the Huawei Watch GT3 Pro. Here we go!
Jump to section
Design and style
Display & Watch Faces
Software, Health, and Performance
Battery life
Summary
Design and style
The two variants of the Watch GT3 Pro are quite different looking, even though they share more or less the same internals with some differences in the screen and battery sizes. Let's do the Titanium version first.
The design of the Watch GT2 Pro has been tweaked and now we have a more "edgy" device with a much more industrial look. The watch is also thinner than the previous model, and even though it's still quite large, it's a definite improvement.
The glass covering the 1.43-inch AMOLED screen is now sapphire, which is a really nice upgrade making it pretty much unscratchable (unless you have a diamond tool lying around). The same black bezel is present around the display but it has shrunk to accommodate the bigger screen (the Watch GT2 Pro came with a 1.39-inch screen).
Instead of the two fiddly buttons we know from the previous model, here Huawei has opted for a rotating crown, also made of machined titanium with the brand and model engraved on it. The second button is now a pill-shaped clicker, and the back of the watch is ceramic.
While the Titanium version screams "industrial design", the white Ceramic 43 mm variant gives off completely different vibes. It's much more ornamented and a bit flashy even. There's a gold ring around the face of the watch, sporting an interesting geometric design.
The bezel around the display is white ceramic, as opposed to the black one with the side marks on the Titanium one. The crown button is a gold one with a nice ceramic element in it, and the band is also white ceramic with a gold strap locking mechanism. All in all, a very stylish-looking watch.
Both models come with different strap options - the Titanium variant can also be paired with a Black Fluoroelastomer Strap, and a Gray Leather Strap, while the Ceramic version is available with either the white ceramic strap or a one made out of white leather.
Adjusting the strap length is a mixed bag - the ceramic version comes with a little screwdriver inside the box and a couple of additional segments. You need precision and patience to get to the perfect strap length but at the end of the day, it's worth it. The strap lock mechanism is very clever and it stays hidden under the strap when you wear the watch.
The titanium version is much more conventional in that regard. You can add or remove segments of the strap just by pulling the little levers of the quick release mechanism. You can also snap on a strap of your own choice - the smaller version uses 20 mm quick release straps, while the bigger one is compatible with 22 mm straps.
Display & Watch Faces
The display of the Watch GT3 Pro Titanium has grown in size and resolution, proudly displaying 1.43-inches of AMOLED goodness, and 466 x 466 high-definition resolution. It can get pretty bright under direct sunlight, and the amount of detail is also great.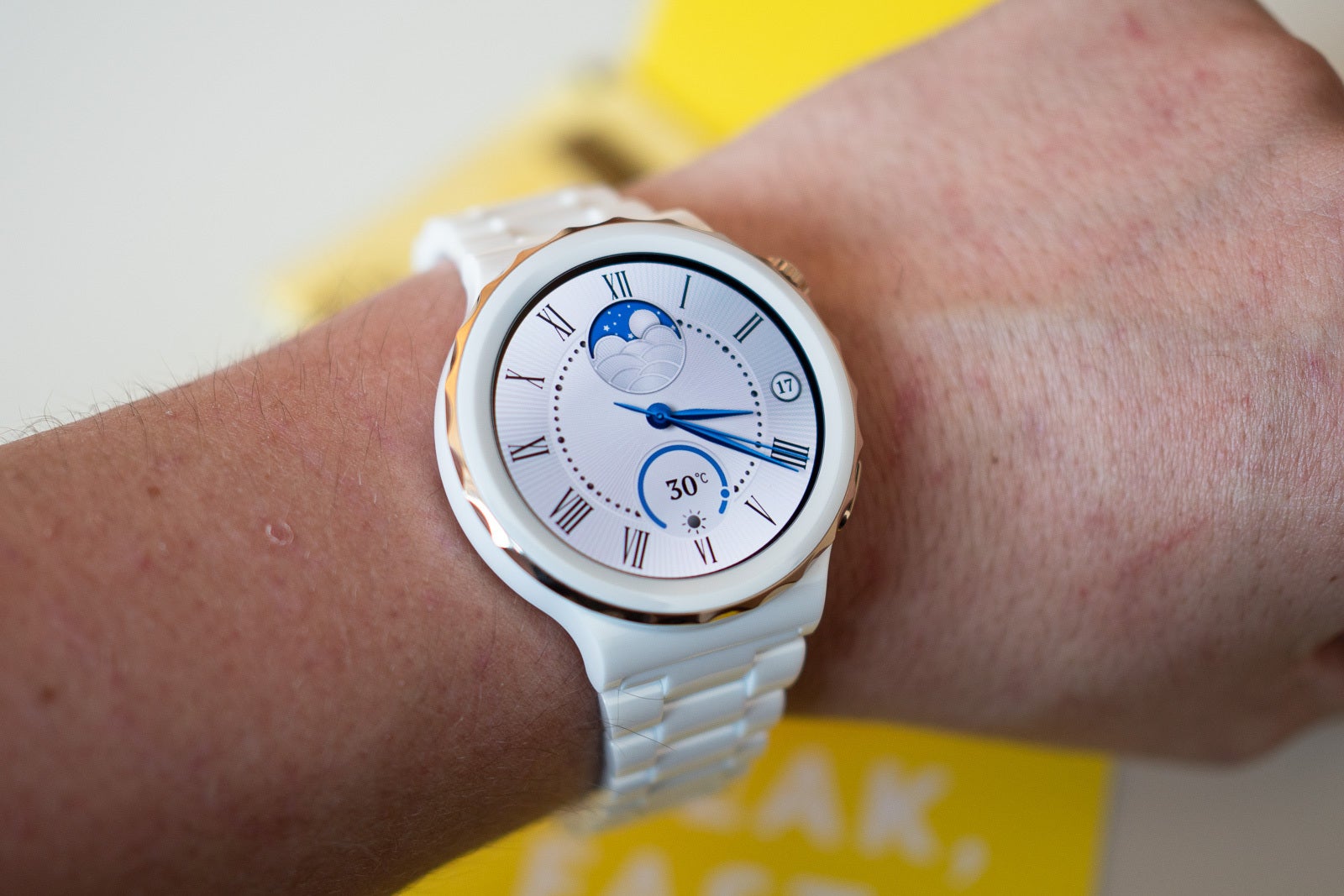 The Ceramic variant of the Watch GT3 Pro on the other hand features a smaller 1.32-inch AMOLED display with the same 466 x 466 resolution, making the pixel density even better than the PPI on its bigger sibling.

There are some new watch faces in addition to the ones Huawei has been bundling with its watches in the past few years. The ones that we liked were the Deep Blue on the Titanium version, and the Stellar, and Cloud watch faces on the Ceramic version

It's also worth mentioning that some of these new watch faces are dynamic, they switch from bright white to dark black during the day and night respectively, much like a scheduled dark mode on a phone. I tried to measure the brightness of the display using the Torchlight mode and got a reading of a little over 600 nits, which is quite nice on a smartwatch. In reality, both watches are completely readable under direct sunlight and there's no problem with brightness whatsoever.
There are a ton of watch faces available through the Health app (thousands and counting), and you can easily find one suitable for you - there are both free and paid options, and some of them are featured inside the app.
Software, Health, and Performance
The Huawei Watch GT3 Pro runs a Harmony OS, and at the surface it looks a lot similar to what we have seen on other Huawei wearables sporting the same software. There's a lot going on underneath, though.
The watch now features a dual-band five-system positioning - GPS + Beidou + GLONASS + Galileo + QZSS. This should result in a better GPS accuracy and tracking (an area where the Watch GT2 Pro struggled a lot). We were able to get a GPS lock fairly easy when trying the workouts but more tests will be carried out during the full review. Speaking of workouts, the watch now features a new Free Dive mode with a new depth barometer, that will guide you and help you go to that record 30m depth without any equipment.
The Free Dive mode also means that the Watch GT3 is waterproof (IP68 and 5ATM), and it has been tested, passing 200 rounds of pressure testing at 30 meters for 1 minute each. It would be pretty difficult to recreate this one, so we'll have to take Huawei's word for it.

There are over 100 workouts onboard, including golf driving range mode, running, walking, mountain climbing, hiking, cross-country running, cycling, open water swimming, triathlon, skiing, snowboarding, cross-country skiing, free training, elliptical machines, and more.
Watch GT3 Pro as a fitness watch
I'm happy to report that this time the automatic workout detection works like a charm. There's still a delay between you actually starting to work out and the watch suggesting it, but if you choose to activate the suggested workout the timer starts from the 5-minute mark.
There are several running plans available, including 3K, 5K and 10K options, Half-marathon, Full-marathon, and some beginner options as well. Following a plan is quite easy, and you get reminders, statistics, and the average difficulty of the plan you've selected, based on some previous running figures you need to punch in.
You get detailed statistic of your runs and workouts, and there's also something called Dynamic Tracking - basically you can export a quick video showing your progress on a map with various key milestones.

After your workout some of the numbers are available on the watch itself but for a full breakdown you need to open the Health app on your phone. All the sensors are gathering data and the end result shows graphs of the cadence, your heart rate, calories, training stress, and more.
Another thing worth mentioning - the GPS lock is fast and really accurate. All the issues I had with the Watch GT2 Pro are gone. During my workouts I was consistently getting initial locks in under 20 seconds and the watch stayed tightly locked during various workouts (including one 25km hike in the mountains).
There's a really cool feature that you can use while doing any type of GPS-tracked activity and it's called Route Back. The watch traces your movement and at any point you can decide to retrace your steps back to your starting position. Very useful in a foreign country, during a mountain hike or a forest stroll, or if you want to get back to your car in a foreign neighborhood.
Watch GT3 Pro as a health coach
On the health front things have been moving forward as well. The GT3 Pro features Huawei's TruSeen 5.0+ health management system, which is backed up by a bunch of new and improved sensors.
The watch can now do a full ECG analysis via the electrode on the side (availability of this feature may vary depending on the country), there's an all-day SpO2 monitoring, a whole new Healthy Living shamrock interface, and more Huawei's notoriously good sleep tracking, as well.
The Watch GT3 Pro offers several plans you can follow (I opted for the relaxation plan), and by setting and following different goals every day you fill the leaves of a shamrock. A whole bunch of data is taken into account - including your sleep statistics, stress measurements, heart rate, the amount of water you're drinking, and you can even add a reminder to smile at least once a day.
It sounds pretty cheesy but I found it helpful and easily tunable - you can add or remove goals, and tailor the experience to your liking. Even if you don't want to follow a strict health plan, the watch will still gather valuable data that you can review.
The sleep tracking is one example - it's very thorough. You can see all sleep zones during with detailed descriptions and some suggestions how to improve things (my deep sleep continuity was far from optimal).
Your heart rate, SpO2 levels, skin temperature, and stress levels are being monitored constantly (you need to enable this inside the app), and you can easily pull out statistics from a week back if you want to check for any abnormalities in these readings. There are various alerts (high heart rate, low SpO2, etc.) but I wasn't able to test the dedicated ECG feature, as it wasn't available in my region at the time.
Watch GT3 Pro as a smartwatch
HarmonyOS allows you to install third-party apps, and even though the variety is not that huge at the moment, it's constantly improving. And while we're on the OS, you can use the watch for navigation, to answer calls/messages with predefined text, and also you can use it for Bluetooth calling.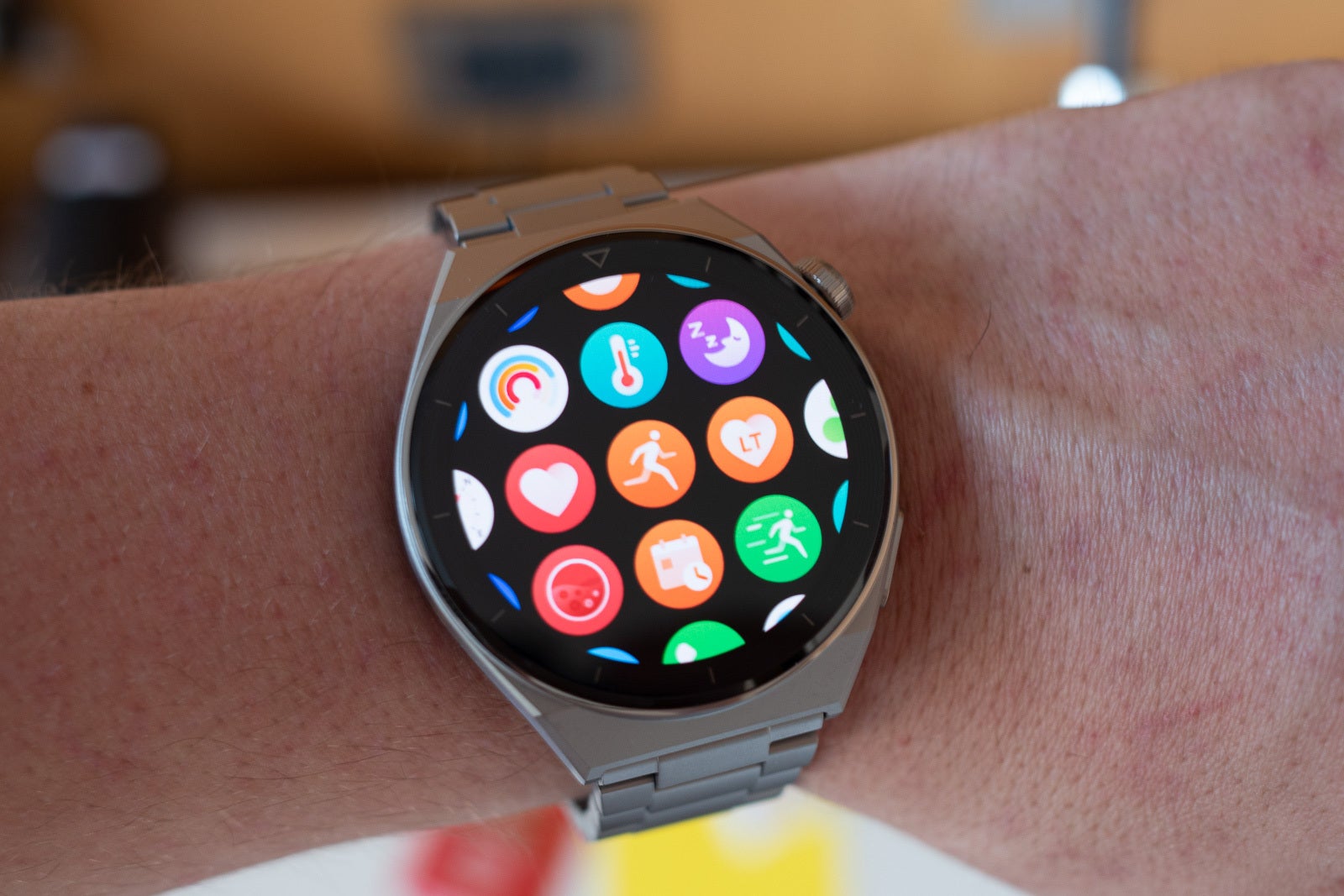 Using the Watch GT3 Pro as a Bluetooth calling device is actually better than expected. The speakerphone is quite loud and also clear, the other end never had any issues understanding the conversation and all in all - it's a useful feature. You can take an emergency call while you're in the shower or relaxing in the bathtub, while you're driving, and in various situations where you can't reach your phone easily.
Huawei Pay is another smart feature that's cool on paper but it depends on various things like the country you're in, whether your bank supports it or not, and if it will actually activate on POS terminals or leave you hanging.
You can upload music to the watch's memory and listen to it though a pair of headphones or using the built-in speaker (there's around 2GB of memory available for the task), there's also a "Find my phone" feature, weather reports, guided navigation on the watch (requires Petal Maps installed on your phone).
That being said, the Watch GT3 Pro is still more of a fitness/health-oriented gadget than a full-blown smartwatch. You can't write mails, control your smart home, view images or videos, type messages, translate stuff, use voice assistants, etc. Some of these features might come onboard eventually but it's important to understand the inverse relation between the smart features on a watch and its battery life. Speaking of which...
Battery life
Huawei wearables are famous for their long battery life, and the Watch GT3 Pro is not an exception. Huawei promises 14 days of battery life in typical scenarios and 8 days battery life in heavy usage scenarios for the Titanium version, and 7days/4days respectively for the Ceramic one.
During my time with the Watch GT3 Pro I was mainly using the ceramic version, as my wrists are quite small. I managed to get almost four days of heavy usage out of it, and by heavy I mean one including a 6-hour-long, GPS-tracked mountain hike clocking 25 kilometers, continuous sleep, SpO2, stress, skin temperature and heartrate tracking, Bluetooth calling, listening to songs from the watch, and basically almost every single thing you can do on the watch.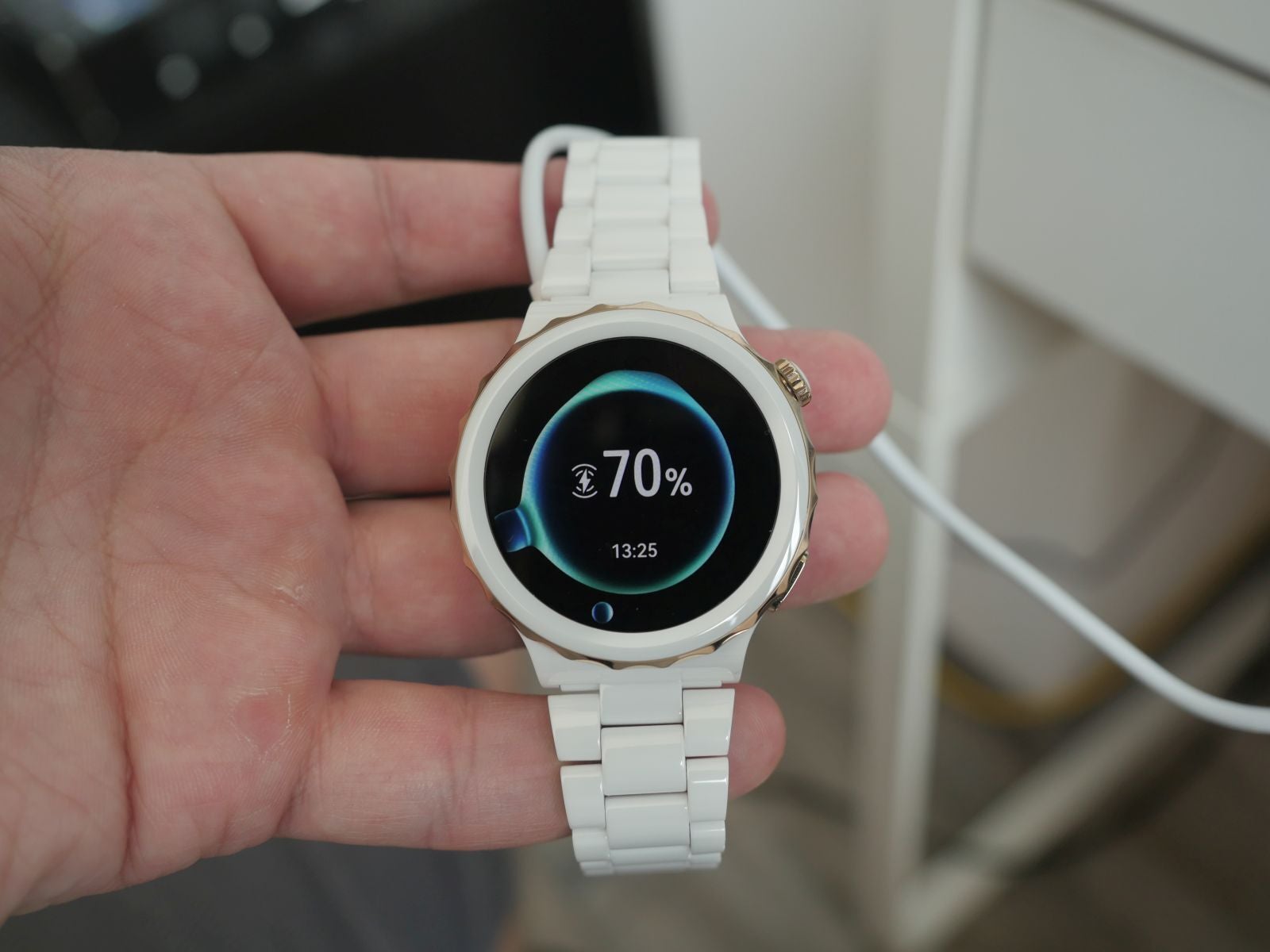 The Watch GT3 Pro features a wireless charging system free of metal connectors and pins (which helps with various things such as skin allergies, potential waterproof fails, etc). Huawei says that a 10-minute charge equals a day of moderate usage. The actual charging numbers are as follows:
15 minutes - 27%
30 minutes - 54%
1 hour - 89%
Full charge - 1:21
Summary
The Huawei Watch GT3 Pro is a beautiful piece of tech. The design is very stylish, the build quality is superb, and all the materials used - top grade. There's a lot to like about this watch - it goes deep when tracking your vitals and as a fitness and health coach it does a magnificent job. The battery life is very impressive, given the bright and colorful AMOLED display and all the sophisticated tracking running in the background.
Everything mentioned above comes at a price, though. Quite literally! The most "affordable" version of the watch will set you back €399 (46 mm titanium and black fluoroelastomer strap), while the ceramic version with a matching ceramic strap costs €549.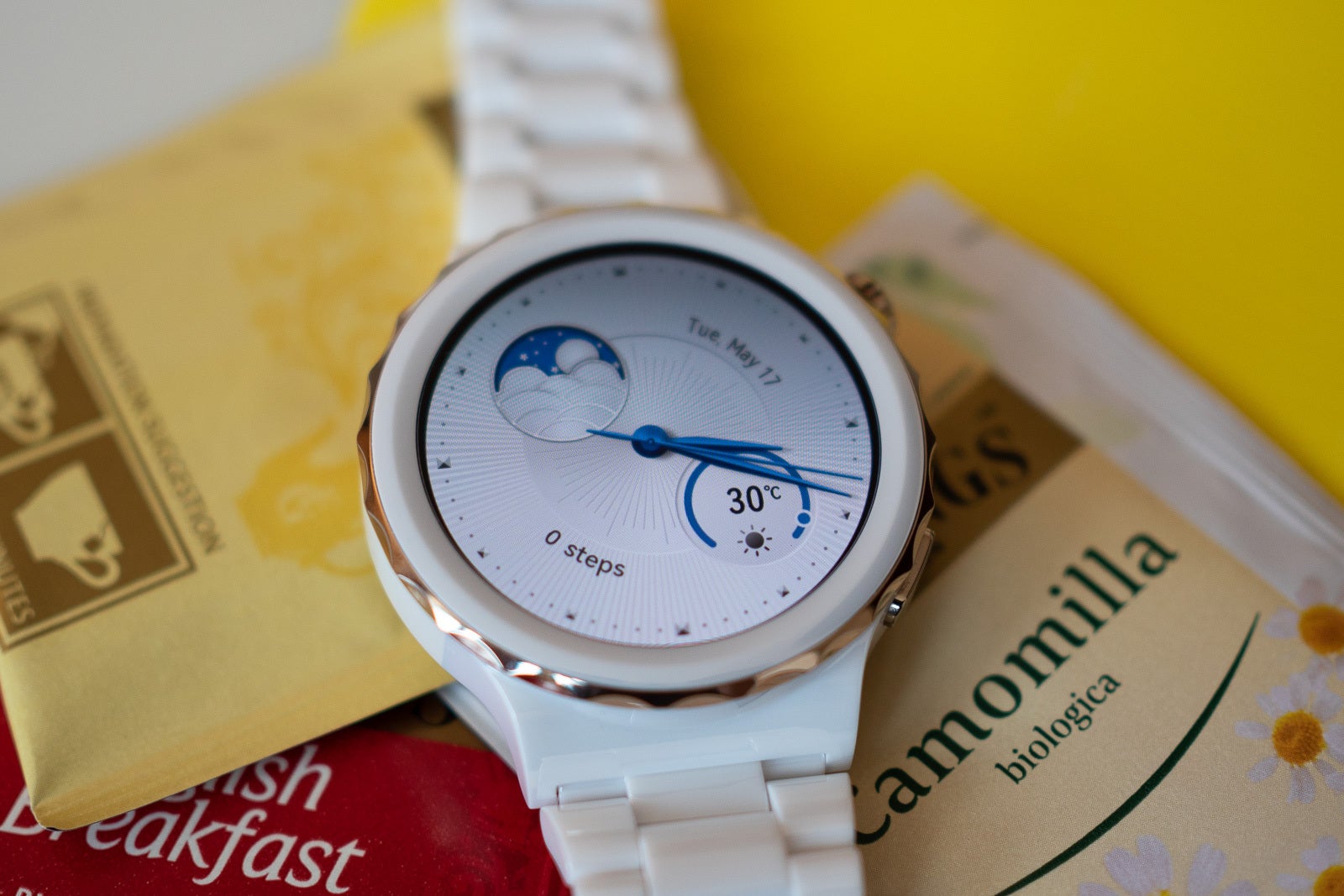 HarmonyOS should not be viewed as a drawback but rather an ecosystem with great potential, and unlike Huawei's smartphones which struggle to break the software monopoly of Google, you can comfortably use these watches paired to your regular phone (Google or no Google). That being said, the smart features of the Watch GT3 Pro are still quite limited, and you should take the Watch GT3 Pro for what it actually is - an ultra-premium, fitness and health-focused wearable that looks great.