Garmin Venu 3 vs Samsung Galaxy Watch 6: Garmin crushes Samsung in this one area
9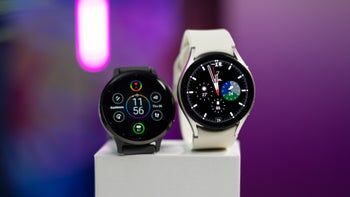 Intro
If you have an
Android phone
, chances are you know about Samsung smartwatches: for years, Samsung was the only company making good Android smartwatches, while the rest of the market seemed to not care at all.
But now, competition appears from everywhere and this latest competitor is a really strong one: the new
Garmin Venu 3
.
Garmin is known for sports watches, not smartwatches, but this latest Venu 3 has a gorgeous OLED screen, it has a microphone and it can take and place calls (via a phone), it supports a voice assistant, and best of all, it does all of that while providing nearly a week of battery life!
Got your attention now? Read on because even though Samsung has more experience making smart timepieces, this Garmin crushes it in one key area.
Garmin Venu 3 vs Samsung Galaxy Watch 6: features and differences
Both watches come in small and large sizes
Both are round and have OLED screens
Galaxy Watch 6 Classic has a cool rotating bezel
Galaxy runs Wear OS, Garmin has a more basic proprietary OS
Nearly a week of battery life on Garmin, one-day battery on Samsung
Garmin charges with proprietary cable, Samsung uses magnetic charging puck
Design & Sizes
Both are round, but you have much more variety and more durable materials with Galaxy Watch 6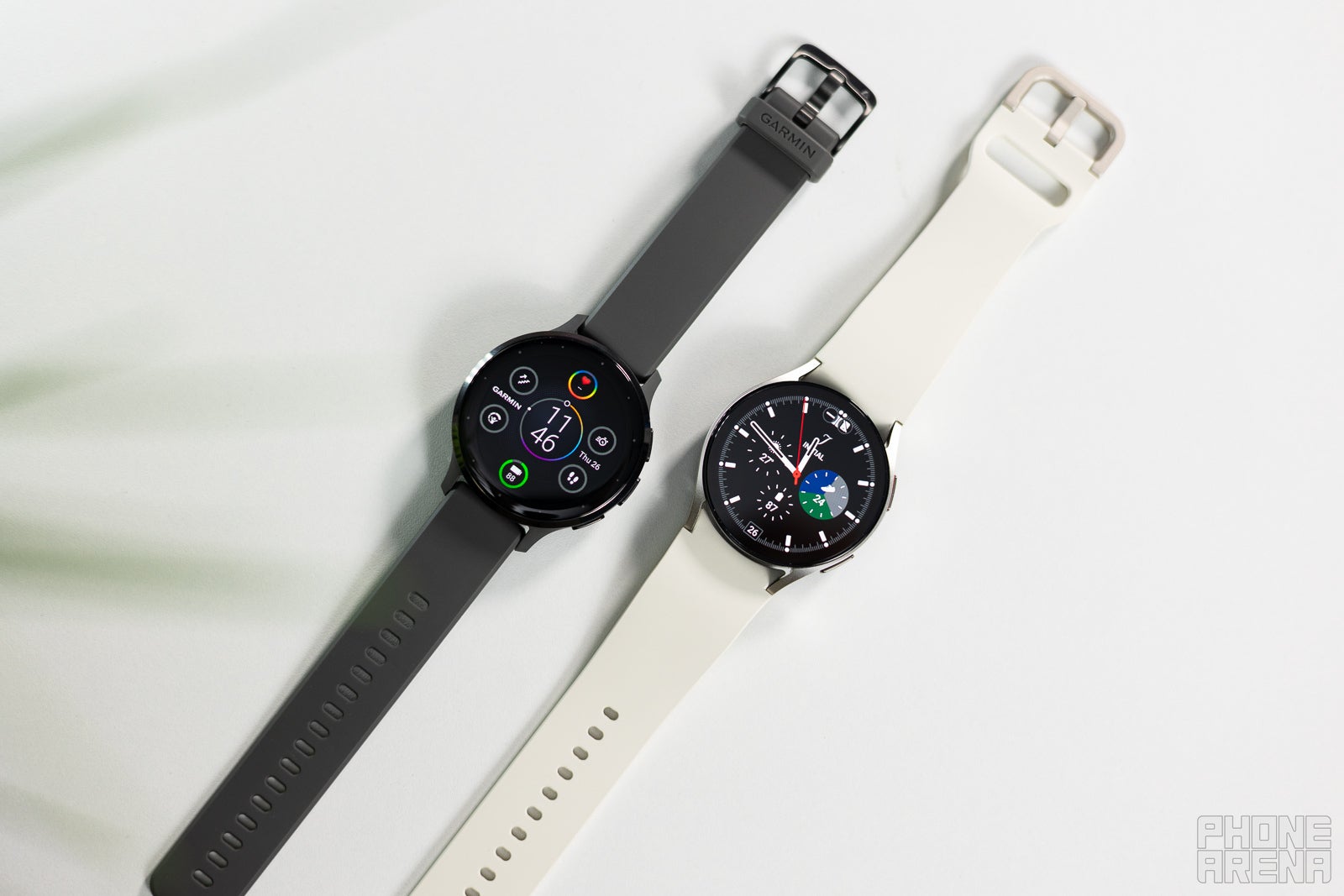 Good news is that you have quite the choice with these watches: first, both are offered in a smaller and larger sizes. We typically recommend the smaller sizes to people who have a wrist size of less than 170mm, while if you wrist is larger a bigger size would probably look better.
But the
Galaxy Watch 6
family takes choice way further as you also have the
Galaxy Watch 6 Classic
which comes in 43mm and 47mm sizes, and it has the very cool rotating bezel for navigating around. What we have pictured above is the regular
Galaxy Watch 6
in its smaller 40mm size, comparing it to the Garmin Venu 3S at 41mm of size.

The Garmin, on the other hand, has three physical buttons on the side.
Both the Garmin and Galaxy watches support swipes and taps, and both have the same 5ATM water resistance and are swim proof.
Bands
Standard spring bar bands are supported on both, but Samsung also has new one-click bands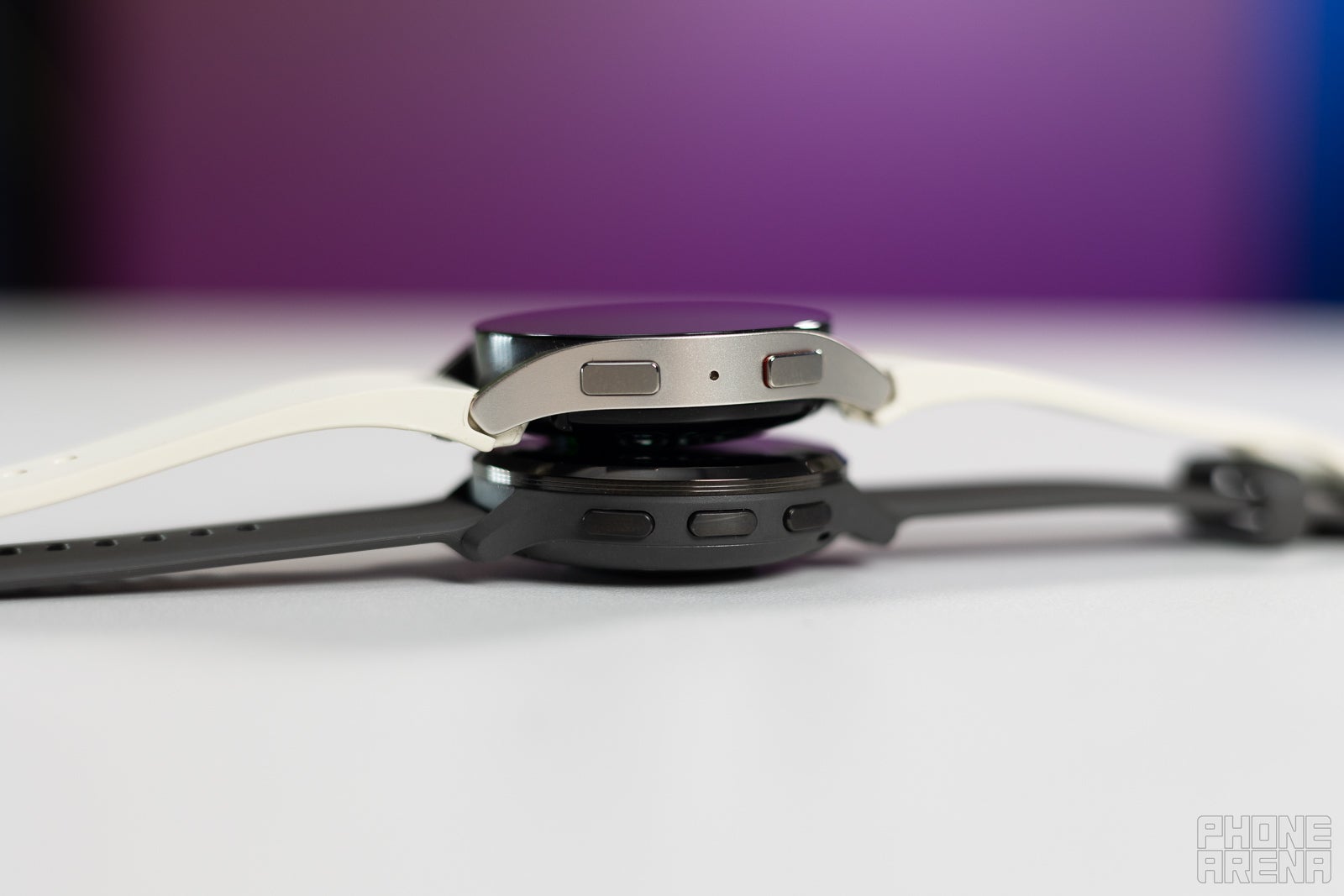 As far as bands come, you have different band sizes for the different models.
Here is a quick breakdown:
Garmin Venu 3

(45mm) uses 22mm spring bar bands
Garmin Venu 3S (41mm) uses 18mm spring bar bands

Galaxy Watch 6

and Watch 6 Classic (all models) use 20mm bands (either spring bar or new one-click Samsung bands)

By default, you get a sports band on both the Garmin and Galaxy Watches, but the strap on the Galaxy is wider and bulkier, while the Garmin has a band that does not extend so far out your wrist and is a tighter fit.
However, you can easily swap to a different band if you don't like the provided ones.
Garmin's proprietary OS feels way more basic than Wear OS 4 on the Galaxy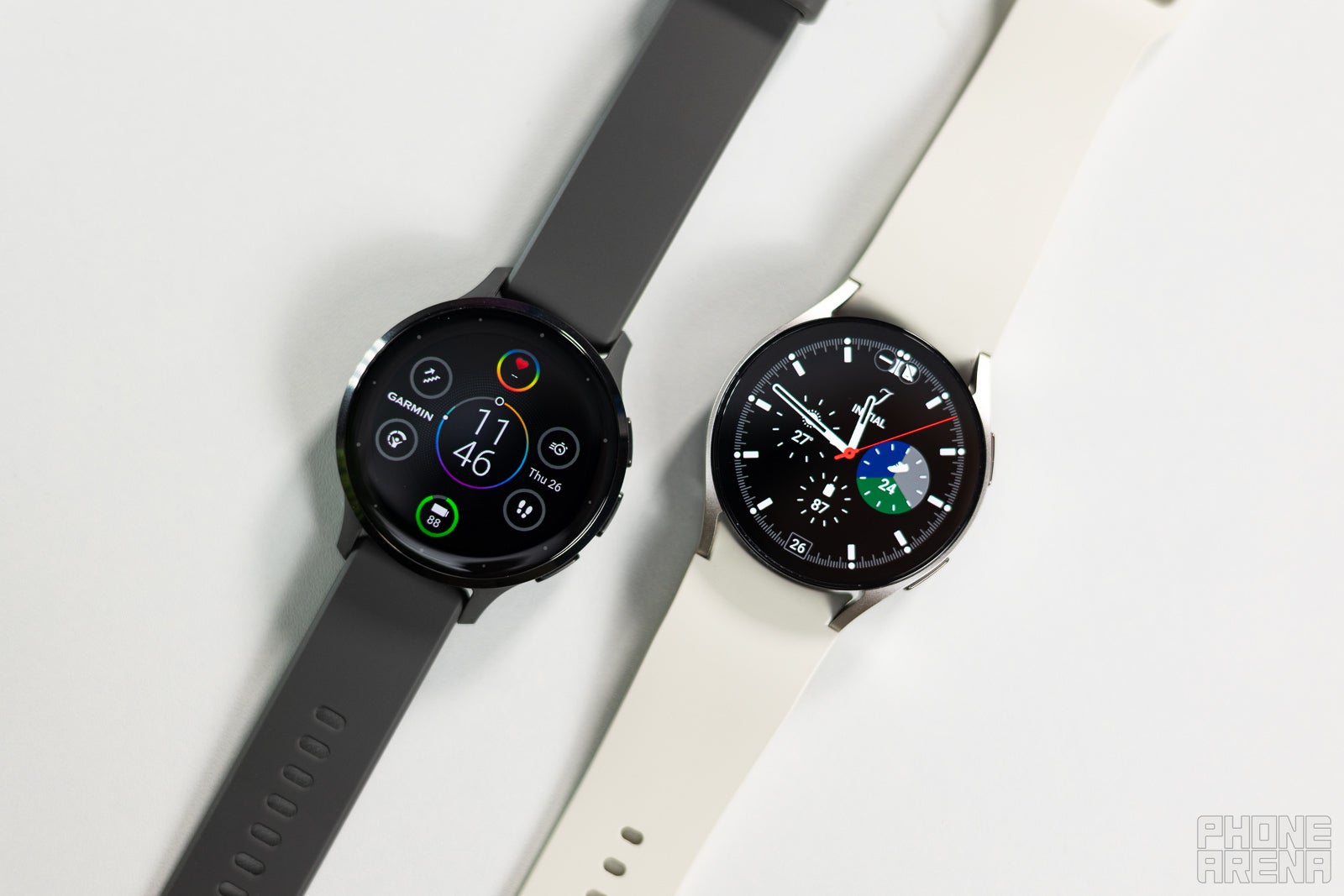 We said earlier that Garmin is known for sports watches, not smartwatchces, and you can best tell by looking at the interface. It feels a bit weird and there are many decisions that make sense on button-operated watches, but not on smartwatches with a touchscreen.
The
Garmin Venu 3
watchface selection is nowhere nearly as good as the Galaxy, and the little complications that you can easily tap on the Galaxy Watch are not tappable on the Garmin, which limits functionality. Many simple actions are unnecessarily complicated on the Garmin: you cannot swipe a notification away you have to tap on a tiny button once, and then on another button. Annoying, if you get a lot of notification and want to quickly clear them!
The reason for all those issues is the old proprietary Garmin operating system which is a thing of the past trying to catch up with the modern times with touchscreen watches.
The
Galaxy Watch 6
on the other hand runs on the latest Android Wear OS 4, and navigation on it is more intuitive and watchfaces look better. And having that rotating bezel on the Classic model is just great!
Keep in mind, though, that a Galaxy Watch will not run with an iPhone, while you can operate a Garmin watch on both Android and iPhones.
Heart Rate Accuracy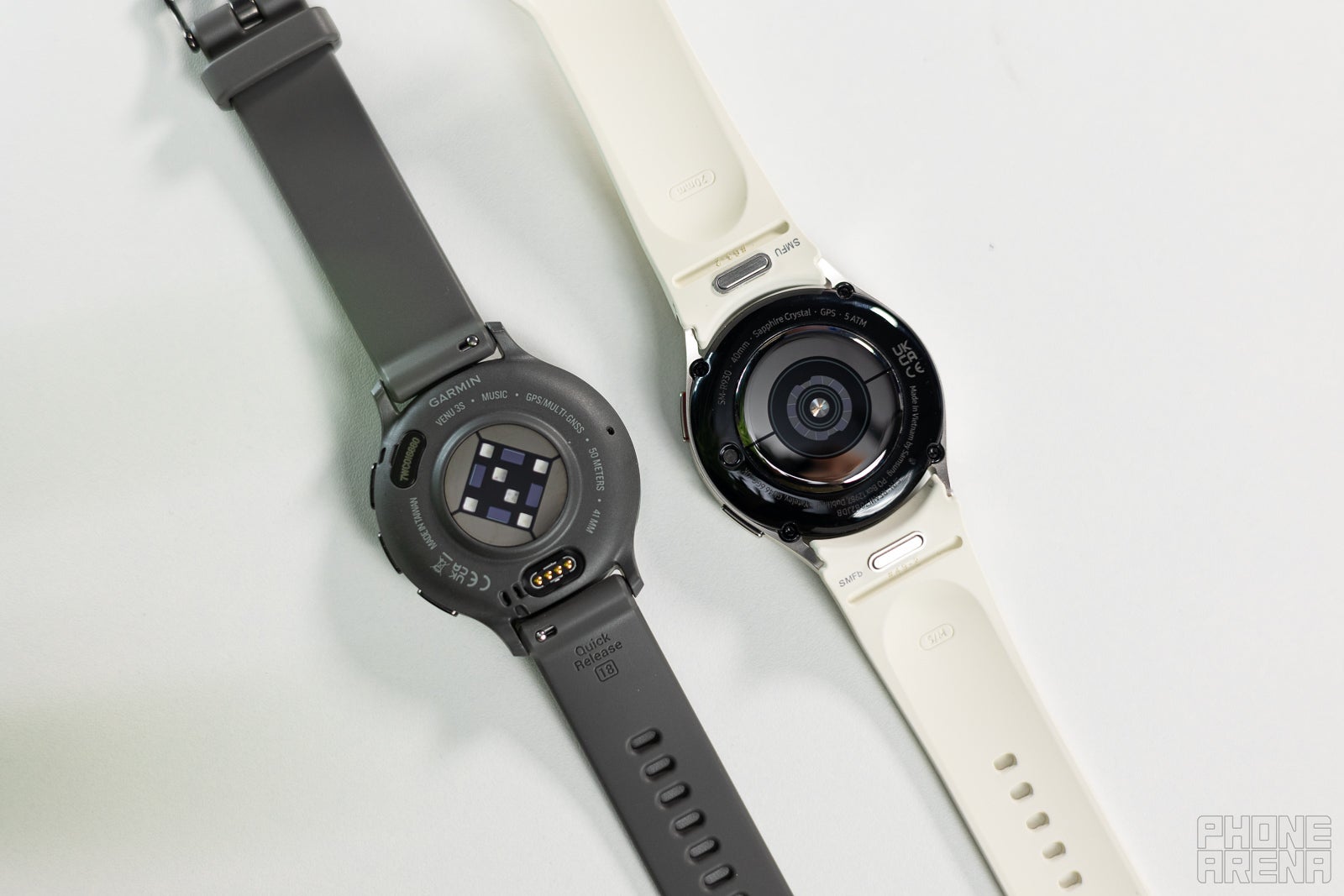 When it comes to heart rate accuracy, the Garmin has a new Elevate Gen 5 sensor that brings improvements with more green LED lights and new orange lights, as well as a large surface area of the sensor to track your heart rate better.
The Samsung Galaxy, on the other hand, definitely has some issues with heart rate accuracy. On an easy street workout doing pull-ups and dips, my heart rate was detected as much higher than it really was on the Galaxy Watch. For more vigorous activities, it's hard to put too much stock in the Galaxy Watch readings, but for just slower and more casual activities, it does a fine job.
Garmin also has support for ECG, but while that feature is already available on the Galaxy, the Garmin will get it soon via a software update.
Other readings like SpO2 oxygen saturation are available on both watches, but one other key metric - HRV (heart rate variability) - is not available on the Galaxy, while the Garmin has this.
Sleep Tracking Accuracy
When it comes to sleep tracking, both the Garmin and the Galaxy can tell you when you fell asleep, when you woke up, and also give you a breakdown of how long you spend in each sleep stage: deep sleep, light sleep and REM sleep.
However, we were disappointed to see that per stage sleep reports especially for REM sleep time on the Galaxy were completely off the mark! And this, despite Samsung claiming huge improvements in sleep tracking as one of the best features on this watch! The problem seems to be a software one, since users with older Galaxy Watches also get broken data, but Samsung just seems to turn a blind eye on the issue in the past few months. And the issue consists in just too low REM sleep time detected! On nights when other gadgets would show me I got 40 minutes or even an hour of REM sleep, the Galaxy Watch would only show up to 15 minutes.
We hope Samsung addresses this issue very soon.
In its current state, the
Garmin Venu 3
is a far better sleep tracker.
GPS Accuracy

Both watches come with single-band L1 GPS, which is to be expected at this price point.




But accuracy is actually very good on the Garmin, and most of the time it was spot-on with tracks which results in accurate measurements for your runs and bike rides.




The GPS accuracy on the

Galaxy Watch 6

is nowhere nearly as good, and it often goes sideways or deviates when you stop in one place, and overall GPS readings come with a lot of noise and are not on par with the

best smartwatches

around.
Battery and Charging
Garmin crushes the Galaxy!
The biggest disappointment with modern smartwatches is their one-day battery life, and the
Galaxy Watch 6
is no exception. It requires a top-up every single day.
If you don't like that, you would love the
Garmin Venu 3
! On the smaller Garmin Venu 3S model that I have tested, battery life is around five days with one workout per day and the always-on screen enabled, and on the larger Venu 3 you could get close to a week. Talk about great battery life!
As for charging, you get Garmin's standard charging cable with the proprietary connection, while the Galaxy uses a magnetic charging puck, which is a bit more convenient to use.

You should, however, know that while the Galaxy can be had in a cellular model which can be used independent of your phone, the Garmin cannot.
Here are the prices for the
Garmin Venu 3
and
Galaxy Watch 6
:
Garmin Venu 3

/ Venu 3S: $450

Galaxy Watch 6

40mm / 44mm: $300 / $330 (add $50 for LTE cellular connection)

Galaxy Watch 6 Classic

43mm / 47mm: $400 / $430 (add $50 for LTE)
Yes, the Garmin is the more expensive option and also keep in mind that Galaxy Watches are often sold at big discounts, so you can get them much cheaper if you wait for a good deal.
Voice Calls and Haptics
Both watches can take and receive calls, and when it comes to haptics, both offer a similarly mediocre experience. This is nothing quite as sharp and tight as the vibration feedback from say an Apple Watch.
Specs
Specs
Garmin Venu 3
Samsung Galaxy Watch 6
Models (Size, Weight, Prices)
Venu 3: 45mm, 1.4-inch screen, 30g weight
Venu 3S: 41mm, 1.2-inch screen, 27g

12mm thickness on both
40mm (38.8 x 40.4 x 9.0 mm)
44mm (42.8 x 44.4 x 9.0 mm)

28.7g weight for 40mm
33.3g weight for 44mm

Materials
Metal bezel, plastic body
Aluminum body
Sapphire bottom
Processor, RAM, Storage
Unknown
-
8GB storage
Samsung Exynos W930
2GB RAM
16GB storage
Software
Garmin proprietary OS
WearOS 4
Battery and Charging
14 days in smartwatch mode - Venu 3
10 days in smartwatch mode - Venu 3S

Proprietary Garmin cable
40mm 300 mAh
44mm 425 mAh
Sensors
Garmin Elevate V5 (Gen5):
optical heart rate
ECG
single-band GPS
Samsung BioActive:
optical heart rate
ECG
single-band GPS
Summary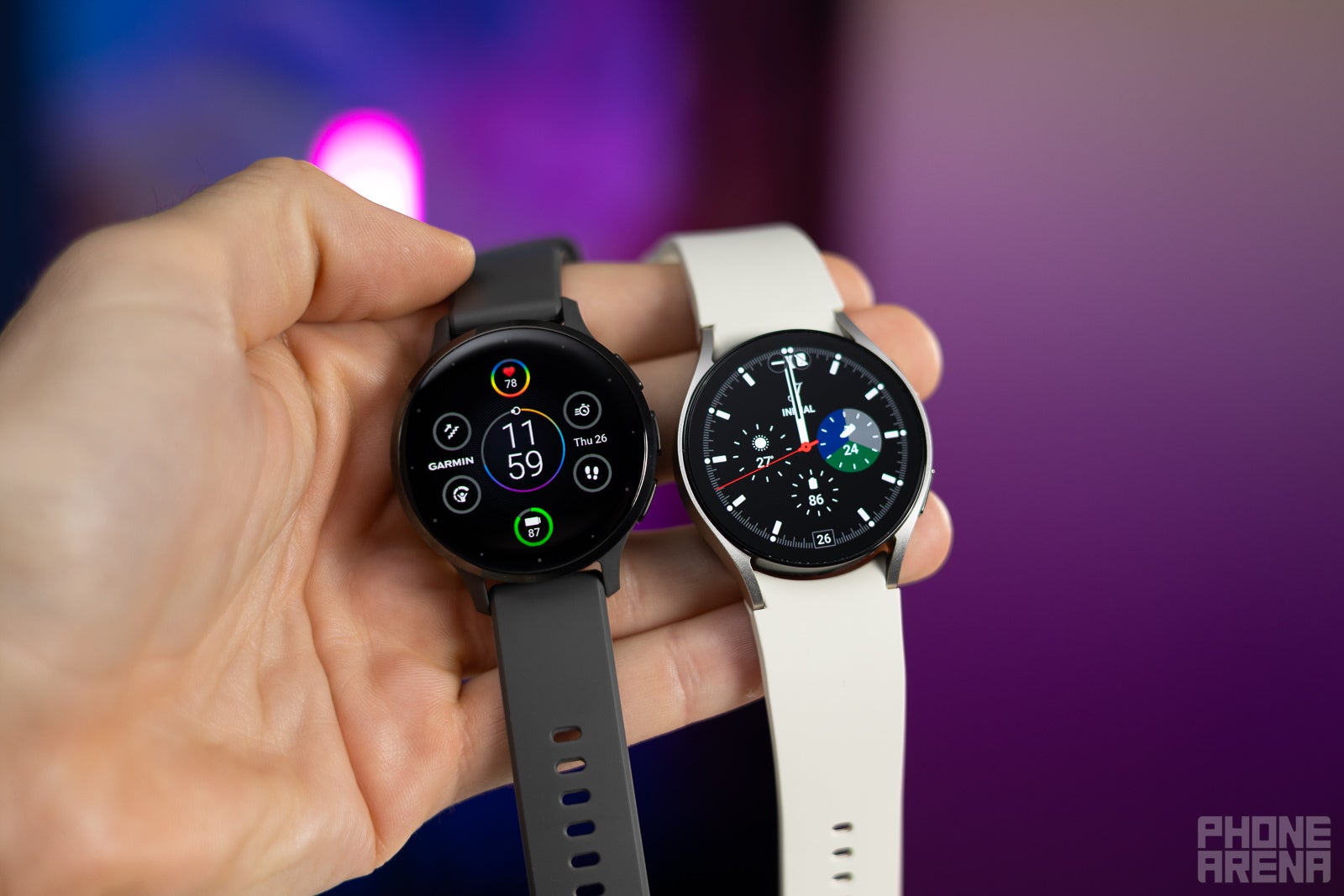 Here is what it all boils down to: the
Samsung Galaxy Watch 6
is better in the smartwatch functionality, the interface is more intuitive, dealing with notifications is a bit easier, and it's nice that you have a cellular version, and all of those things come in a watch that is not too expensive. Unfortunately, if you want good heart rate tracking accuracy and GPS accuracy, the Galaxy Watch is not quite there yet, and sleep tracking is also surprisingly compromised (considering all the marketing buzz around it).
The
Garmin Venu 3
might not have the super refined interface, but it is better in most other areas and absolutely crushes the Galaxy in battery life.
So... which one would you go for?
Recommended Stories