Xiaomi Redmi Note 2 Review
35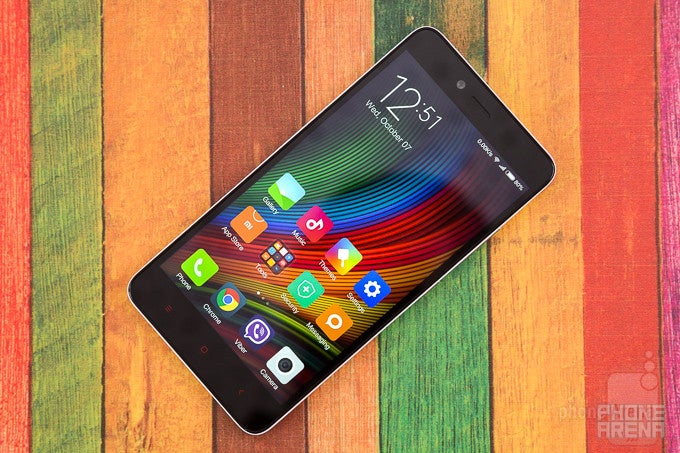 Introduction
Nowadays we talk about ultra affordable Chinese smartphones as if they popped out of thin air one day and never left. And while the originators of the first cheap Android smartphones are likely to remain forgotten by history, the name of the company that helped move that same needle on a scale is anything but. Xiaomi.
Known for selling devices at near cost, Xiaomi's fame is well-deserved on the whole: the handsets it pushes out are of a quality make, and the software on the inside is one of the best within the proprietary Android scene. Combined, this makes for a competitive proposition, and one of the latest out of its gates is the
Redmi Note 2
phablet.
Sold for the equivalent of just $140 in China (and about $30 to $50 on top of that through e-tailers), the Note 2 sounds incredible on paper: a large, 1080p display, a powerful octa-core processor, 2 GB of RAM, and a 13MP camera. The question is, what's lost in the translation from a specs sheet to a device used in the real world?
Let's find out.
In the box:
Xiaomi Redmi Note 2
2A wall charger
microUSB to USB cable
Design
Okay first and second impressions. But why did the backplate have to creak so bad?
The Redmi Note 2's name says it all: It's a big device, and a successor at that. But quite a few things have changed since the original
Redmi Note
, and all of them for the better.
For starters, despite rocking identically sized screen panels, the Redmi Note 2 is considerably smaller, and significantly narrower, helping you almost forget that what you're handling is a truly large phone. At 5.64 oz (160 g) and 0.32 inches (8.25 mm), this affordable phablet is also much lighter and somewhat thinner than its predecessor. So far, so good.
Switching gears to aesthetics, we won't try and pretend that the Note 2 is anything approaching a masterpiece. It's quite ordinary looking, with a slightly rounded rectangular body made out of plastic. It's a decent kind of plastic — sturdy matte for the back that doesn't look as cheap as it should at those prices. Unfortunately, in less than two weeks time, the edges of our unit started showing traces of colorization, so it's probably best if you steer clear of the white model.
The backplate is removable, with access to the two SIM slots and microSD card hidden underneath. We have one gripe with the (easily removable) back, however: the imperfect fit. The back panel creaks towards the sides of the phone, and this only got worse and worse with every successive removal of the back. Similarly, the lock key and volume rocker are unsatisfying, with relatively short travel time.
Moving to the front, it's all glass and display, with the signature red capacitive keys of the Redmi family. On the top, you'll find that Xiaomi has actually fitted an IR blaster — unusual for this price class.
On the whole? Okay first and second impressions, eventually hurt by the creaky, easily colorized white backplate. Survivable for such an affordable phone, but definitely not ideal.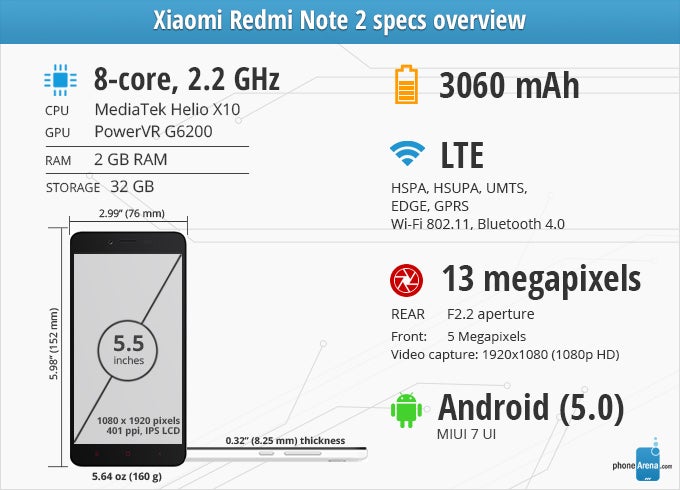 Display
The star of the show, the 5.5-incher is a balanced proposition without serious weaknesses.
So for most buyers, the 5.5-inch IPS LCD display of the Redmi Note 2 will be one of the main draws. And we're happy to say that Xiaomi is delivering a good experience.
Unlike its predecessor, which had to make do with a 720p screen, the Note 2 is outfitted with a much sharper, 1080 x 1920 resolution unit, good for the excellent 401 pixels per inch. We spent quite some time staring at it, and there's no pixelization of any kind.
The panel is quite color-accurate, too, especially for this class. We've got a decent color temperature of 7300K (6500K being ideal), though that still means colors are colder (more bluish) than they should be. Still, the Note 2 does well, with relatively small errors in reproducing primary and secondary colors. With a higher average gamma value of 2.27, the display also exhibits some artificial boost to contrast; so it's not perfectly natural, but still attractive.
Finally, the Redmi Note 2 also delivers on brightness: 499 nits at the top end, and 5 nits at minimum, which is great if you use your device before bed. The screen is visible outdoors, and can be even used when sunrays fall directly on it.
Display measurements and quality
Recommended Stories