Xiaomi Mi 5 vs Samsung Galaxy S7
66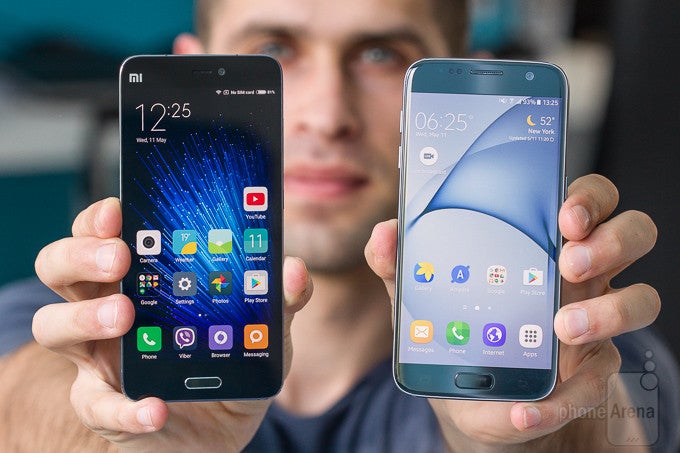 Introduction
Xiaomi is big in China: the company started by making Apple clones and selling them for super affordable prices, but it has now largely moved past that stage. For quite some time, it's been hard at work to bring a new flagship and recently, it's finally released it: the
Xiaomi Mi 5
.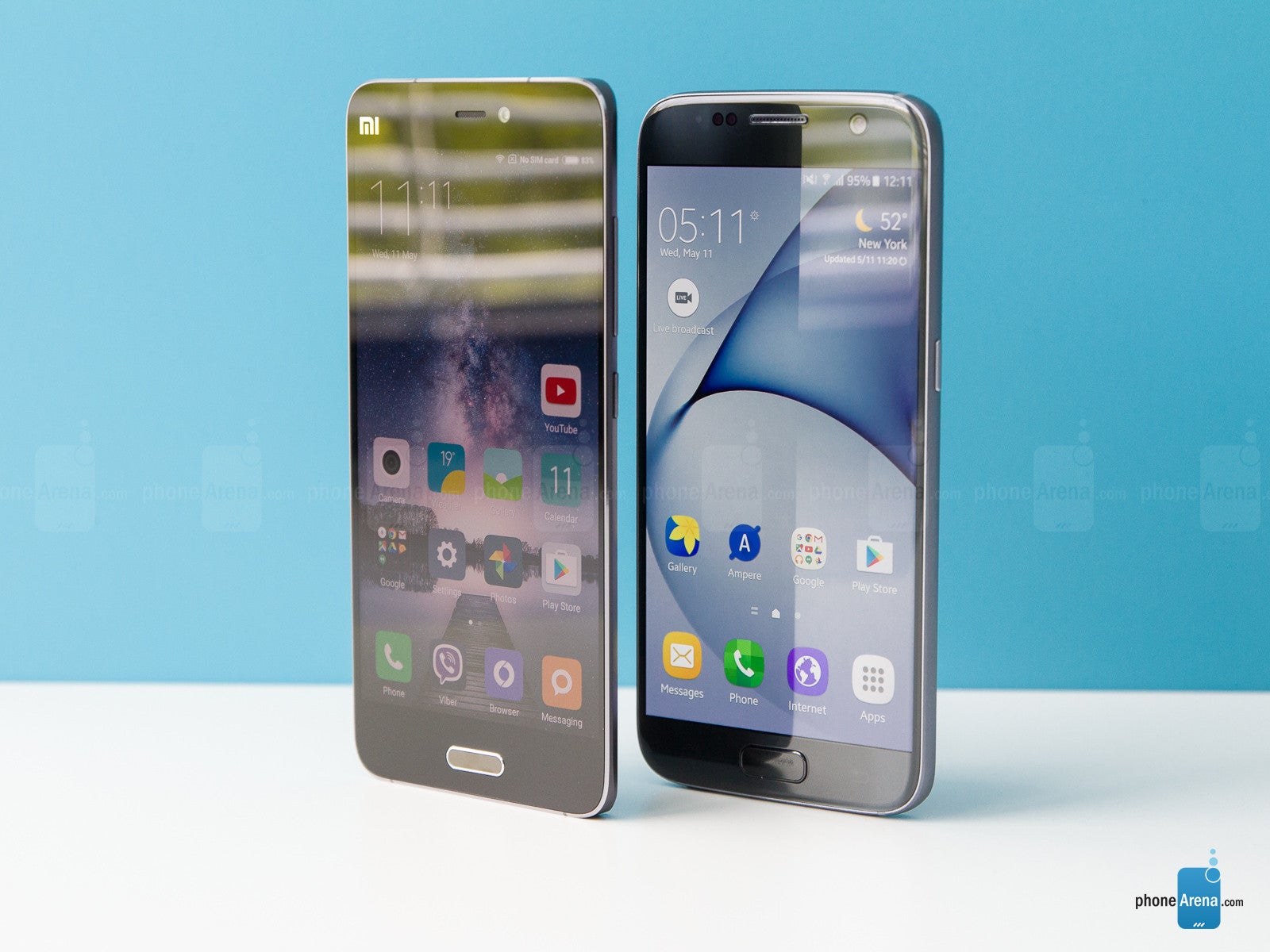 While the Mi 5 is not officially available in the United States or Europe, it could be tempting to get a Mi 5 on eBay shipped from China. But let's get this straight right here: unlike other major phone brands like Apple or Samsung, you have no service for the Xiaomi Mi 5 in the US or Europe. If you shatter your screen or some other problems occur, you'd need to rely on third-party repair shops, pay for those repairs from your pocket and wait longer for repairs.
This is probably the biggest downside to owning a Xiaomi phone and it's an important consideration. Now that you've been warned about all this, let's keep it out of the way and focus on the performance of the Xiaomi Mi 5 as we pit it against one of the best Android phones available at the moment: the
Samsung Galaxy S7
.
Design
Both have a stylish, beautiful design with a tapered back, metal frame and a solid feel, but both are fingerprint magnets.
Who came first: the hen or the egg? The same question can be asked about the design of the Xiaomi Mi 5 and Samsung Galaxy S7. Thing is that both look similar to a very large degree: comparable in size, with a tapered glass back and metal frame. And of course, you can already hear the angry crowds shouting about the Chinese copying again, but don't be so fast in your judgment.
While the Galaxy S7 shares the Galaxy S6 looks, and you might think that Xiaomi copied from Samsung's appearance, the truth is that before that new Samsung Galaxy design language made its debut in spring 2015, Xiaomi had already released its Mi Note (in January 2015), which is in fact the first Android phone to have that tapered glass back/metal frame accents.
With that settled, let's focus on the specifics of each phone. The Xiaomi Mi 5 is the lighter and thinner of the two. It's remarkable how light this phone is, and despite having only slightly slimmer body, that slimness is noticeable. The Galaxy S7 – in stark contrast – has a very noticeable heft in the hand, with a much more solid feel, it's almost built like a tank (if tanks were made of glass). The tapered back does wonders to make both rest very comfortably in the hand. It is such small details that make a huge difference in daily use, and we're glad that both Samsung and Xiaomi paid attention to those.
Alas, both phones are fingerprint magnets: with a glass back on both that's no surprise. If we were very discerning, we'd say that the back seems to look a bit messier on the Galaxy S7, but the Mi 5 also catches a ton of fingerprints.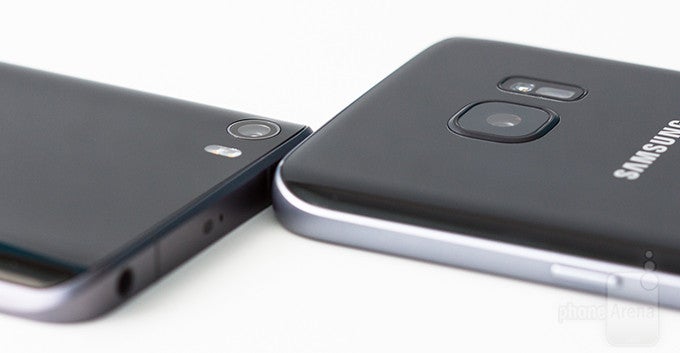 Little gets said about physical buttons, but we feel that's an important topic: after all, you press them thousands of times. A hard-to-press button could not be a dealbreaker, but it's a daily annoyance. The Xiaomi Mi 5 has its volume and power keys all on the right side, which subjectively feels like the right way to position them. The keys are light to press, but with sufficient travel and are very comfortable. The Galaxy S7 has its volume keys on the left and power key on the right, and all those buttons also have a remarkable, clicky feel, though they are not as light to the press.
Both phones also feature a fingerprint scanner right below the display. It's a slimmer button on the Xiaomi Mi 5, while the S7 has the larger key, but both work extremely well. The Xiaomi Mi 5 is a bit faster: it's almost a bit shocking to see the homescreen appear right after your register your fingerprint, while on the Galaxy S7 you first see the lock screen for a short while and then you are taken to the homescreen, and it's a bit slower.
Yet, when it comes to the use and functionality of the fingerprint: Samsung is a step ahead with its international Samsung Pay system, while you simply cannot use your Xiaomi phone to pay for things, or at least not yet. We're still far off from the times that we'd be all paying with our phones everywhere, but for many that's a nice feature.
Then, there is waterproofing: the Galaxy S7 can take a short plunge in water and survive it, and that's a great thing to have, while the Xiaomi Mi 5 lacks water protection.
Display
Two gorgeous displays: the Galaxy S7 has very accurate colors, while the Mi 5 has amazing high brightness that animates everything.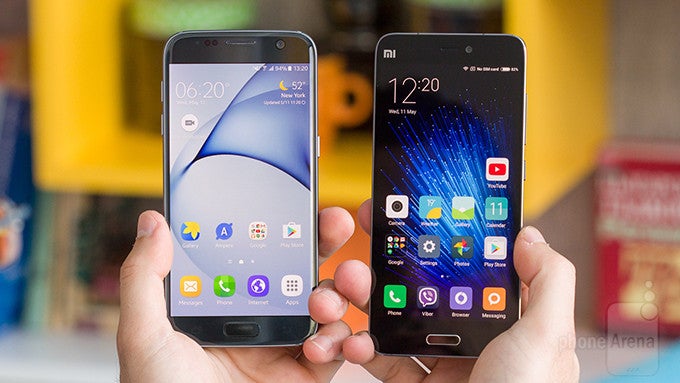 We're dealing with two absolutely gorgeous screens here: the Galaxy S7 uses Samsung's latest and best Super AMOLED technology in a 5.1" Quad HD (1440 x 2560 pixel) display, while Xiaomi Mi 5 has a very beautiful and vivid 5.15" Full HD (1080 x 1920 pixel) LCD display. While the Galaxy S7 is sharper on paper, it's hard to notice much of a difference in detail or sharpness in real-life usage. To the regular viewer looking at his phone from a hand's distance, both will likely appear equally sharp.
Resolution, however, is not the only thing that you should look for in a display. What's much harder to measure, yet is of paramount importance, is the color representation. Colors on both look very, very good. We do some complex measurements to see whether the colors on smartphone screens fit the sRGB industry standard. When you put the Galaxy S7 in Basic screen mode (go into Settings > Display > Display Mode, and change it there), it fits those color targets nearly perfectly, resulting in a nearly perfectly balanced screen. The Mi 5 also gets close, but not as close in terms of accurate colors as the S7, but the difference is really minimal. Let's emphasize that at the end of the day both screens have very, very good color representation.
It's also astonishing how bright the screen on the Mi 5 gets: with a peak brightness of 638 nits, it blows the Galaxy S7 and its meager 484 nits of brightness right out of the water. Higher brightness results in a subjective perception of more vivid colors and that's why everything on the Mi 5 appears very lively. Outdoors, the Galaxy S7 boosts its brightness to higher-than-usual levels, so it ends up as easy to read its display outdoors as on the Mi 5. Both phones are also capable of reaching a minimum brightness of just 1 nit on the Mi 5 and 2 nits on the S7, and those low level are particularly useful when you read on your phone at night and don't want a way too bright display burning your eyes.
Display measurements and quality