Verizon iPhone 4 vs AT&T iPhone 4
7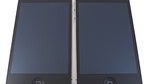 Introduction:
Now just because they're both Apple products, it doesn't mean that the two carriers calling ownership to the beloved handset are going to play nicely with one another. At first it seemed as though we were going to experience a neutral agreement between AT&T and Verizon now that the two are offering the iPhone 4, but once you look past the surface, you begin to notice certain items that are akin to each. With that in mind, it's time to dive in and take a deeper look at these closely related devices and specifically target the areas where you'll expect to spot the difference between them.
Design:
At the design standpoint, there isn't much to say about the two since they're nearly identical in just about every aspect. From their solid construction to their choice of premium materials, there's nothing that won't disappoint you since it's one remarkable looking phone that can easily find itself as the center of attention in a crowded room full of trend setters. However, we find that the notches around the antenna of the
Verizon iPhone 4
are slightly modified over
AT&T's version
. Specifically, we find a total of four separators on the Verizon iPhone 4, which are found near the corners, as opposed to the three in use with AT&T's model. Aside from that, one can easily mistake the two for being identical twins.
Continuing to galvanize us, the Retina Displays of both handsets are still amongst the tops in display technologies thanks to their polarizing luminance, natural color tones, high resolution, and great viewing angles. Furthermore, we adore the oleophobic coating on both glass surfaces which manages to easily repel the damaging effects of smudges and fingerprints to its pristine outer shell. And lastly, fingers move ever so swimmingly along their surfaces while being accurately registered by the devices at all the times.
AT&T iPhone 4 360-degree View: Verizon iPhone 4

360-degree View: