Spigen Apple iPhone 6s/6 Cases Review
2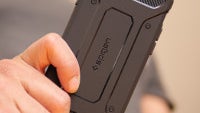 Wonderful news for any current iPhone 6 owners intending to upgrade to the new iPhone 6s! Considering that we're in that "S" year, it means that there's no major redesign to the beloved smartphone, so if you already have a case for the iPhone 6, it's also going to be compatible with the new version. Savings, we can't complain about that one.
Then again, there are some folks who can't resist picking up a new case to match their new upgrade. Therefore, if you happen to be that person, Spigen has refreshed its line of cases accordingly in preparation of the iPhone 6s' arrival. This should come as no surprise to anyone familiar with the accessories maker, seeing that they've earned their reputation thanks to the iPhone – so it makes perfect sense to them get busy once again with a new iPhone on the horizon.
And if you decide instead to not upgrade, just be aware that its refreshed line is still compatible with the iPhone 6. Beyond the diversified styles and designs, the nice thing about Spigen's line of iPhone 6s cases is that they're relatively affordable – just as long as you go through its Amazon portal. In fact, the majority of its iPhone 6s cases can be fetched for under $20, going as low as $10 in some instances. If all of this has piqued your interest, just look through the gallery below to get an idea of what to expect with each particular one.
Recommended Stories