Sony Xperia 10 III review
7
We may earn a commission if you make a purchase from the links on this page.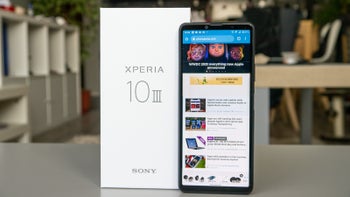 Sony Mobile reported its first profit in years
back in April and that's a solid indicator that the company is on the right track. Last year, I was pleasantly surprised with the
Xperia 10 II
- this phone quickly found its way to our
Best phones under $400
pick, and for a good reason. It ticked all the right boxes at a crazy price.
This year's model - the Xperia 10 III - bears a heavy burden of expectations upon itself. And it sort of lives up to these expectations. The design remains the same with a couple of refinements here and there.
The phone is a tad more compact, the display is still very good and a joy to look at, the battery capacity has grown by a whopping 25%, making this phone a stamina monster, and the price is still good (€429/£399). The 3.5mm audio jack lives on to see another day, and so does the microSD card slot.
On the other hand, there are some glaring omissions that can hamper the success of the Xperia 10 III. The biggest one is the lack of a high display refresh rate mode (HRR) - the phone caps at 60Hz. HRR displays are the latest trend in mobile and many midrange phones can already do 90Hz or higher.
The other big disappointment is the bundled charger. It's a joke. I guess a tiny 7.5W charger is better than no charger at all, but 3+ hours for a full charge is just not practical. At the end of the day though, the Xperia 10 III is still a good phone and still an evolution. Will it be a success? Only time will tell.
Design
Why do all smartphones look the same?
If I line up 5 different smartphones from 5 different brands before you, with the displays turned off, would you be able to tell which is which? That's right. I plan to do this experiment with my colleagues but the point is clear - smartphone design is stuck.
It's not surprising nor a bad thing per se - the "glass sandwich" design looks pretty and works well, and there's not much you can do when your smartphone is 90% display. And yet, if I put an Xperia phone in the aforementioned experiment, you'll spot it right away.
The wide 21:9 screen aspect ratio, coupled with the symmetrical top and bottom bezels make Xperia phones stand out without straying too far from the canonical smartphone design. And that's a feat in itself. But let's get back to the Xperia 10 III.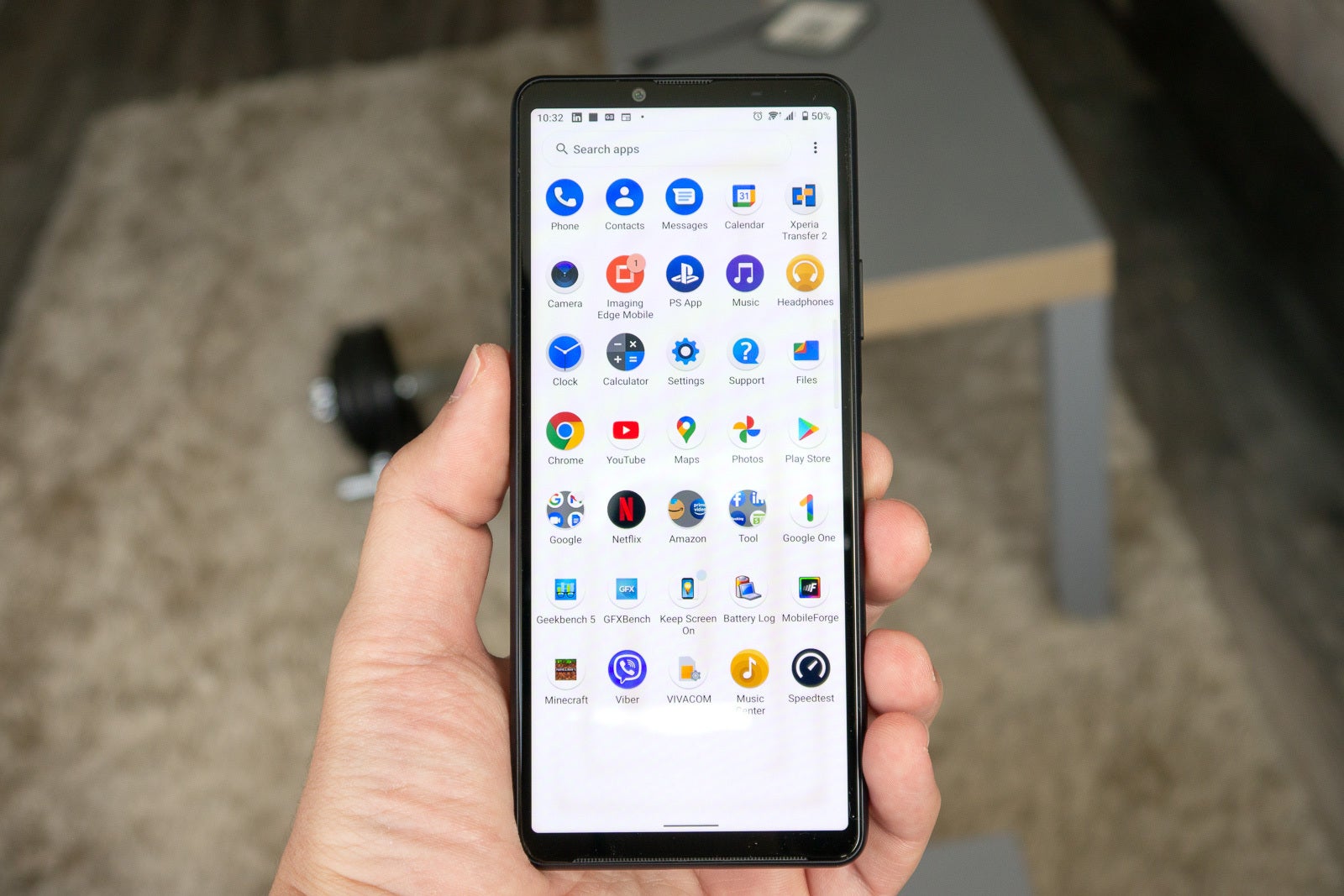 The Mark III is very similar to the Mark II, design-wise but there are some minor differences. For starters, the Xperia 10 III is slightly smaller than its predecessor - three millimeters shorter and a millimeter narrower.
The speakerphone grill design has been tweaked and now both the loudspeaker and the speakerphone are stylish crevices between the frame and the front glass. The camera bump on the back retains its elongated pill shape but the design has been toned down a bit and looks cleaner.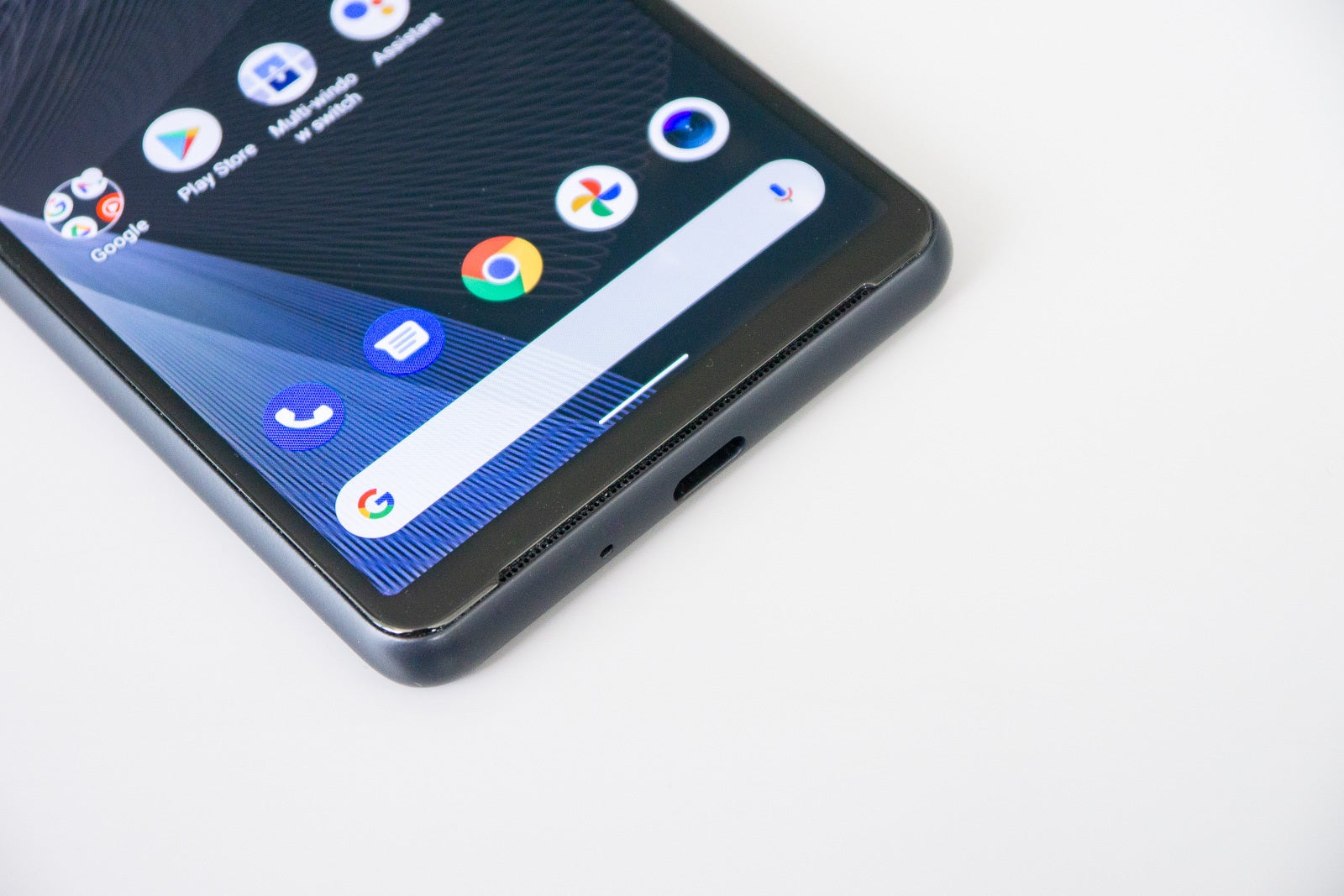 The front and back are Gorilla Glass 6 hugging a
plastic
frame between them. There's a volume rocker on the right and a capacitive fingerprint sensor just below it, doubling as a power button. Further down we find the dedicated Google Assistant button that's flushed with the frame and quite tiny.
UPDATE:
The frame was cool to the touch and this made me a bit suspicious. After asking Sony, I can confirm that it's made of metal! So, a really solid build with no corners cut.
I'm not sure if anyone actually uses these - a physical camera shutter button would've been so much nicer, but it is what it is. The 3.5mm audio jack has survived for yet another generation and is placed on the top.
The SIM tray is located on the left side of the frame and you can use your fingernail to open the flap and take out the card. No pointy tools required. It's a hybrid dual-sim slot - you can use a microSD card in place of the second SIM.
There's a fluorescent green rubber seal around the flap - the Xperia 10 III boasts an IP65/68 rating, which means it's protected for up to 1.5m of immersion for up to 30 minutes, including splashing from a shower or an accidental (and brief) dunking.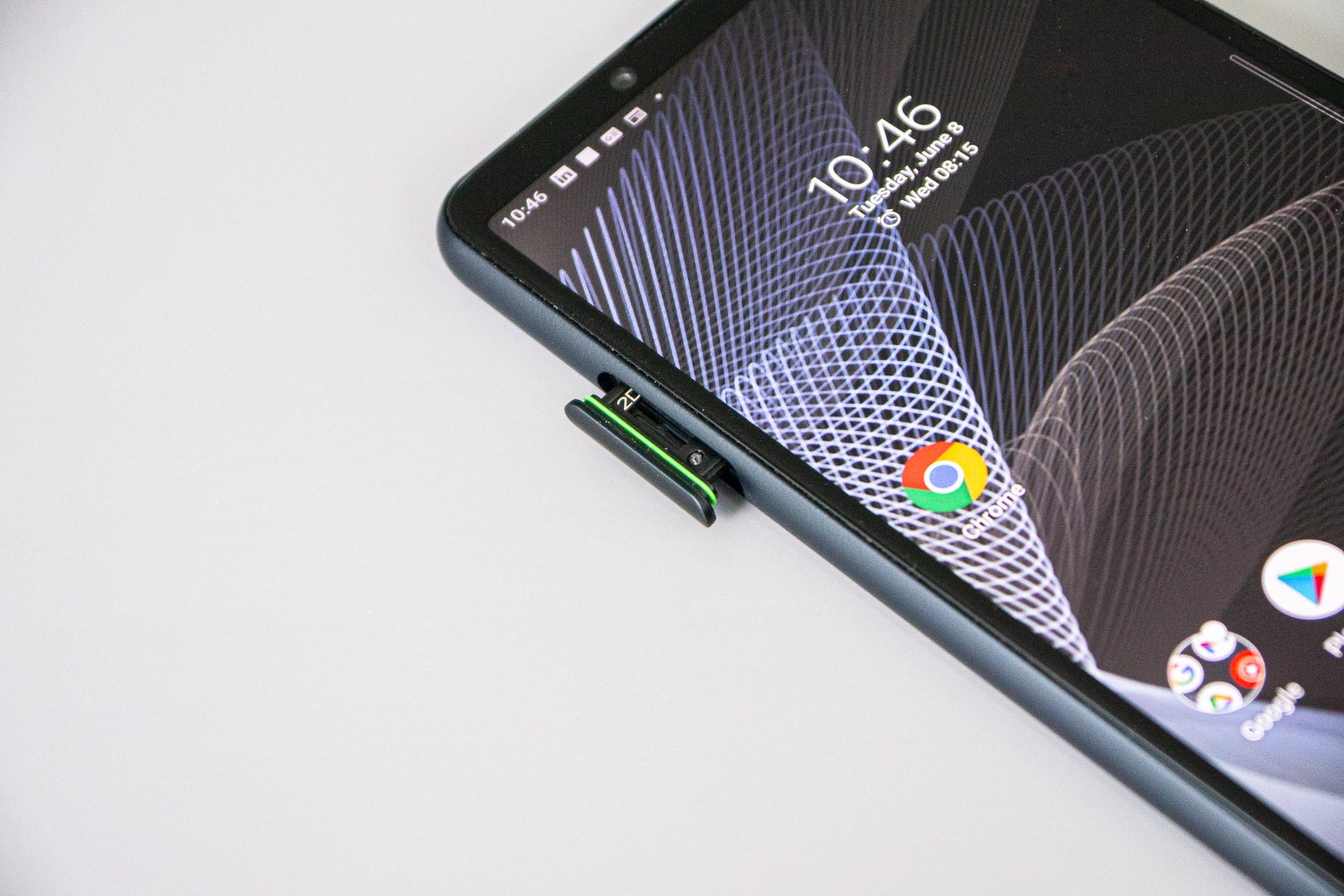 Display
The Xperia 10 III features a 6-inch OLED HDR panel with a resolution of 1080 x 2520 and 479 PPI pixel density. The resulting image is quite sharp and clear, and during testing, we measured 581 nits of peak brightness in Auto mode.
The color accuracy of the panel is also fairly good, the average delta E number we were able to get was 2.75 in Original mode. Speaking of display modes, there's two concerning color calibration - the aforementioned Original and a Standard mode, the latter being the default one. If you want the most faithful color reproduction and enjoy a warmer screen, you should stick to Original.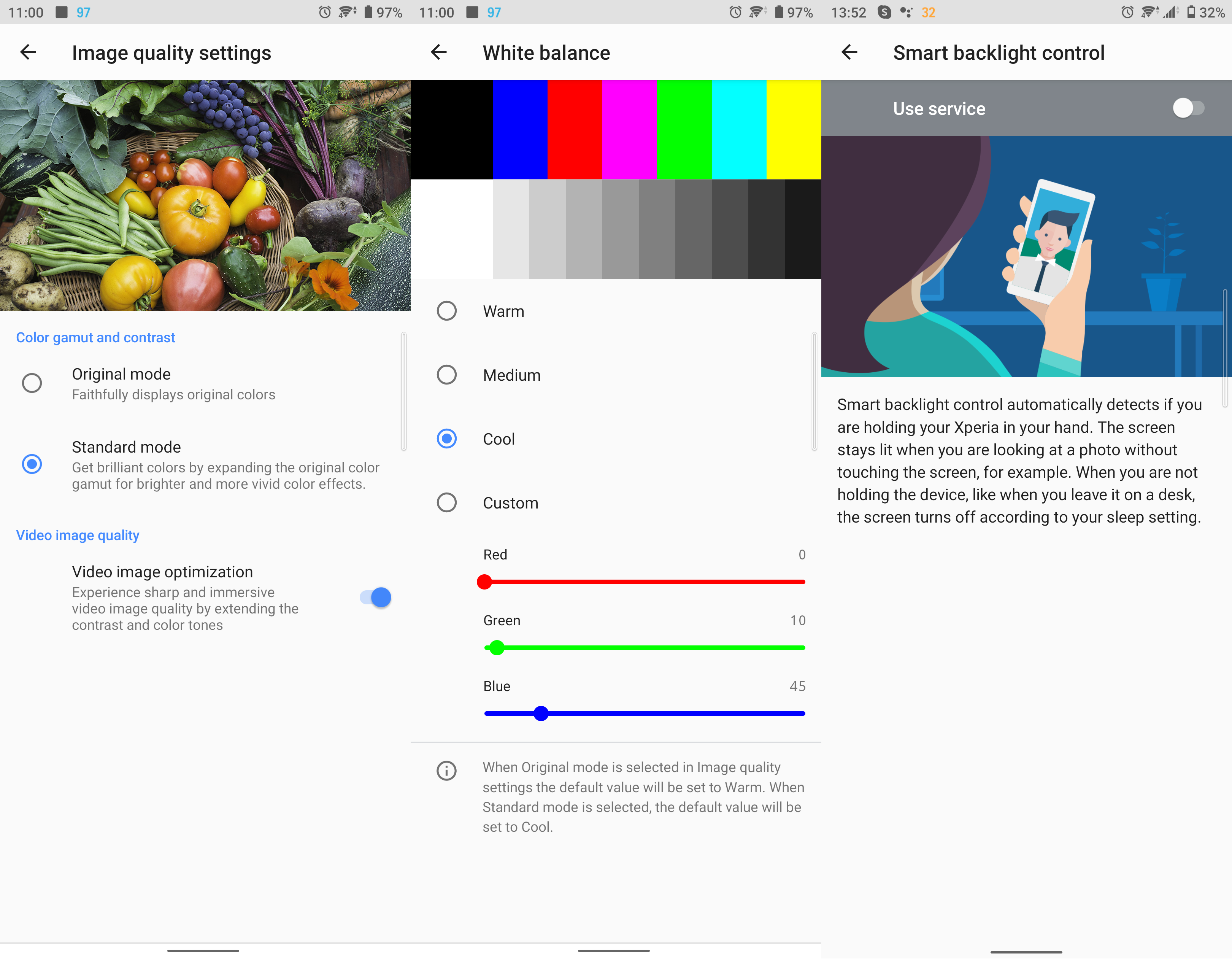 There's a video optimization option available when you're in Standard mode which is supposed to enhance video quality. Turning it on results in videos with a cooler color palette and slightly improved contrast at the expense of color accuracy.
One thing the Sony Xperia 10 III is missing is a higher display refresh rate. The OLED panel caps at 60Hz, so no buttery-smooth scrolling here, I'm afraid. It's a painful omission, especially when many midrange phones can now go up to 90Hz, and some high-tier models, like the Samsung A52 5G, can even do 120Hz.
With that being said, I find the display of the Xperia 10 III quite good overall. It's almost like you have a shrunken Bravia TV in your palm. Watching a movie on this clean and wide display is a totally different experience.
Display measurements and quality
Camera & Audio
Sony Xperia 10 III follows closely in the footsteps of its predecessor with a familiar triple camera setup. You've got your main 12MP camera (Sony IMX468 sensor), an 8MP ultrawide snapper (Samsung S5K4H7 sensor), and a telephoto lens with 2x optical zoom and an 8MP sensor underneath.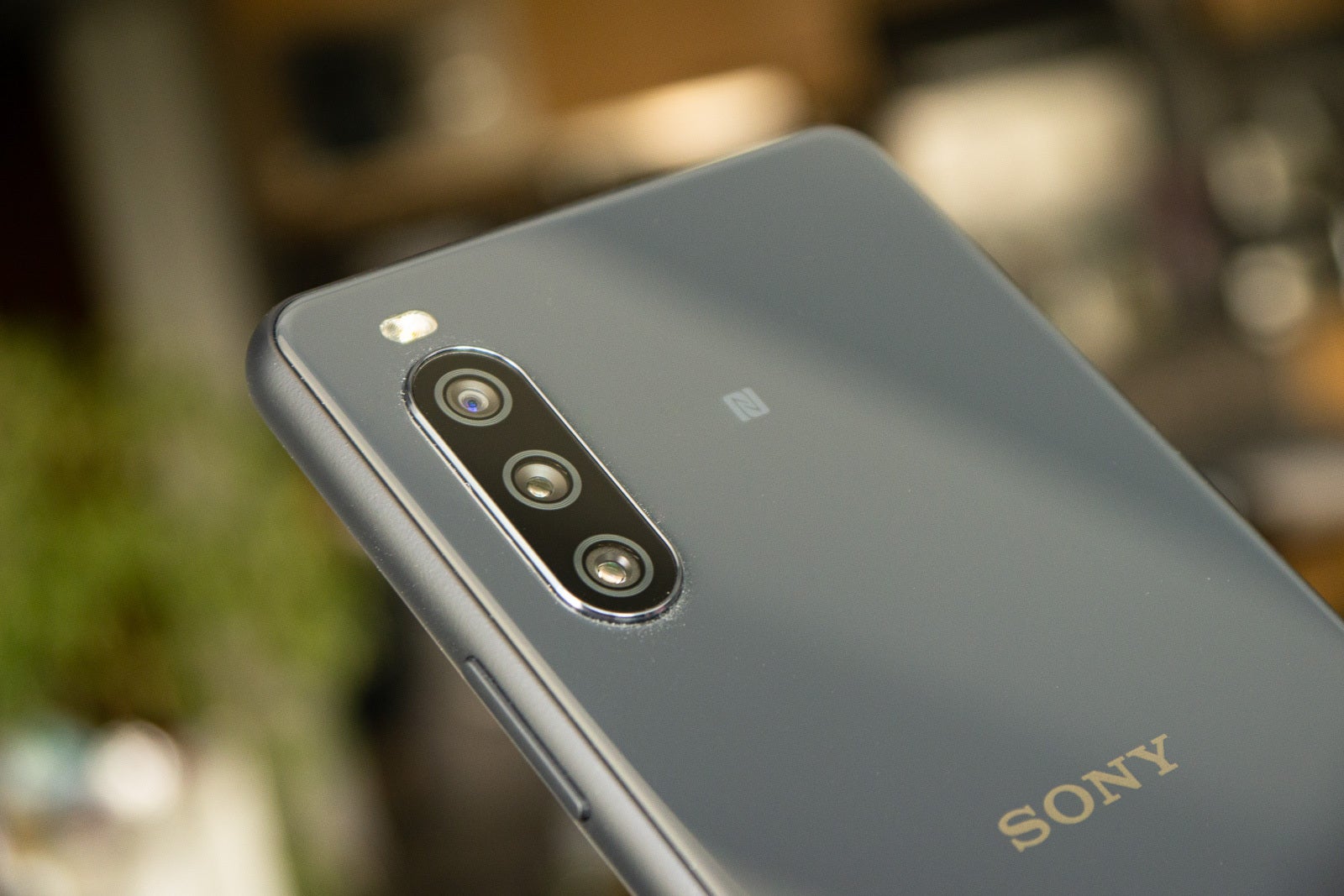 Actually, it's almost the same system as the one found on the Xperia 10 II. And it works well most of the time. It's a practical setup that makes a lot of sense, especially compared to the macro/depth sensor camera bundles found in other midrange phones.
The image quality is what you'd expect from a 400 euro phone. Opting for different sensors in the wide and ultrawide cameras results in a different image color tone between the two. Pictures taken with the ultrawide tend to be warmer than the ones shot using the main camera.
The camera algorithms are quite good in detecting various scenes, such as backlight, macro, gourmet (for all the times you need your food photographed), portrait, and more. The AI can also detect if you're using a tripod or shooting handheld and adjust the settings accordingly.
There are two modes on the ultrawide - one prioritizes image quality and the other one takes care of image distortion through clever algorithms. It works pretty well and I highly recommend using it, specifically when you shoot compositions with lots of geometrical shapes and straight lines.
< Distortion correction OFF
Distortion correction ON >
There's a dedicated Night Mode and It feels like it was taken straight from the Xperia 10 II, as it works the same way and yields the same results. As with all computational-based software enhancements, your mileage may vary. You need a steady hand and a bit of patience to make it work, and in return, you'll get a bit more detail and focus in your low-light shots.
< Night mode OFF
Night mode ON >
The selfie camera is practically the same as the one in the previous generation, so no big surprises there. There's a new portrait selfie mode in the menu but I found its background blurring algorithms not very accurate.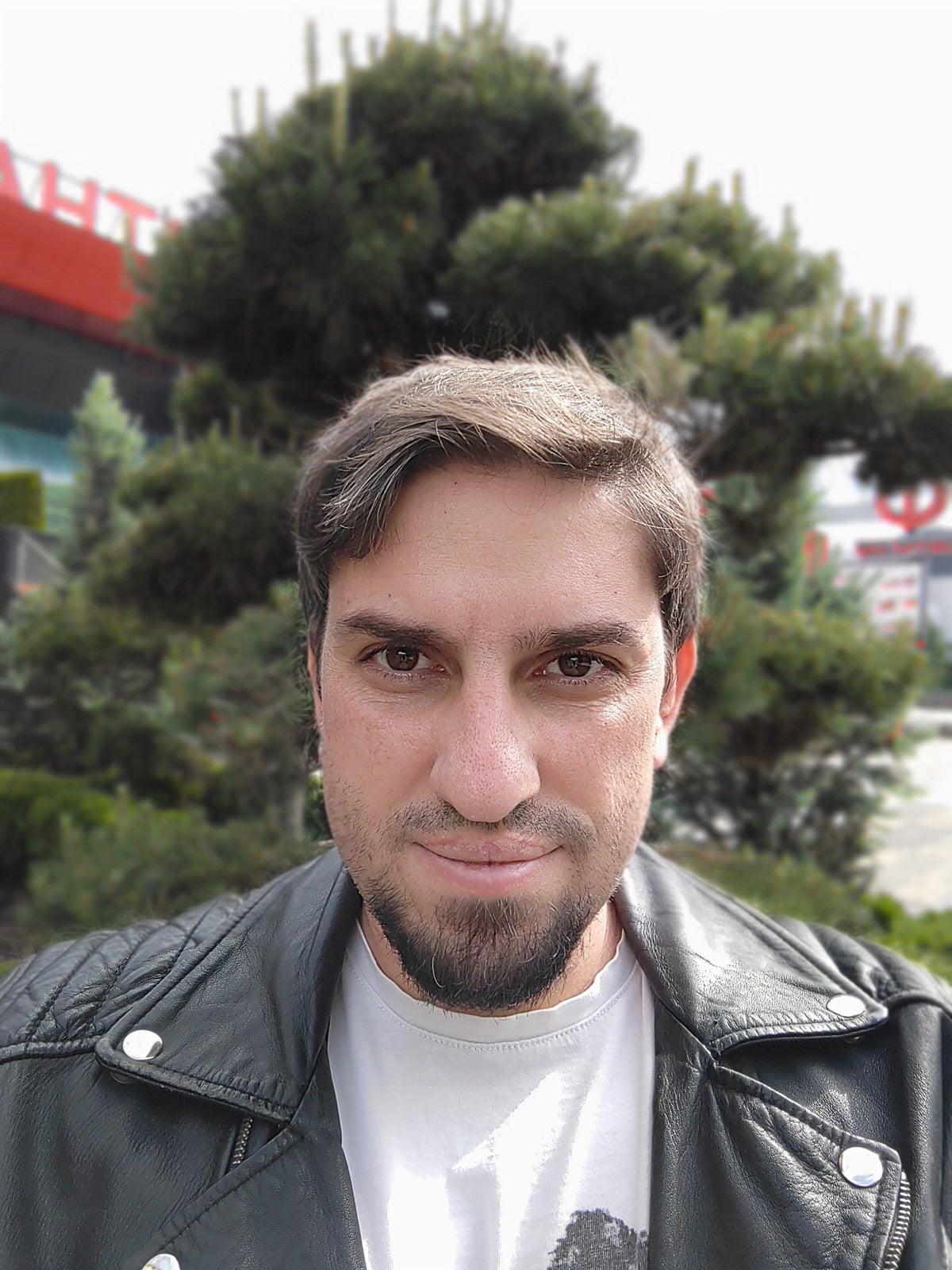 Portrait selfie mode
You can shoot videos up to 4K30fps, not a bad feature on a budget phone. However, 30fps looks choppy, especially if you're recording dynamic and fast-paced videos. There's always 1080p60fps to make things smoother but the end result is mediocre at best, and the image stabilization is not very good, either.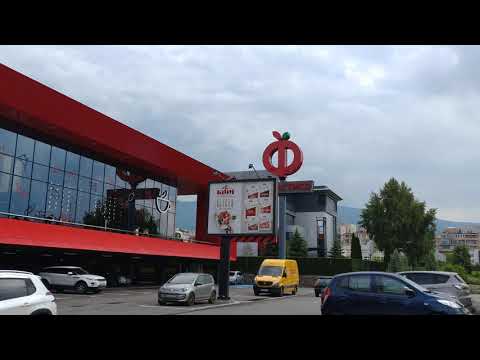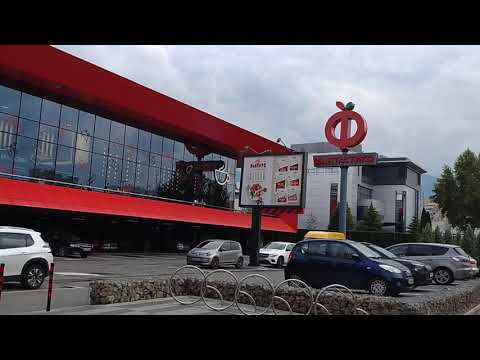 The Xperia 10 III features a mono loudspeaker, and it is a front-facing one. I'm okay with the mono setup at this price point, and more importantly - it's a better quality speaker, compared to the one found on the Xperia 10 II. Not necessarily louder but displaying more details in the sound with tighter and more natural bass response.


Software & Performance

If you pry open the Xperia 10 III (I don't recommend such extremes, it's a figure of speech, guys!) you'll find a Snapdragon 690 chipset. This SoC is another 5G solution for the midrange crowd. Technically, it's an improvement compared to the 665 from the last year but not by much.

There is some stutter from time to time, especially if you cold-launch apps, and the 60Hz display refresh rate doesn't help either. It's more prominent in the camera app, maybe due to the heavy software processing going on.

On the other hand, the 690 is manufactured using 8nm tech, so it's very energy efficient, and it also supports 5G, the future of mobile communication. Thanks to the integrated Snapdragon X51 5G modem, the Xperia 10 III supports both mmWave and Sub-6 5G frequencies, and also SA/NSA network architecture (stand-alone/non-stand-alone).

5G comes with a lot of asterisks and footnotes attached and you should always check the fine print, as availability and speed can vary widely depending on the country you live in. In practice, I was able to get up to 250 Mbps (download speed) through my carrier which is in compliance with the Sub-6 cited network speeds.

The Xperia 10 III comes equipped with 6GB of RAM, a slight increase from the previous generation (4GB on the Xperia 10 II). The onboard memory is 128GB, a nice baseline even by 2021 standards, and you can expand it via the microSD card slot that's still present, sharing physical space with the second sim.




The side-mounted capacitive fingerprint sensor deserves a few words as well. It's a solution that I normally prefer to the more modern under-display scanners but the reader in the Xperia 10 III is quite slow. Sometimes it fails to register your touch, making you physically press the button to make it work, and it's not the smoothest experience overall.

On the software side of things, we've got Android 11 with some Sony tweaks here and there. The interface is pretty clean and I'll dare to say "businessy" with a focus on productivity, rather than glamour. The Multi-window switch deserves credit - split-screen multitasking on a 21:9 screen is nice and Sony knows it.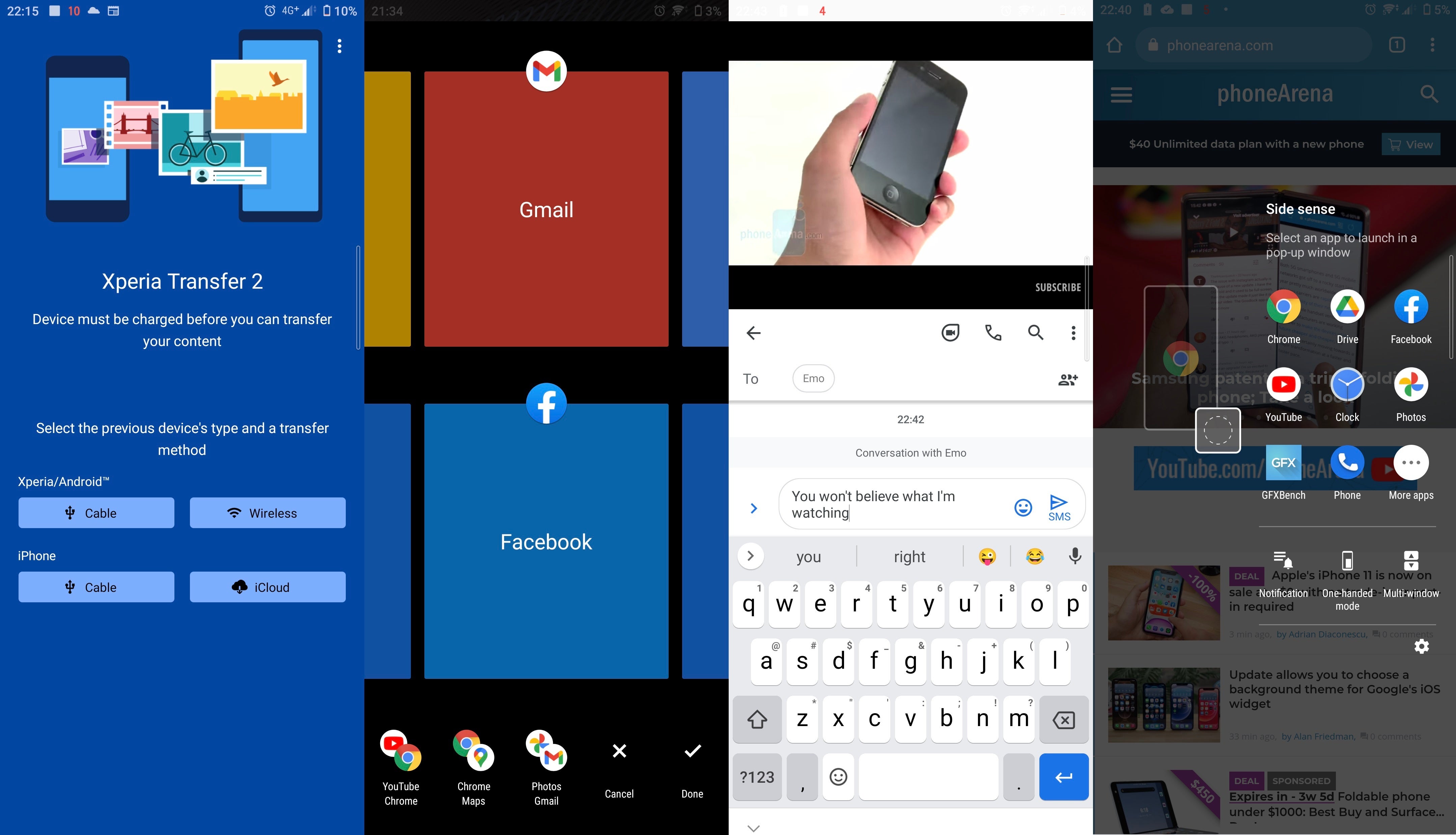 On the other hand, Sony insists on keeping the Side Sense bar for some reason and I can't get my head around it. Tapping accurately on the tiny strip next to the edge of the screen is a nightmare and after a couple of failed attempts you'd just give up. No amount of tweaking and repositioning made it work for me.
Battery Life
The Xperia 10 III is a battery life champion, period. The 4,500 mAh battery, coupled with the energy-efficient chipset and the 60Hz OLED display, offers a chart-topping performance. The Xperia 10 II featured a 3,600 mAh battery, meaning a whopping 25% increase in battery capacity in the new model.
The Xperia 10 III also upgrades its fast-charging capabilities - the phone can take up to 30W of power, compared to the 18W fast-charge support found in the Xperia 10 II. Sadly, Sony has decided to bundle a measly 7.5W charger in the retail box and charging times are appalling as a result.
Sony Xperia 10 III charging profile with the included 7.5W charger:
0 - 50% in 80 minutes
0 - 70% in 124 minutes
0 - 100% in 203 minutes
I tested the phone with a 30W charger and things got considerably better (0 - 100% in 2 and a half hours) but still far from the fast-charging champions on the market.
Recommended Stories